Front doors will be opened more cautiously, or in some cases not at all, this Halloween weekend as parents and others take extra care with Covid-19 still at large.
It can still be a fun Halloween but people will be mindful of the risks that are out there, with such high daily case numbers.
The Health Protection Surveillance Centre data for last week shows the highest incidence of Covid-19 in the age group 5-12 years. The incidence in this cohort, which has been rising for many weeks, is just over 436 cases for every 100,000 people.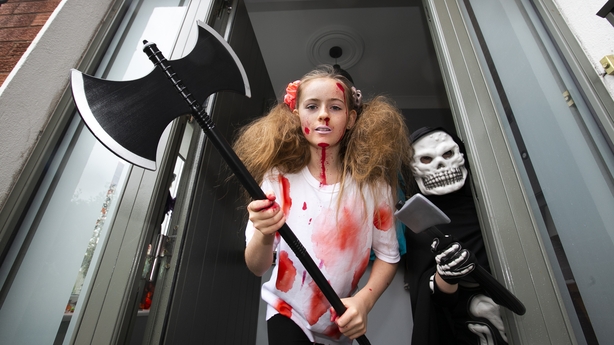 With around eight weeks left until Christmas, what happens in November will likely determine the type of festive season awaiting us all.
This weekend is one for ghouls, ghosts and frights. Added to the mix now is the unease with the Covid-19 case and hospital numbers going in the wrong direction.
We seem to be in a very familiar place, and again so uncertain about what may be coming next. We hope for the best, but must prepare for any significant deterioration in the situation.
It is disappointing to be in this position again with weeks to go to the end of 2021. However, the circumstances are different and the data must be seen against a different backdrop too.
Tánaiste Leo Varadkar laid out the parameters for what Ireland can live with on case numbers in the weeks ahead, and what could occur, if those numbers are exceeded significantly.
"It is important not to lose sight of what the country has achieved, even though the Covid-19 situation remains serious"
Mr Varadkar said the Government believes another lockdown can be avoided, although nobody could rule it out entirely. He said that because of vaccinations, 2,000-3,000 daily cases do not mean what they did last winter, adding that the projections were that hospitalisations from Covid-19 could rise to 800, while ICU could increase to 150.
"If we can keep it in that space, I don't think it would be necessary to reimpose restrictions, but if it started to go well ahead of those numbers then we would get more worried," Mr Varadkar said.
He added that the tide could be turned and they had seen in other countries like Israel, that it is possible to get past the current wave.
---
Read more: Latest coronavirus news
---
Yesterday, thospital cases were at 481 of which 97 were in ICU. We are still in Wave 4 of the pandemic here.
Because Covid-19 deaths are now published each week, not daily as before, sight can be lost of the continuing impact of the virus and the ongoing threat to life it poses. This month there have been 116 Covid-19 deaths, with 14 of those occurring in the week to last Tuesday. In September there were 164 Covid-19 deaths.
With the R number believed to be just under 1.5 – the expectation is that case numbers will continue to rise and perhaps peak at about 3,000 or 4,000 a day later into November. These kinds of numbers will feed into the hospital system, with more admissions and patients in ICU.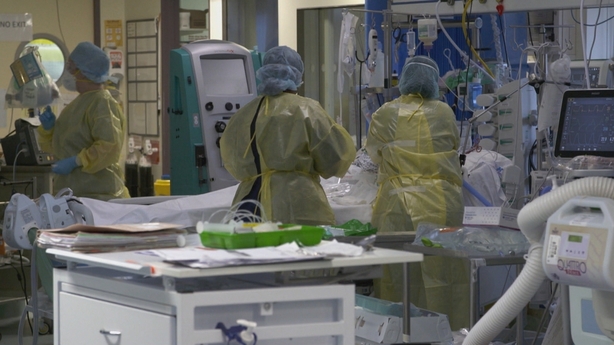 For now, NPHET has taken the possibility of a lockdown, or a return to restrictions, off the table. If those decisions must be taken, they will most likely come later into November.
Public health experts are hoping that people will heed the advice in recent weeks to stick to the basic advice on protecting themselves and others from the virus. Small improvements here can have big dividends.
Chief Medical Officer Dr Tony Holohan is urging people to remain vigilant when it comes to the basic measures like hand-washing and social distancing | Read more: https://t.co/JhRXJq2rY2 pic.twitter.com/zjhlHIOtFJ

— RTÉ News (@rtenews) October 27, 2021
Vaccination continues with third doses being administered and people still coming forward for immunisation for the first time. This is important.
Vaccination works and while there are breakout infections, it does not diminish the fact that immunisation offers significant protection. But vaccination is imperfect and it may not always protect in up to 20% of cases.
"Covid-19 does not care about Covid fatigue and will continue to thrive on it"
If Ireland did not have the high vaccination levels it has achieved, we would likely be facing many thousands more cases a day than projected for now and be facing a more a desperate scenario. It is important not to lose sight of what the country has achieved, even though the Covid-19 situation remains serious.
Doctors are reporting a rise in upper respiratory tract infections in children. It is that time of year and it is adding to the difficulties coping with coronavirus.
For GPs, they must determine if an illness is a respiratory tract infection, or Covid-19. This week, family doctors expressed concern that respiratory infections could mask the true number of Covid-19 cases.
Parents are also placed in the difficult situation of being repeatedly asked to isolate children. Children can have six to eight respiratory tract infections during the winter season.
Understandably, there is a degree of Covid-19 fatigue among parents having to get children tested, and having to exclude them from school, or a crèche. But of course, Covid-19 does not care about Covid fatigue and will thrive on it.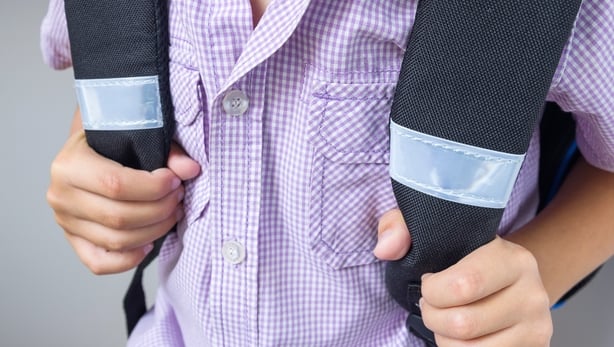 The decision to stop contact tracing for children under 12 years from 27 September has been a controversial one. Some parents and schools have found it confusing. They believe that contact tracing in this group would give a better picture of the spread of the virus in primary schools.
Some GPs, like Dr Yvonne Williams from Co Clare, have called for this contract tracing to be re-introduced when schools reopen next week after the mid-term break. This has also been echoed by the Irish National Teachers Organisation. The union said primary school principals should not be left to make serious public health decisions about Covid-19 infections.
We need your consent to load this rte-player contentWe use rte-player to manage extra content that can set cookies on your device and collect data about your activity. Please review their details and accept them to load the content.Manage Preferences
Christine Loscher, Professor of Immunology in DCU, Dr Yvonne Williams, GP based in Shannon, Jen Hogan, Irish Times columnist, Tommy Gill, CEO of Play, Activity and Leisure Ireland and owner of Wild West Play Centre in Westport
However, Christine Loscher, Professor of Immunology at DCU, said that the rise in cases in primary schools is not surprising.
This is because this group is not vaccinated. Prof Loscher said there is roughly the same percentage of positive cases in this group, compared to the previous two weeks and that a massive surge is not evident. She said that most children are mixing outdoors and there is not a massive amount of children mixing indoors.
Yesterday, it emerged that NPHET is going to reconsider whether to resume testing of close contacts of primary school children, given the rise in cases seen in this age group.
There have also been calls for antigen tests to be used for school children, to keep schools open. However, the HSE position has been that there is not enough evidence to support the use of antigen testing in schools.
Professor Martin Cormican, HSE Clinical Lead for Antimicrobial Resistance & Infection Control, said there is no added value for testing children and there is a reluctance to medicalise all aspects of the lives of children. There are no plans to have children who are deemed a close contact and who have no symptoms to be kept at home.
"It is important not to lose sight of what the country has achieved, even though the Covid-19 situation remains serious"
Most things are now open for people to enjoy. Nightclubs and live venues are finally back in operation, under new regulations and guidelines. This weekend is likely to be another busy one given the Halloween atmosphere.
Under the new guidelines, artists at live events are urged to ask patrons not to sing or chant loudly. It's difficult to see how that can be realistically policed, given the nature of what happens when people drink and music is in the air.
The HSE's Chief Clinical Officer, Dr Colm Henry, said that there is a lot of pressure on people to work, to get back to business, and a great desire to enjoy opportunities to safely meet friends and family again. But, he added, if people do not take prompt action when they have Covid-19 symptoms, by staying at home and getting a test, they place others at risk.
Antigen tests are now being posted out by the HSE to people who are close contacts of a confirmed case, once they are fully vaccinated and have no symptoms. The free kits contain five tests and the recipient is asked to use three. The extras are spares. The first test should be done on the day they get the kit, then again two days later and again two days after that.
---
Explainer: How to use Covid antigen tests
---
People who have no symptoms can go about their business but are asked to tell the HSE portal that they tested negative. Those who test positive will be asked to book a HSE PCR test. For others who are not fully vaccinated but are close contacts, they will be referred for a PCR test.
Next week, the campaign to issue booster vaccines for people over 60 years is to begin. Around 800,000 people will be covered. People aged 60-69 years will get their booster jab at a vaccination centre, while those aged 70-79 years will get it from their GP.
There is still no further development on booster vaccines for health staff but the Chief Medical Officer and the Department of Health are reported to be working very closely with the National Immunisation Advisory Committee on the issue.
"We endured the first, second and third waves and now are in the fourth, looking at another difficult winter period"
There is more work to be done to encourage people from other EU countries who work here to get vaccinated. Data published by the Central Statistics Office showed that Eastern European nationals working here have the lowest rates of vaccination at 44% compared to 67% of Western European nationals and 90% of Irish nationals.
There may be historic reasons for this. The Government is considering a dedicated campaign on vaccinations to communicate with communities who do not speak English. It is important to reach these groups in their language and also through the media they consume.
When the pandemic hit here in early 2020, there was a hope that we could rid ourselves of Covid-19 over time. We endured the first, second and third waves and now are in the fourth, looking at another difficult winter period.
Immunity wanes over time, so inevitably booster jabs are needed. It appears that like with influenza, annual Covid-19 vaccination may become part of the regular health system. Vaccination will have to adapt to any viral changes in the same way the annual flu vaccine is developed each year, to best match what is expected to be in circulation.
Bar a surprise, coronavirus does not look like it is going away, despite our best hopes. It has changed the way we live and work, how we interact with each other and how we think. The impact looks set be long-lasting on society. We never thought that in late October 2021 we would still be facing into another potentially tough winter with Covid-19.
It is a biting reality that we must face with fortitude, but also hope that next year should see the worst of times behind us.