This was among the strangest of many strange weeks during the pandemic. As journalists returned to the familiarity of the Department of Health briefing room, after a very long break, there was a grand sense of déjà vu in abundance.
No one wanted to be there and no one expected to be back, including the National Public Health Emergency Team (NPHET). Chief Medical Officer Dr Tony Holohan had only returned from a break abroad three days earlier. He was landing into a changed environment quite different to before he left.
Everyone had expected NPHET to be disbanded in its current form by now, but events have changed that. NPHET will be here until most restrictions are gone and there is a clear exit from the pandemic, sometime probably in 2022.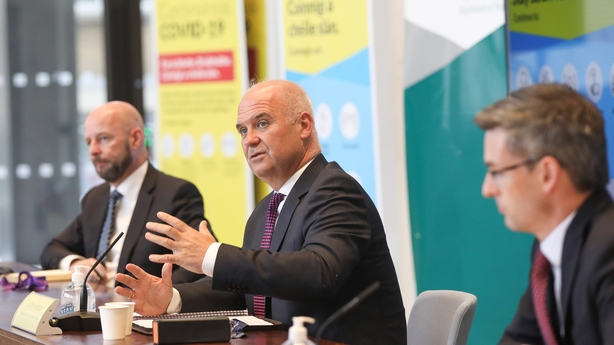 As the NPHET briefing proceedings went on, it became clear that we are in for a bumpy ride over the coming weeks. No one can say how it will play out. No graph, model or dataset shows us where the exit door is. It's time to fasten the seatbelts and proceed with caution over the period ahead.
The big question is how did we get here? The public health expert view is that it has largely been down to increased socialisation, not waning immunity. An added factor is that the Delta variant got a strong foothold around the summer at a time when the national vaccination programme was not advanced enough. So we are still seeing the aftershocks of that.
Some schools and parents have had deep misgivings about the decision to end contact tracing, testing and restriction of movements for primary school children deemed a close contact of a confirmed case, providing they have no symptoms.
The concern is that this has resulted in missing data on the true level of school transmission. We have seen some schools take their own decisions to send kids home, which has added to the general concern parents have.
I put a question to NPHET at the briefing on the schools data and they said that the evidence is that the risk of transmission for school children is coming from their exposure in the community. They also say the unvaccinated group of children are significantly less likely to transmit the virus, compared to unvaccinated adults. The official number of school outbreaks last week was 15, up from three the previous week.
NPHET admits its model projects are imperfect but also insists they are pretty reliable. If you look at its projections for the July to September period, in comparison with what actually happened, they came in worse than the 'optimistic model' in all areas, except deaths.
The actual number of Covid-19 cases during the period was 118,794. There were 2,755 hospital admissions. Of these, 309 patients went into ICU. There were 298 deaths.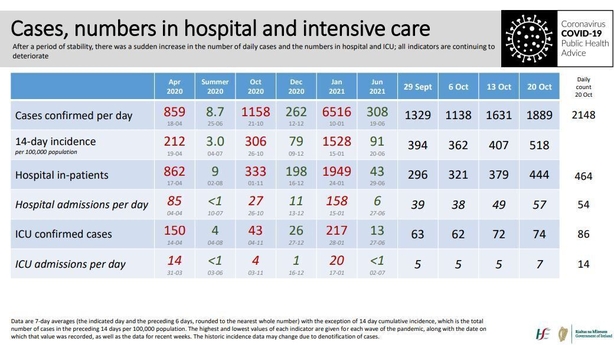 But the optimistic model had projected 105,000 cases, 1,985 hospital admissions, 260 ICU admissions and 335 deaths. The pessimistic model was much, much worse, suggesting 566,000 cases, 10,730 hospital admissions, 1,390 ICU admissions and 1,760 deaths.
After NPHET met on Monday, it advised the Government that the disease profile was worsening and the future trajectory of the virus was very uncertain. The one thing we have been forced to adapt to during this pandemic is uncertainty.
The latest projections suggest that we could see 800-1,000 people in hospital in late November, of whom 150-200 would require critical care.
Government decided to proceed with what it said was a cautious approach to the planned lifting of restrictions from yesterday. But it admitted the measures included 'anomalies' with regard to hospitality and late night bars and nightclubs.
When you consider that a large number of people aged 18-35 are not vaccinated, this is the key group that will face those anomalies and the potential consequences. It will be interesting to see how socially distanced queues work out in bars and clubs, especially as the evening wears on and some people's attention to the basic measures wears off.
While people were back dancing in nightclubs again last night, for the first time since the start of the pandemic here, it did not feel like 22 October was a freedom day.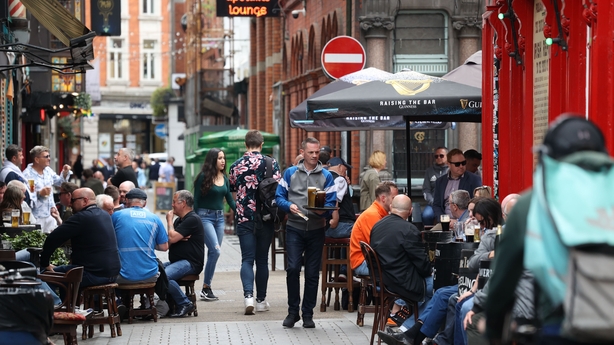 Everything hinges now to a large degree on human behaviour. The daily case numbers of recent weeks have a lag effect, so what happens with regard to the hospital system over the next week to two weeks is already determined. It cannot be changed.
Hospital numbers and ICU admissions will rise and yesterday we saw 90 in ICU with Covid-19, the highest number since 10 March.
At the first Health Service Executive briefing since August, CEO Paul Reid said that the coming weeks will not be as bad as last January when the health service faced over 2,000 Covid-19 cases in hospitals. Then an unprecedented decision was taken to cancel all planned procedures in Ireland.
The fall-out from that decision is still being felt by patients around the country. Many people who were already waiting a long time for care are now waiting longer. The waiting lists are growing and a bad winter will not help.
The HSE believes that the peak for Covid-19 will not be seen until towards the end of November and cases should start to decline then. With nine weeks to Christmas, this is a tightrope. Time is running out to turn the tide in time for the type of festive season people would wish to enjoy this year.
Already some hospitals are curtailing planned procedures due to local pressures. In particular, hospitals in Cork, Galway and Limerick. The HSE has not issued any national directive on cancelling planned operations and hopes it does not come to this again.
The local pressures hospitals are facing relate to Covid-19 and also to normal winter pressures too. This year, we are seeing a resurgence of the winter vomiting bug and other respiratory illnesses, such as RSV.
The children's hospitals are also currently very busy with respiratory illnesses. The first official case of influenza has also been reported here. So all of this mix - Covid-19, respiratory illnesses, bugs and the winter period - could make the situation very difficult. For that reason, continued mask wearing, social distancing and good hygiene are seen as vital as ever.
Opposition parties have been raising questions about the degree to which the capacity of the health system has been built up during the pandemic to cope with whatever new pressures may arise.
Going into the pandemic here in March 2020, there were around 255 ICU beds. At a recent health committee hearing, Minister for Health Stephen Donnelly said that there were now 296 ICU beds. That is a net increase of 41 ICU beds.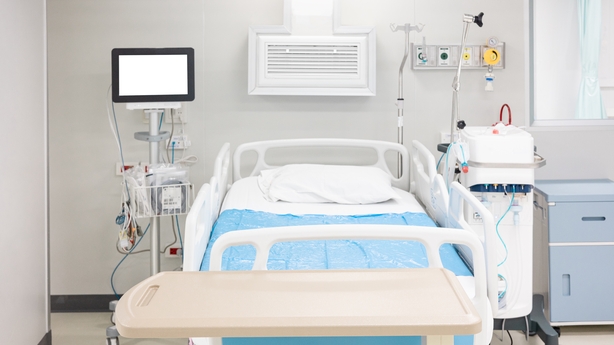 He said the plan is to have 321 ICU beds by the end of this year, or early next year. The longer term plan is to have 446 ICU beds, which would be higher than that recommended in the health service capacity review.
When you look at the OECD capacity of intensive care beds report from April last year, which examined the number of beds for every 100,000 people, Ireland is well down the list. Ireland was in 21st place, behind Germany, the US, France, Canada, England, Spain, Chile, Japan and many others.
While there have been improvements since the OECD data was collated, Ireland still has some way to catch up with other health services in this area. And of course, it's not just about getting the ICU beds open, the specialised staff have to be recruited too so it all requires good planning.
Minister Donnelly has also said that around 850 permanent beds have been added to the hospital system this year and more will be added by the end of the year. Some other measures being introduced should help reduce the impact of Covid-19 transmission, but they may take time to have an impact.
From the end of next week, the HSE will begin vaccinating around 800,000 people aged 60-80 years with booster jabs. The Taoiseach, the Minister for Health and the head of the HSE all want to see booster vaccinations given to health staff. In the end, it will be on the basis of whether the National Immunisation Advisory Committee advises, based on the risk/benefit scientific analysis.
"At this stage it is hard to believe that many people would not want to follow the guidelines on antigen test use closely."
The HSE has launched a Halloween Covid-19 vaccination campaign, to try and persuade those who have opted not to get the jab, to come forward. It has taken encouragement from the fact that over the last fortnight around a thousand people a day have signed up for vaccination for the first time. All age groups are represented, including some in their 80s.
From the end of next week, asymptomatic vaccinated close contacts 13 years and older will be sent a pack of five antigen tests and asked to use three every second day.
If they test positive they will be asked to book a HSE PCR confirmatory test. If they are negative, they can go about their business but will be asked to register the fact they tested negative on a HSE portal.
Unvaccinated close contacts still must have two PCR tests and restrict their movements, until both tests are negative.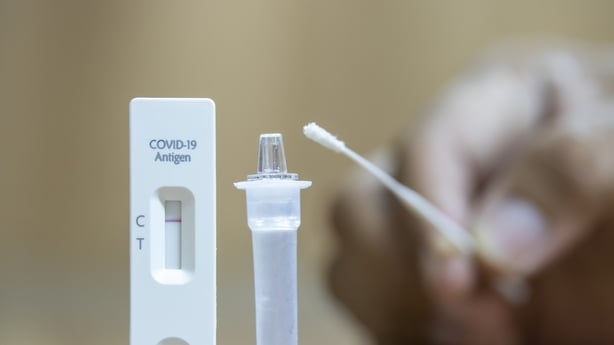 The wider use of antigen tests will be welcomed by many. For around 19 months there has been intense debate about the pros and cons of these tests and four reports for Government have been published.
The latest report is the Interim Report of the Expert Advisory Group on Rapid Testing, chaired by Professor Mary Horgan. It concluded that rapid antigen tests can reliably detect those most likely to be infectious and the speed of the result enables rapid intervention to prevent onward transmission.
They are also cheap and can be deployed at scale. But they have limitations and people need to know how to use them properly and what the results mean.
However, at this stage, it is hard to believe that many people would not want to follow the guidelines on antigen test use closely and establish if they are infectious. Indeed, the debate among doctors and scientists here has gone on so long about antigen tests that most people are now well aware of the limitations. Even at this late stage, it looks like antigen tests will play a bigger part in future testing generally.
The existing Covid-19 measures are due to stay in place until at least February 2022. If the "cautious" reopening and the planned strict enforcement of Covid passes and social distancing and the other measures do not work, NPHET will advise the Government to reimpose restrictions. It's latest letter to the Government makes that quite clear.
We have a long bank holiday this weekend and Halloween is near. It's a time of socialising, excitement for many and an opportunity for some to enjoy things that have not been possible for so long.
Public health experts have pointed out that even small changes in our behaviour can have a significant impact on the spread of the virus. These small changes can have a very positive effect where there is greater attention to the prevention measures, or a considerably negative one, where people drop their guard.
Like our experience with Covid-19, human behaviour is unpredictable. So it is impossible to say what is going to happen between now and the end of the year. But nothing is inevitable and individual and collective actions matter so much.
Just a few weeks ago, it was thought that Covid-19 was in retreat in Ireland. While the situation has taken a turn for the worst, there is time to recover. But not a lot of time.