It was Groundhog Day at Trim Castle.
Minister for Foreign Affairs Simon Coveney was taking yet more questions on the appointment of Katherine Zappone as a UN special envoy, at the Fine Gael party annual think-in.
He was, once again, contrite.
What had happened since the fateful Cabinet decision was nothing short of a "fiasco" for Fine Gael and the Government.
There was also a "mea-culpa".
Mr Coveney admitted that he should have dealt with the growing controversy a lot earlier, in a lot more detail and with a lot more transparency.
He also "made a mistake" in not informing the Taoiseach Micheál Martin about the appointment before it went to Cabinet - something he apologised for.
On the day before a no-confidence motion in him as Minister, Mr Coveney said: "It's a real frustration and quite frankly embarrassing to be the centre of attention like this, for all the wrong reasons."
Yet the Fine Gael deputy leader was not rolling-over on every point.
He maintained: "I think the motivation behind the appointment was appropriate."
He cited other countries using special envoys on the Freedom of Expression, adding: "That process, at all stages, was about trying to do the best thing for the country."
Katherine Zappone was "a potential asset for Ireland" due to her qualifications, and she was also considered to be a "cost-effective way" of getting Ireland's voice out on an important topic.
Mr Coveney maintained he was not trying to pull wool over anyone's eyes. He said: "There is no arrogance whatsoever."
Yet while he stood over the process, he accepted that "trust has been damaged".
He suggested this could be "rebuilt" with a much more "transparent" recruitment process in which applicants could apply for a special envoy job, should the Government retain such a position.
The Minister apologised again for the "poor communication" around the appointment and " ... not taking story as seriously as I should have."
This affair, he conceded, had been a distraction from the work of Government.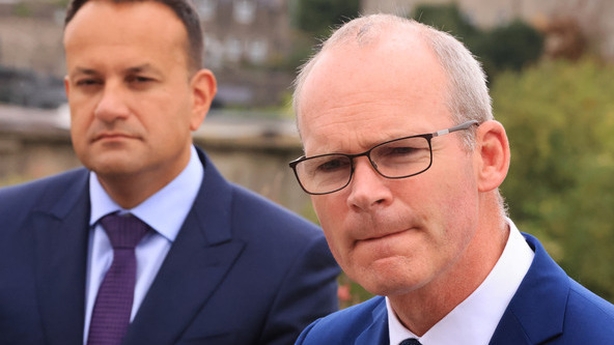 Yet there was also a limit on the information which Minister Coveney was prepared to provide to journalists today.
One example related to his March text exchange with Katherine Zappone, in which she thanked the Minister for an "incredible opportunity" - widely interpreted as her believing she had been offered a job.
Minister Coveney said today: "She wasn't offered a job, at that time, but I could have and should have been clearer with her on that."
However, he would not say if they had spoken about this misunderstanding in a recent telephone call.
Mr Coveney stipulated it was a "courtesy call" given that his Department was about to release files which contained her text messages.
While he declined to say whether he felt she should go before the Oireachtas Joint Committee on Foreign Affairs and Defence, he contended that he had be "surprised" if there was any difference between their two accounts.
The Fine Gael deputy leader also did not want to go into detail regarding the "clearing" of his phone of text messages.
He was asked about how he avoided deleting messages which could be the subject of a future Freedom of Information request.
Mr Coveney contended that he had given "a very clear explanation" to the Oireachtas Committee about this matter.
He added that when a conversation no longer needs "to be held", he then clears "unnecessary information" - arguing "lots of others do as well".
That said, he stipulated: "I certainly did not break any FOI rules."
There was also an unexpected insight into the exchange between Mr Coveney and the Taoiseach on the appointment.
He said he rang Micheál Martin "on the night of the Cabinet meeting" to apologise for not alerting him in advance.
Mr Coveney said the Taoiseach was not annoyed about what happened but "rather surprised". Mr Martin may have been surprised but his Fianna Fáil TDs were furious.
Asked if the political fiasco was as a result of the Fine Gael leaders being out of touch, Mr Coveney contended that this was only a perception that "people are trying to create".
He maintained "there is no sense of complacency or separation between membership and leadership".
Looking towards tomorrow's no-confidence vote, Mr Coveney said: "I will defend my record." He believes he has the backing of Fine Gael deputies and hopes that's the same across Government too.
He has "reached out" to TDs in Fianna Fáil and the Greens "to give them re-assurance" but would not say who he spoke to or precisely what he said.
There was also a certain sense of mystification about how this appointment had snow-balled into a massive political controversy.
Mr Coveney said: "I saw no error or controversy until the issue emerged post-Cabinet, in this appointment and I'm just being honest about that."