Brandon Lewis took to Twitter on a number of issues last week, including the staging of the Super Cup final at Windsor Park in Belfast.
There wasn't a word from the Northern Secretary on his government's hugely controversial proposed statute of limitations to end prosecutions for Troubles killings.
But the debate about the plans rages on, with thousands of words being written and spoken.
One of the 13,000 fans inside Windsor on Wednesday night was DUP leader Jeffrey Donaldson, a devoted follower of Chelsea since he watched them on television as a young boy beating Leeds Utd in the 1970 FA Cup Final.
In common with the leaders of all other political parties in Northern Ireland, he has heard many words of anguish about the issue in recent weeks. The game was a brief distraction from a controversy he says fills a large portion of his daily in-tray.
"Victims are angry. If there is to be consensus on this issue, there needs to be a change," he told me.
"People need to have access to justice."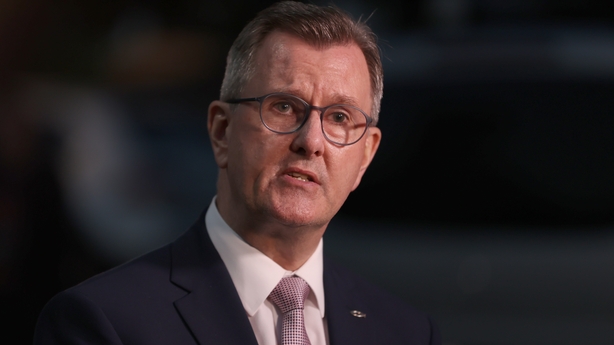 A short distance away as the crow flies on the Falls Road on the same night a debate on legacy took place as part of the West Belfast Festival with the audience including many relatives of victims of the Troubles. People who, as the chair of the discussion journalist Allison Morris put it, "live and breathe" the issue.
That same evening the festival ran a 75-minute discussion I had with Minister for Foreign Affairs Simon Coveney in Cork as part of its programme, covering a wide range of issues including the British government's plans.
Earlier on the same day, came strong words from the United Nations, with a statement expressing "serious concerns" about the proposals, which it described as a "de-facto amnesty and blanket impunity for the grave human rights' violations" during the Troubles.
"Anytime a government tries to railroad something in the context of Northern Ireland, it doesn't turn out very well"
If Brandon Lewis was serious when he said at the time the proposals were announced that he and UK Prime Minister Boris Johnson will listen to the views of victims, political parties and the Irish Government, then he would appear to have no option but to abandon them.
The widely held suspicion in Northern Ireland is that this is a fait accompli and that the British government is not listening, and is instead already committed to railroading the proposals through the House of Commons no matter what anyone says.
"I certainly hope that the British government doesn't railroad anything, because anytime a government tries to railroad something in the context of Northern Ireland, it doesn't turn out very well," Mr Coveney told me.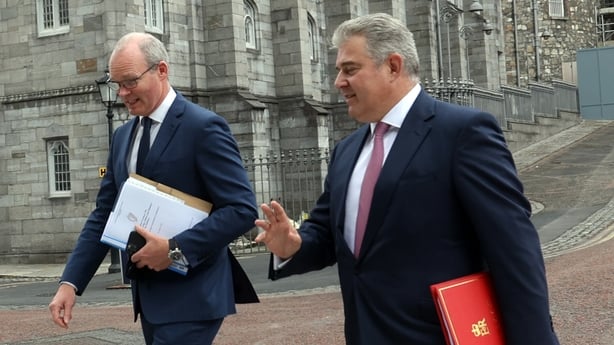 "I find it hard to believe that I can be convinced by arguments made by anybody that actually the way forward for Northern Ireland on legacy is to simply legislate for what people will see as an amnesty, and then expect that everyone will just sort of accept that and suck it up, and just go about their business."
The minister and Mr Donaldson disagree on many issues, particularly in recent months in the debate on the Northern Ireland Protocol, but on this issue their views converge.
Mr Coveney said he is working with victims' groups and political parties at Stormont to try to build the kind of consensus approach the DUP leader also desires. He hopes that, if achieved, that would put pressure on the UK to withdraw the proposal, which also includes a ban on any further inquests or civil legal action in relation to Troubles killings.
"I know from conversations with people in Northern Ireland what the centre ground opinion is on legacy. People want the truth, if they can get it. People want access to justice in the courts, if there's an evidence file that can allow them to do that.
"If we're to be credible here, we apply the rule of law equally to everybody"
"I have a huge problem with the approach that the British government is proposing to take, because what they're essentially saying is that the avenue for justice through the courts, in the context of a conviction and a prosecution, will no longer be available.
"Hopefully we can find a way forward that doesn't involve any one government forcing the issue or legislating against the wishes of the majority of people in Northern Ireland."
I asked about the fact that many critics of the proposal say it is veteran-centred rather than victim-centred, driven by a desire of the Conservative Party to appease UK military veterans and their supporters. Sinn Féin, the SDLP and some victims' groups say it is also a transparent attempt to cover up collusion and murder by individuals acting on behalf of the British state.
"If we're to be credible here, we apply the rule of law equally to everybody," Mr Coveney responded.
"It doesn't matter whether you're wearing a uniform, or whether you're not. It doesn't matter whether you have a label as a terrorist or paramilitary, or whether you have a badge that, you know, means you're part of the British Army or the police service in Northern Ireland or the RUC previously.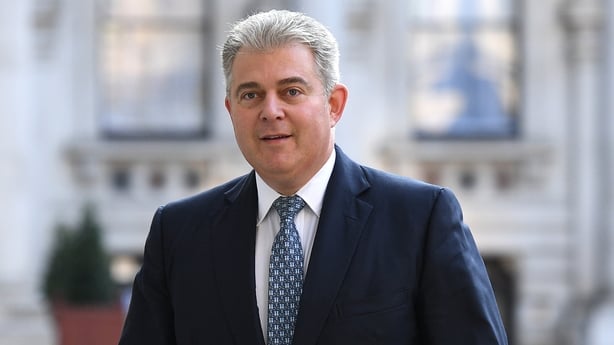 "It's the act. Was there a murder? Was there an atrocity? Was somebody breaking the law? That is what has got to determine how we respond to these issues, and if we don't do that well then we're categorising different communities in different ways."
In a hall in St Mary's University College on the Falls Road on Wednesday evening, very similar views were expressed by panelists taking part in a debate entitled 'Dealing With The Past - What is the Future For Victims?'
Kieran McEvoy, a professor of law and traditional justice at Queen's University, launched a withering attack on the planned statute of limitations, which he described as "flabbergasting".
"What is being proposed here is a more expansive amnesty than was introduced by Pinochet in Chile," he said.
"We have a database of every amnesty, my friend and colleague Louise Mallinder (law lecturer at Ulster University) has a database of every amnesty that's been introduced anywhere in the world since 1945, and we've been looking to find the worst ones. This is right up there.
"This is not just prosecutions but closing down civil actions, closing down a person's right to go to court ....closing down inquests that are currently before the courts.
"Like, that is London reaching deep into the operation of our courts in this jurisdiction, a fundamental breach of the Good Friday Agreement, devolution of justice is central to that."
The panelists also included Jon Boutcher, who leads Operation Kenova, an independent British police team investigating the alleged activities of the British Army's most senior agent within the IRA, codenamed Stakeknife.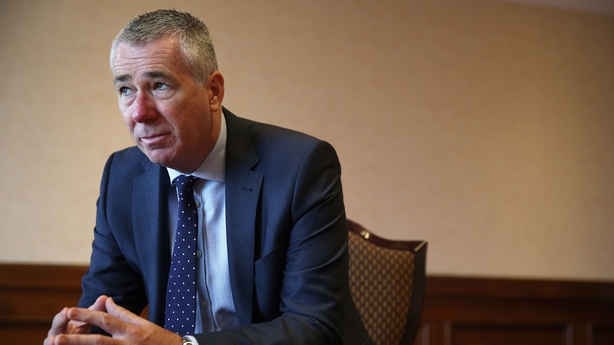 In addition to his activities, the investigation is also examining whether criminal offences were committed by other members of the IRA, or by the British Army and security services. It initially began examining 60 murders, but that has now grown to more than 200.
The team has sent 31 files to Northern Ireland's Public Prosecution Service, and Mr Boutcher says he believes they contain "some very compelling evidence".
A large part of his investigation is attempting to delve into the murky world of the intelligence war and trying to establish the extent of direct knowledge and involvement in killings by agents working for the British army, RUC and MI5. That also includes the extent of any collusion in those criminal acts by those managing and handling the agents and informers.
"I have real concerns about a statute of limitations because it's against everything I've ever stood for, the rule of law"
Speaking to Jon Boutcher shortly after his team began its work in 2016, I put it to him that it was possible the British government and security services would put obstacles in his path and do everything possible to prevent former soldiers, police officers or members of MI5 facing prosecution.
He said then, as he does now, that he will oppose any such move and publicly call out any person or institution that tries to close down his investigation.
Speaking during the debate on Wednesday night, he described the proposed end to prosecutions as a "miscalculation", and urged Brandon Lewis to "listen to the overwhelming narrative that there are concerns about this."
He added: "I have real concerns about a statute of limitations because it's against everything I've ever stood for, the rule of law."
Relatives and lawyers who have worked with Mr Boutcher say they've been impressed by his personal engagement and concern as well as the investigative efforts of his team. They also say they believe he is a man of his word, and that he will deploy every method possible to try to thwart any attempt to obstruct him.
The UN also flexed its diplomatic muscle in a statement from two special rapporteurs issued on Wednesday.
"We express grave concern that the plan outlined in July's statement forecloses the pursuit of justice and accountability for the serious human rights violations committed during the Troubles and thwarts victims' rights to truth and to an effective remedy for the harm suffered, placing the United Kingdom in flagrant violation of its international obligations," they said.
Boris Johnson has repeatedly demonstrated a cavalier approach to criticism and external pressures on a wide range of policy issues, so the views of those in Dublin and Stormont may not cause him any concern.
The views of the UN may cause some momentary embarrassment on the international stage, but again, Boris is more concerned about his domestic audience, including those British military veterans and their supporters that this plan is clearly aimed to placate.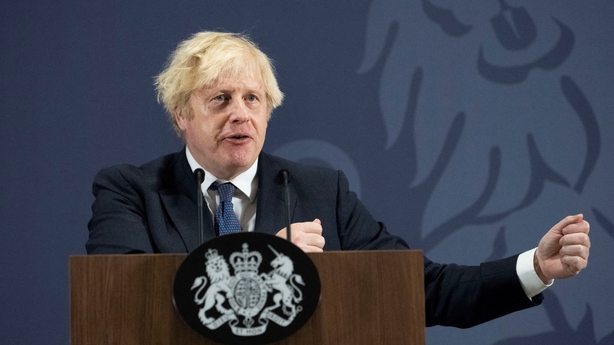 Pressure from the White House might be an entirely different matter. Joe Biden's Irish ancestry and proclaimed admiration for the land of his forefathers presents the Irish Government with formidable diplomatic opportunities, which have borne fruit in US contributions to the debate around the Northern Ireland Protocol.
Exit from the EU means the UK needs a trade deal with the US, so strong opposition to the prosecutions plan from the Biden administration might be impossible to ignore. Pounds and dollars could yet trump domestic politics.
Back in Belfast on Wednesday, as Jeffrey Donaldson settled into his seat in the south stand in Windsor Park to watch the Super Cup clash Brandon Lewis had tweeted about, a few hundred Chelsea fans were led to the ground by the Ulster First Flute Band from the Sandy Row area of Belfast.
Great to have such a super event here in Belfast this evening, another chance to show off this fantastic city. Hope everyone had a fantastic evening and best of luck to the teams for a great game. #SuperCup2021 https://t.co/U5IiqcniAX

— Brandon Lewis (@BrandonLewis) August 11, 2021
The tune they played as they approached Windsor was The Green Fields of France, a song that reflects on the death of 19-year-old Willie McBride during the First World War.
It includes the line, "do all those who lie here know why they died?"
Families across Ireland and further afield - Catholic, Protestant, Irish, British, republican, loyalist and others - are still seeking answers about the deaths of their loved ones in a much more recent conflict much closer to home. Many relatives want to know why those lives were ended, and who was responsible. Many also want the perpetrators to face justice and be held to account for their actions.
Those voices are loud and strong, and growing in number.
At this stage, nobody knows if Brandon Lewis and Boris Johnson are listening.
* The two discussions, 'Dealing With The Past - What Is The Future For Victims?' and 'Minister Simon Coveney TD in Conversation with Vincent Kearney' can be viewed on the Féile an Phobail website, YouTube and Facebook