We have come through all the seasons with coronavirus and met the darkness, light, cold and the heat of each.
So I guess we are weary travellers with this burdensome enemy that has always been in close proximity.
Now it looks like we must soldier through a season or more, perhaps. But when will it all be over?
The latest surge in cases is not unexpected, but it has given us pause for thought. It's important to be aware that we are now in a totally different place to the first three waves.
Much has been learned over the past 17 months of this war zone and the weapon of vaccination is playing a crucial part in our defences.
The HSE promise is that by the end of August, 80% of eligible adults will have been fully vaccinated. By September, all adults who wanted to be vaccinated will have received both jabs.
In the meantime, the race is on to ensure as many younger people are vaccinated as quickly as possible.
Vaccine hesitancy is very low here and the huge interest in the single-dose Janssen vaccine at pharmacies for young people tells its own story.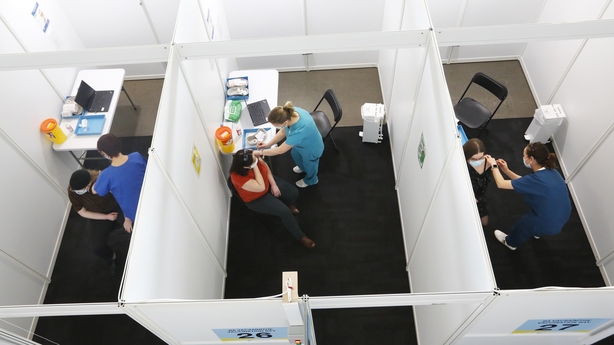 It has meant waiting lists for people wanting to be vaccinated. People just want their lives back. These will certainly be remembered as stolen years.
For young people especially, the last while has been a torrid time. They have carried a massive burden and waited patiently for the older, more vulnerable to be vaccinated first. Now they are being asked to wait a bit longer.
For younger people there has been mostly no travelling, no pints in pubs with pals, in many cases no work, careers on hold, no college, or nightclubs or just plain hanging out to shoot the breeze. Relationships have been put in cold storage.
The message from NPHET this week is that this age group will not have to wait much longer for vaccination and that it is around the corner.
Meanwhile, the approach to indoor hospitality has created an inter-generational split, albeit a temporary one. From a Government perspective, it is not a perfect solution but it will get the sector open, people back working and allow families inside.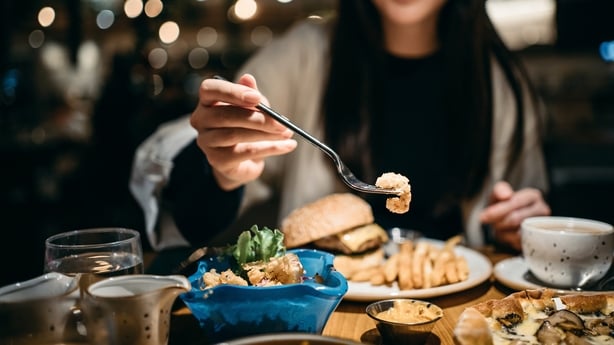 The current weather is fabulous - but it's not always this sunny in Ireland and, if you are holidaying here, the pub or restaurant has always been a safe haven.
While the new protocols will allow vaccinated parents to bring family members under 18 who are not vaccinated into pubs and restaurants, it does not provide for people over 18 and a bit older, who are not vaccinated to go in with family or with their pals.
Opposition parties have called it discriminatory and it has provoked anger, with some protests in recent days.
Chief Medical Officer Dr Tony Holohan went further mid-week. He made it clear that the public health view is that people who are not vaccinated should avoid indoor dining. He advised parents with children that it is safer to bring them to outdoor dining and that the options were there now this summer.
It places parents in an invidious position of seeing the Government back one approach, while NPHET takes a tougher line.
At this time of year, many families are planning, or are already on staycations. They are being told that they should not bring their kids to restaurants or pubs. That is a big disappointment for what is always a major part of a family trip. It will also affect businesses trying to claw back losses.
There is also the issue around the health and safety of employees of the hospitality sector who are not vaccinated. While they will be taking the expected precautionary measures, with masks and social distancing, they face potential exposure from unvaccinated people allowed into indoor hospitality.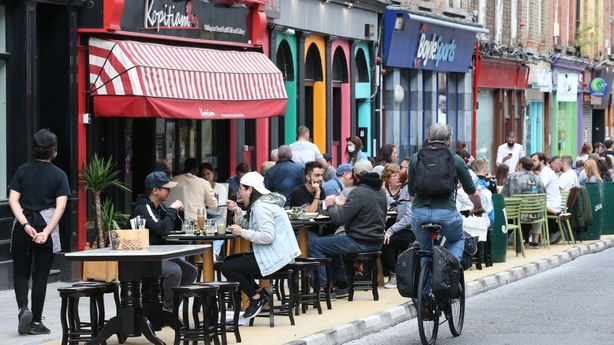 NPHET reported this week that the second biggest age group where cases are rising is in those aged 13 to 18.
The vaccination programme is in a race to beat the Delta variant. Yesterday, the five millionth vaccine dose was administered. At this stage, around 75% of adults are partially vaccinated and 60% fully vaccinated. The aim is to administer around 300,000 vaccines next week.
Because the HSE has good sight of vaccine delivery to August, it is able, as a once-off now, to dip into the 'buffer' vaccines held back for second doses. This should help accelerate the programme.
The uptake in vaccines here is high. Ireland can be proud of that achievement. In some countries, would you believe, they are offering donuts, drugs, booze and even guns, for people to take Covid-19 vaccines. A report in the British Medical Journal this week explained what was happening. In Ohio, if you take the vaccine you could win a million dollars, as part of a state-funded public outreach programme.
Get a shot and have a beer, US President Joe Biden said and that prompted New Jersey to run a 'Shot and Beer' campaign. The BMJ reported that some states went further, with Washington State offering 'Joints for Jabs'. I kid you not. And, even more amazingly, in West Virginia, using federal pandemic relief funds, people were offered cash, trucks and guns.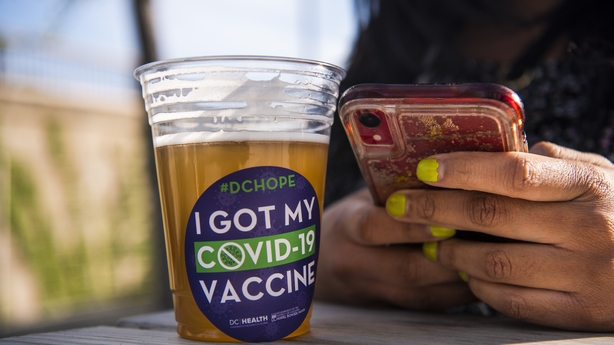 The latest revised projections from NPHET, under one optimistic scenario, is that between now and the end of September, there will be 105,000 cases, 1,985 hospitalisations, 260 patients in ICU and 335 deaths.
Last week, the cases were trending ahead of these projections, closer to more pessimistic models. But no-one is sure how it will all transpire. It mostly depends on the level of social mixing in the weeks and months ahead. That is something within people's individual control.
Over the coming weeks, the HSE's test and trace system will come under increased pressure. It was at surge capacity late this week, doing 20,000 tests a day. The capacity is to be beefed-up to 30,000. This will include using antigen tests for close contacts and using labs in Germany again, where needed. We were told by the HSE that they have 900 contact tracers available. The system got overwhelmed last December/January and it could happen again.
The hospital system is also under pressure as it is busy doing "normal" work. Emergency Departments are seeing increased attendances, but at this point that is not leading to increased admissions.
However, when we get into the autumn and winter months that will change as the late year cold and weather and other bugs circulate. Never mind Covid-19, winter will bring its own pressures. A bad mix of both this year could spell trouble.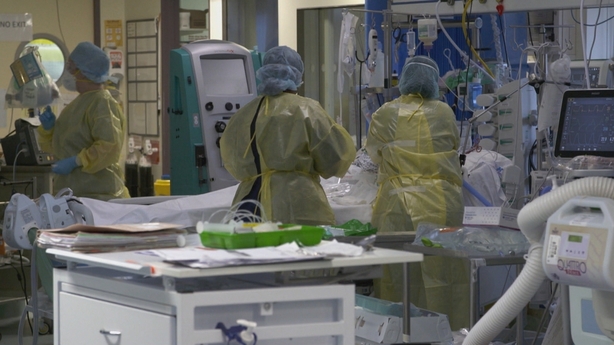 People have asked what has the HSE done since the start of the pandemic to build up capacity further in the health system, which was already under pressure pre-pandemic.
Do we have enough adult ICU beds? Before the pandemic, ICU beds were at about 255. During the first wave they were increased, with the aid of temporary 'critical care beds' to about 350. Today, there are around 300 ICU beds.
The Government strategy launched in December 2019, before the pandemic, has been to get to around 321 permanent ICU beds by the end of this year. And then to 456 in time. The 2018 Health Service Capacity Review put a need for 430 ICU beds for the health system. We are not there yet.
In relation to inpatient public hospital beds, Ireland has around 11,000 of these. Over the period of the pandemic, there has been no major increase in this capacity. In 2009, the health service had more acute inpatient beds with 11,369 in place.
There has been a move over time to increase day-beds (no overnight stay) to recognise the shift towards more day-care procedures. However, the point is that last week, the HSE said there were about 140 general acute beds free in the whole hospital system, at a time when it would normally be expected to have about 400. So the pressure is on.
It seems inevitable that as Delta cases grow, and more hospitalisations occur, some parts of the health system will again reach surge capacity. That will result in planned procedures and other services being postponed. This means longer waiting times for patients, with the consequent dangers that poses. Some individual hospitals are very close to surge capacity.
If the private hospital sector is needed to assist, a deal is in place to allow that to happen by the end of this year. The unknown at this time is just how many cases will end up in hospital this time, given the risk seems greatest for young people. But it is also the case that around 5% of people who were fully-vaccinated got Covid-19.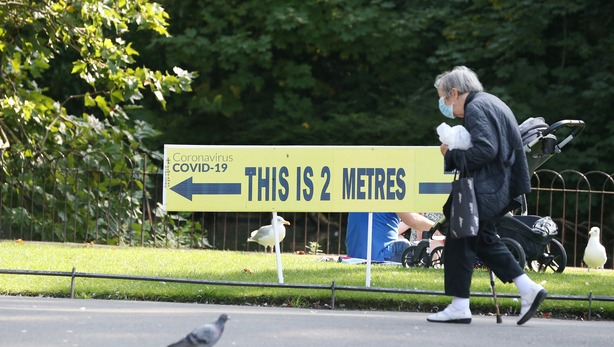 So, once again, we are heading into a period of uncertainty. The next 12 weeks will tell a lot about how the rest of this year is going to look. As a rough guide, around 20-30 hospital admissions arise from every 1,000 cases. If there is a fourth wave peak, that would likely result in high hospitalisations in October and November. These are traditionally very difficult months for the health service anyway, without Covid.
Based on where we are now, it is difficult not to see continued mask-wearing and social distancing as a minimum, and perhaps some other measures returning for the rest of 2021. That raises the question of when people might be returning more fully to the workplace.
It was notable that recently a policy document from the Department of Expenditure & Public Reform has suggested that Civil Servants could return to the office, up to March 2022.
Every time we think the end is in sight with Covid-19, the horizon appears to move further into the distance. For all of us, this started at the end of February 2020. Now we are talking about 2022 already.
Notably, Tánaiste Leo Varadkar said this week that Ireland needs to get through at least another winter, before we can say the pandemic is behind us.
The point he was making is that vaccinating all adults may not be enough. Vaccinating teenagers and some children aged 12-15 may also be needed to reach community immunity.
The official advice on vaccinating children is awaited from the National Immunisation Advisory Committee. That expert group is also looking at mixing vaccines and whether booster shots will be needed at some stage.
There have been several times when hopes have been raised only to be dashed during this pandemic. But we are in a different phase now and a better place in real terms.
There remain many unknowns ahead. While we must all remain careful, we should also embrace each day more now with hope, than with fear.
The dynamic has changed. Our mission has not. We will beat this virus to the dawn.