For those intending to travel to parts of Europe from Monday week, 19 July, the EU Digital Certificate will be an important piece of documentation - just like a passport.
It should allow ease of passage around Europe. Although, there may be delays at ports and airports with this new piece of travel documentation.
Keeping it on both a phone and in paper version is advised as phone batteries can die, phones can be mislaid or lost, and even paper goes missing too or is damaged.
For the Government here, it will be a big test to ensure that the roll-out of the Digital Certificate goes as smoothly as possible.
What is the EU Digital Covid Certificate?
The Digital Certificate is proof that a person has either been fully vaccinated against Covid-19, has received a negative test result or has recovered from Covid-19.
It became available in most EU Member States from 1 July, however Ireland has used the further time allowed to get its system ready.
Ireland will operate the system from Monday, 19 July. At that point, the Government position on only travel for essential purposes ends for the bloc.
The primary aim of the cert is to facilitate free movement of EU citizens during the pandemic. With a Digital Cert, a person travelling from Ireland to another EU Member State does not need to have any further tests or quarantine on arrival.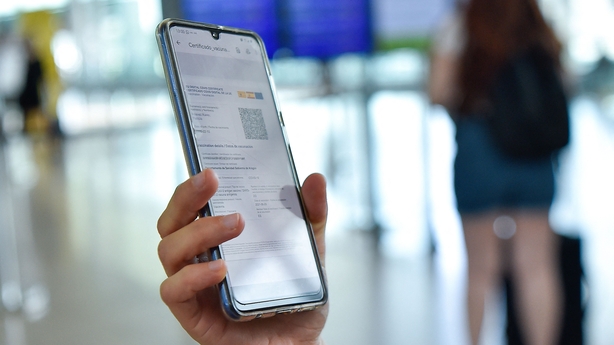 Are there different types of certs?
There are essentially three types of Digital Covid Certificates showing Vaccination, Recovery or Negative test (PCR or Antigen).
How does it work?
The Digital Cert has a QR Code on it and is valid in all EU countries. At airports and ports, it will be scanned to ensure it is not a forgery. The Cert has barcode that has been digitally signed by a Government, so that it cannot be forged. The barcode has the person's name within it.
If you arrive in an EU Member State with a Digital Cert, you do not have to self-isolate anymore. Unless of course you were unlucky to become ill during travel with Covid-like symptoms.
How will I get my cert?
The Government has promised to begin sending out the Digital Certs from next Monday, 12 July. They will be issued to an estimated 1.9 million people. You should get an email or a letter.
For people who got vaccinated at one of the 40 HSE vaccination centres, they will receive their Cert via the email address they gave when they registered for vaccination on the portal.
For people who were vaccinated by their GP, at a hospital, or in a pharmacy, they will receive their Cert in the post, to the postal/Eircode address that they gave.
The fact that people will get their Cert by post or by email will be a source of irritation for some. The difficulty is that during the early stages of the vaccination programme, the full IT system was not set up, so all the data on people was not collected. That means it will be a paper Cert for some. But you can scan it to your phone.
There will be a national call centre in Ireland to assist people getting problems resolved, but how fast that will be done is unknown.
The details of the call centre have yet to be made public.
It will not be a HSE call centre but, at this point, it looks like it will be set up by the Department of Health.
If people have changed email or address that could be an issue to resolve. Or, if people lose their cert or it gets torn up, the call centre should be able to re-issue it by email.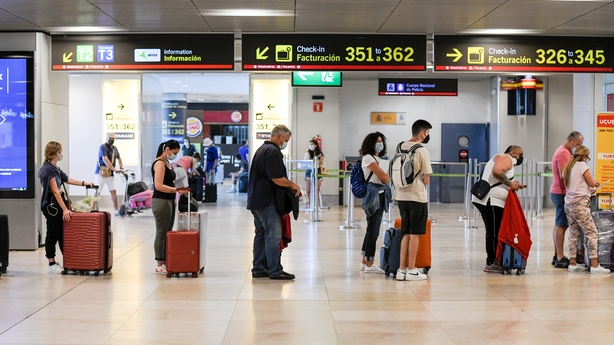 What about children travelling?
You can get a Digital Cert for a child if they have been fully vaccinated (some between 16-18 have been vaccinated due to being at high-risk), or if they have recovered from Covid-19 in the last six months, or if they have had a PCR or Antigen test - if the country you are travelling to accepts Antigen tests - within the required period before travel.
Children under the age of seven do not need a PCR test if travelling to Ireland.
For example, if you are travelling with a child to France, passengers aged 11 years and over who are not vaccinated must be in possession of either a negative PCR test or a rapid antigen test result taken within 72 hours before departure. Self-administered antigen tests are not accepted.
In the case of children, you should check the requirements for the EU country you are travelling to. For example, again with France, passengers aged 11 years or older are required to complete a declaration that they do not have Covid-19 symptoms, have not knowingly been in contact with a confirmed case in the preceding 14 days, and will submit to a PCR test upon arrival if required.
What if I have recovered from Covid-19?
A Digital Cert will be issued to people who have recovered from Covid-19 here in the last six months. You must request it from the helpline which will be set up. You can request the Digital Cert 11 days after your positive test.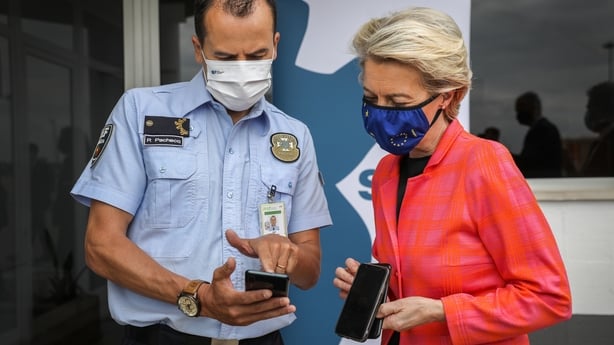 What if I get a private test?
In the case of a negative PCR or antigen test done privately, you get the cert from the private service. If you have a private negative PCR or antigen test, it will mean no quarantine is necessary when you travel from Ireland to another EU Member State.
What happens if I don't receive my cert?
This is where there may be potential for some problems. And with over 1.9 million to be issued, there will be glitches. Any delay in people getting their Cert for travel plans already in place may cause anxiety. If it disrupts people's travel plans, that will be a major issue.
However, the Government said that the Digital Cert is not a prerequisite to travel in the EU. You can still travel on existing documentation, if you can show evidence you have been fully vaccinated, or have been tested for Covid-19.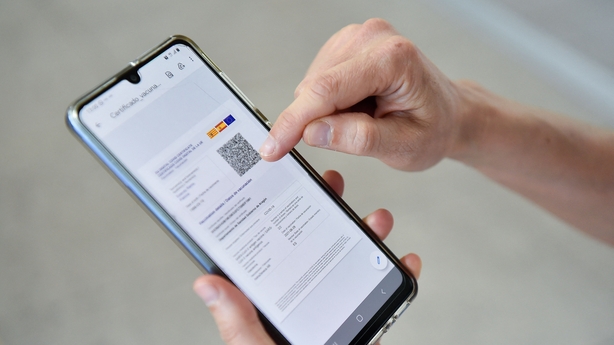 Can I travel without a cert?
Yes. The European Commission said that the Digital Cert is not a requirement for free movement, which is a fundamental right in the EU. If you do not get your Digital Cert next week and are travelling on 19 July, you can still travel on your existing documentation.
It is vital that people check the requirements for the country they are travelling to if they are not vaccinated and need to have a negative test. Check if a negative PCR test is needed, or if an antigen test will suffice. The Government here said that existing documentation will be accepted while the Digital Cert system is being rolled out.
That is because under the EU system, Member States have from 1 July to 12 August to phase the Digital Cert in, and other formats can still be used and should be accepted in Member States.
Who is responsible for the cert here?
Minister of State, Department of Public Expenditure & Reform, Ossian Smyth is responsible for issuing the certs but it is a cross-Government project.
The data comes from the Department of Health and HSE, the Department of Justice has produced an app to scan at ports and airports, the Department of Transport is assisting with the ports and airports, the Department of Foreign Affairs is giving advice on international travel, and the Department of the Taoiseach has a co-ordinating role. So there are many moving parts in this project.
For more information, check the Gov.ie website or the European Commission website on the EU Digital Cert.
The citizensinformation.ie website is also very useful.
Bon Voyage
EU Member States have the right to apply an emergency brake if there is a spike of cases in another member country. So that could mean restrictions coming into play while you are away. Therefore, travellers need to keep up to date with developments in this regard. Things can change very fast in the world of Covid-19.
Allow yourself more time at airports and ports given the changes.
Just because people have a Digital Cert and can travel does not mean they should abandon the normal public health safety advice when they are away and more relaxed. That means wearing masks where required, social distancing, hand hygiene and being careful about crowded places.
Dr Mike Ryan, World Health Organization, has said that Europe has done a lot of work to manage the process of travel in the 27 countries, given the pandemic. The EU is trying to create its own bubble for economic and social reasons. But it must be done carefully and it is not without risk given the Delta variant threat.
For those who are availing of a trip in Europe, for whatever reason, safe travelling and come back home to Ireland, rested, happy and well.