It was the unlikeliest of coalitions for the unlikeliest of times. On a dreary June day, bereft of much of the usual ceremony of such an occasion, Micheál Martin was elected Taoiseach by a Dáil sitting in the paltry and social-distance permitting National Convention Centre.
The man, whose defining political characteristic had been patience and pragmatism, took to the helm of a historic Government that the underlying trends in Irish politics had been pointing to for some time, yet the inevitability of which had not been obvious to many.
Mr Martin, who was advised on first entering national politics three decades earlier to "be prepared for the long road and the long haul" must have known it took many miles to get here with the most difficult part of the journey still to go.
He vowed to place pictures of Michael Collins and Éamon de Valera side by side in his office on Merrion Street to signal a new era in Irish politics.
But there was little time for symbolism with the crisis at hand. The coming together of the two parties whose rivalry had defined Irish politics for decades was something that few had the luxury of dwelling on, when there were life and death matters to be dealt with
The soft summer rain was falling on the glass edifice of the Convention Centre when he took to his seat to make his first speech as Taoiseach. The storm clouds around his nascent coalition, already beginning to gather.
Fianna Fáil leader Micheál Martin has become the country's 15th Taoiseach, leading a coalition with Fine Gael and the Green Party into government. All members of the coalition and nine Independent TDs supported Mr Martin's nomination. | Read: https://t.co/qWSdSzQm1C pic.twitter.com/HjEUzjeom2

— RTÉ News (@rtenews) June 27, 2020
It quickly became clear that for Fianna Fáil - once the "natural party of Government" - high office felt like a very unnatural and unfamiliar place.
The party's involvement in the coalition didn't exactly get off to a running start, with ministerial resignations, disunity and disgruntlement among its TDs and a string of clumsily handled controversies.
By comparison Fine Gael was settling in to the new arrangement just fine, basking in the glow of public support for its earlier handling of the pandemic, during its time as a caretaker government when national solidarity was high, political opposition was subdued and the green jersey had been wrapped around everything they did.
The rivalry between the two was as intense when they shared government as when they were in opposition.
The early stages of the coalition were marked by what might be described as personality clashes between both bigger parties.
There was frustration within Fine Gael over what some of its ministers felt was poor communication of pandemic-relate decisions. In turn, Fianna Fáil complained about the propensity of Leo Varadkar to seek to upstage the Taoiseach - sometimes making announcements of decision on his way in to cabinet meetings.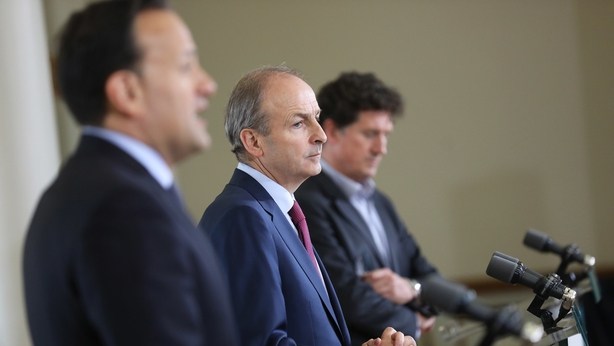 It all proved, if nothing else, that the rivalry between the two was as intense when they shared government as when they were in opposition.
The Green Party, meanwhile, had its own internal issues. There was a small - but all to public on social media - wave of resignations from young, idealistic grassroots members.
Disputes between different wings of the party arising from Eamon Ryan's leadership race win against Catherine Martin bubbled beneath the surface.
The party leader who - despite having a mainly positive image and the support of most of his TDs and Senators, was the subject of sniping from some colleagues who privately accused him of "hiding" in his departmental bunker instead of addressing the grassroots concerns.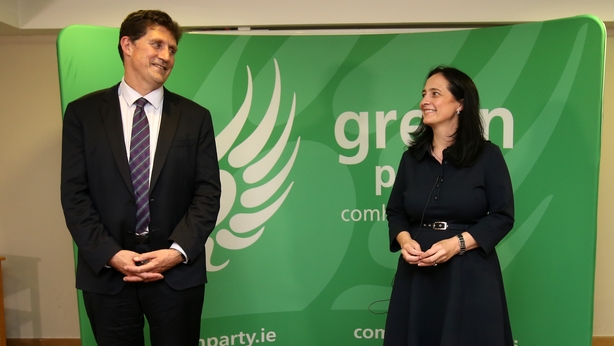 And all the while the Government had to get on with the task of navigating the country through a time of crisis and risk, when the need for Government to be responsive to the need of its citizens was stronger than ever.
Despite all of this, the coalition has, according to Dr Kevin Cunningham, a statistician and politics lecturer in the Technological University Dublin, emerged stronger from the pandemic than what many might think.
"Overall public support for the Government has improved in relation to the pandemic. The vaccine is perceived very positively among the general public," he said,
"While in the UK, Boris Johnson received a vaccine bounce that doesn't appear to have been the case here. That is because other issues are naturally emerging. The Government is losing significant support among people who are renting, while sustaining support among people who own their own homes or haves mortgage," he said.
There is a belief across politics too that other non-pandemic related issue will dominate how all parties will be judged for their involvement in coalition. And all of that will depend on how much the State should spend, on what, and how it will be paid for.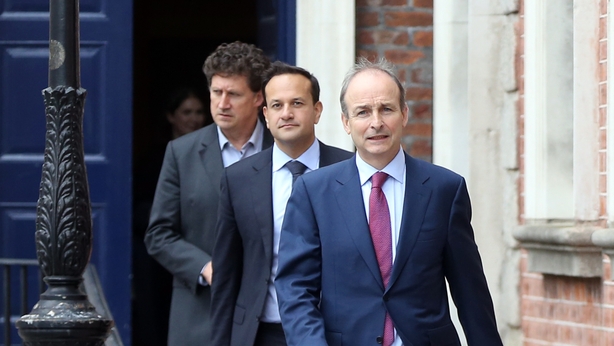 The party leaders have given indications of their own spending priorities, with Mr Varadkar suggesting that income tax was too high, while also advocating for extra spending in the Department of Health next year.
Meanwhile, the Taoiseach has suggested there will be a "more active State" in the aftermath of the Covid-19 crisis and that the health service will be much bigger and undergo a "transformation."
But will this be possible? Stephen Kinsella, Economist at at the University of Limerick, says the only way to have tax cuts while increasing public spending is with vast amounts of economic growth.
"As the economy recovers you will see lots and lots of economic growth, which will result in higher than expected tax revenues. The Government can spend those tax revenues how it pleases including on decreasing income taxes," he said.
But, he said, there are two key risk factors to decreasing income taxes at this time.
"The first key risk factor is any decrease in corporate tax revenue caused by a change to the international corporate tax regime. The second is the very large demand for increase public spending on housing which will need to be addressed over the coming months and will certainly feature as a a major issue as we move in it the autumn past the summer.
"Both of those areas will necessitate very large amounts of spending. So It may be difficult to reduce taxes and increase health spending in either of those contexts."
This all means that there is still some way to go on the road for this coalition. It remains to be seen how it will ultimately be judged.