Paul Givan tooted his car horn and he and his front seat passenger shouted "hello" and waved as they drove away from Stormont at around 6.15pm on Monday .
His passenger was his good friend and party leader Edwin Poots and they were on their way home.
I'd just finished a live on RTÉ's Six One news and reported the fact that a senior Sinn Féin delegation had just arrived for talks with Northern Ireland Secretary Brandon Lewis.
So as the DUP duo were leaving Parliament Buildings, the magnificent Greek classical style home of the Northern Ireland Assembly, a Sinn Féin trio were in Stormont House, tucked away behind trees and security gates just a few hundred metres away.
Party leader Mary Lou McDonald, Michelle O'Neill and its chief negotiator Conor Murphy went into talks with the Northern Ireland Secretary and a number of senior British government officials.
Their message was simple: if you want us to go back into powersharing, honour the commitment to deliver Irish language legislation.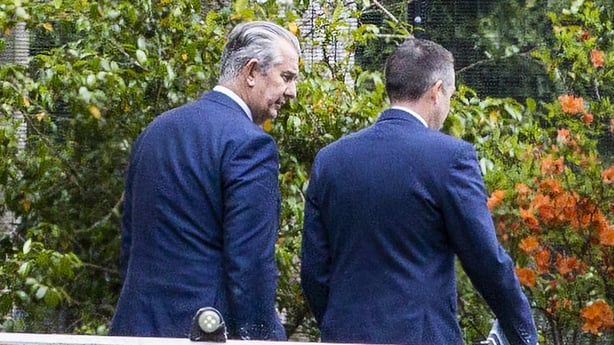 The Sinn Féin team was back in Stormont House shortly before 7pm on Wednesday. On the way in, Mary Lou McDonald told the media she was "hopeful" that progress would be made.
Edwin Poots and Paul Givan arrived a short time later for a separate meeting with Brandon Lewis, but avoided the media by going in through a back gate. They left through the front gate, this time with the DUP leader giving his friend Mr Givan a lift home in his car.
The Sinn Féin delegation then went to the party's headquarters on the Falls Road to brief its party officer team on the discussions. Edwin Poots and Paul Givan went home; they did not meet or speak to members of the DUP's officer team. That was to prove a fatal flaw.
As the media waited in the growing darkness beside Stormont's iconic statue of Edward Carson there followed a period of "shuttle diplomacy" between Sinn Féin and the Northern Secretary's team. There was no input at this stage from the DUP.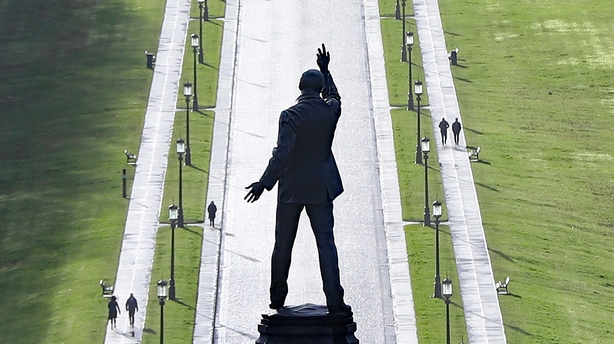 Senior Irish Government officials from the office of the Taoiseach and Department of Foreign Affairs were also in the loop and Informed about the discussions and developments.
Away from the assembled television cameras gathered in Lough Erne in Co Fermanagh for the British Irish Council meeting on Friday 11 June, Minister for Foreign Affairs Simon Coveney had enjoyed a working breakfast with Brandon Lewis.
They discussed the fact that the Irish and British governments were co-authors and guarantors of the New Decade New Approach agreement, which paved the way for the restoration of the Stormont Assembly in January last year.
That NDNA deal, which all the Stormont Executive parties including the DUP signed up to, contained a commitment to a "cultural package", with promised legislation on the Irish language, as well as Ulster Scots.
Mr Coveney and Mr Lewis discussed the fact that the commitment had not been delivered, and needed to be.
The minister flew to the Middle East last Monday on UN Security Council business duties in Saudi Arabia and the UAE and returned in the early hours of Thursday morning. But he was kept across developments in a series of phone calls throughout that time.
Taoiseach Micheál Martin was also kept informed by officials from his office in Belfast.
Shortly before boarding a flight back to Ireland on Wednesday evening, Simon Coveney spoke by phone with Brandon Lewis and was told the direction of travel.
At around a quarter to midnight, as the minister was in the air, the media were informed that the Sinn Féin delegation was on its way back to Stormont House; it was a clear a deal was on. A short time later Mary Lou McDonald tweeted that "the British govt have tonight agreed to legislate for Acht Gaelige."
The British Govt has tonight agreed to legislate for Acht Gaeilge. This is the only way to break the cycle of DUP obstruction of rights. Sinn Féin will nominate @moneillsf as Deputy First Minister. We have important work ahead.

— Mary Lou McDonald (@MaryLouMcDonald) June 16, 2021
Journalists quickly checked their phones for a response from Edwin Poots, there was none. There followed hastily arranged press conferences by Brandon Lewis and Sinn Féin, but no comment from the DUP, whose party members learnt about the deal through the media when they woke later on Thursday morning.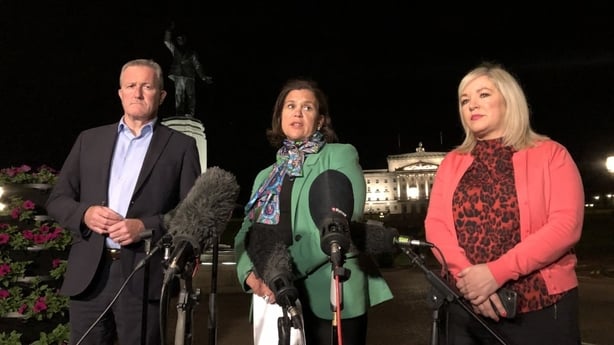 Seemingly oblivious to the first embers of rebellion in his ranks, Edwin Poots emailed and messaged his Stormont Assembly team and told them it was his intention to nominate Paul Givan as First Minister at a specially arranged sitting of the Stormont Assembly on Thursday afternoon. They were invited to attend a meeting at 11am in the Members Dining Room on Stormont's first floor.
The first public sign that he was in trouble came in the form of a leaked letter signed by seven of the party's eight MPs and its five members of the House of Lords, including Maurice Morrow, a hugely powerful and influential figure.
Ian Paisley Jnr, the MP for North Antrim and son of the party's founder, was the only MP not to sign.
The man who had been elected on a promise to listen to the party grassroots and not to dictate policy, as he had accused Arlene Foster of doing, had refused to listen.
They expressed concern about the British government announcement and urged Mr Poots to delay the nomination until they could discuss it, but the party leader refused.
"The thrust of his argument in the meeting was, look the government was going to introduce this legislation anyway, so it's not really a big deal, we agreed to it as part of New Decade, New Approach, so it was always going to happen anyway," said one person who was inside the room.
While only Assembly members had been invited to the meeting, three of the MPs, Jeffrey Donaldson, Gavin Robinson and Sammy Wilson gate crashed it in person, while others joined via zoom. Having initially been told he was not allowed to address the forum, Sammy Wilson was eventually allowed to speak.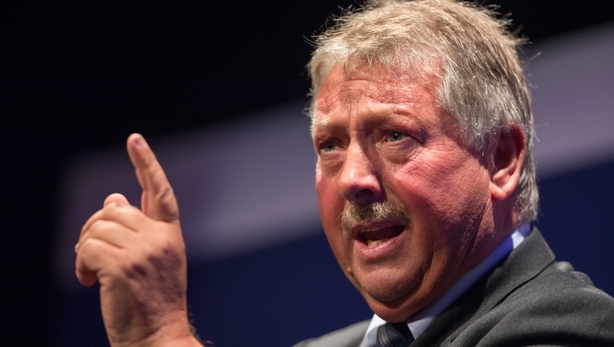 Edwin Poots and Paul Givan did not get to hear what he had to say as they left the room while he was speaking, to the astonishment of those who were there. As they hurried to the Assembly chamber, those left behind were in a state of shock.
Sammy Wilson then proposed a quick vote. The plan was that if the majority were against the imminent nomination, Mr Poots would be informed and urged to delay. But as the vote was taking place, the party leader had already nominated his friend and ally to be First Minister, and Paul Givan had already read the Pledge of Office.
The result of the vote was an overwhelmingly defeat for the Poots strategy. The vote in the room was 26-4 against. Taking into account the likely voting intentions of the party leader and the new First Minister and two other allies who were not in the room, it was 26 against and eight for.
But it came too late. The man who had been elected on a promise to listen to the party grassroots and not to dictate policy, as he had accused Arlene Foster of doing, had refused to listen.
Even before Paul Givan had finished his acceptance speech, word began to filter out about the extent of the rebellion against him.
Those who had voted No included Paula Bradley, who was his preference for deputy leader, and Michelle McIlveen, the education minister he appointed.
The party's new chief whip and deputy chief whip, Joanne Bunting and Trevor Clarke, who he also appointed, also voted against. Others who had backed him in the leadership contest with Jeffrey Donaldson, which be narrowly won 19-17, were said to have been visibly shaken.
"There was utter chaos," said one who was in the meeting room.
"There were people in the room shouting, people on Zoom shouting. People just could not believe what was happening.
"They clearly had no intention of listening to anyone, there was pig-headedness, and that really angered people," said another.
As Edwin Poots' leadership was beginning to implode, Arlene Foster, who he had ousted in what she described as "brutal" fashion, tweeted that she had just had "a lovely lunch" with a good friend at Deanes at Queens restaurant in Belfast.
Just had a lovely lunch @DeanesAtQueens with a good friend. It's great hospitality is open again- Hope everyone is having a great day this lovely sunny afternoon. #ProudofNI

— Arlene Foster #WeWillMeetAgain (@ArleneFosterUK) June 17, 2021
In a thinly disguised swipe at the man who led the internal revolt that forced her out, she added: "Hope everyone is having a great day this lovely sunny afternoon."
While the sun was indeed shining outside, dark clouds were gathering over Edwin Poots as he took part in a remote meeting of the Stormont Executive to discuss coronavirus regulations. It was clear his mind was elsewhere.
"At one point he sat with his eyes closed and hands joined. He looked like a man who was praying," said one person familiar with the proceedings.
During the meeting it became clear to others that the DUP leader was occasionally being passed notes by someone in his office. His demeanour worsened as the meeting went on.
While he was taking part in the meeting, and Paul Givan was posing for photographs with his new partner in government - the now reinstated Deputy First Minister Michelle O'Neill - the DUP's officer team was converging on party headquarters in east Belfast.
Having been summonsed, shortly after the Executive meeting ended at around 4pm, an ashen-faced Edwin Poots hurriedly left Parliament Buildings and was driven to the meeting that would determine his fate.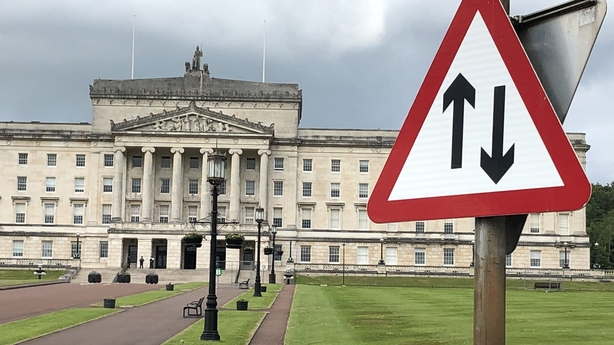 There are 11 members of the officer team, which runs the party on a day-to-day basis.
At least Edwin Poots knew he had one vote guaranteed as he himself is a party officer. Gregory Campbell, one of the MPs who had signed the letter asking him to delay the nomination process, joined remotely from his home in Derry. The others were in the room. If it had been a boxing match his trainer wouldn't have allowed him into the ring.
Those gathered to decide his fate were:
Jeffrey Donaldson, the man he narrowly defeated in an election contest just a few weeks earlier and who had gatecrashed his earlier meeting urging him not to nominate a First Minister at this time
Sammy Wilson, who he had initially told was not allowed to speak during the meeting and then walked out without waiting to hear what he had to say
Diane Dodds, who he had sacked as Economy Minister
Peter Weir, who he sacked as Education Minister
Maurice Morrow, the powerful elder statesman who was said to have been horrified that the party officers had not been consulted
Paula Bradley who had voted against his decision to nominate earlier that day
Michelle McIlveen, the education minister he appointed who had also voted against nomination;
William Humphrey, an Assembly member from north Belfast who is said to have been highly critical of the deal between the British government and Sinn Féin
And Tom Buchanan, an Assembly member from West Tyrone who was also said to have serious concerns
If it had been a boxing match his trainer wouldn't have allowed him into the ring.
Senior DUP sources said the message to Edwin Poots was clear: Resign of your own accord or face a motion of no confidence. Unlike earlier that day when the party leader had ignored the voices in the room, these voices commanded his attention. He knew he was staring into the abyss.
"It's impossible to say with absolute certainty, but the view is that if it had gone to a vote in that meeting, Edwin would have lost by ten to one," said a long-standing party official.
The Lagan Valley Assembly member left the meeting after what must have been a gruelling three hours and 45 minutes, refusing to answer questions from the assembled media.
The answer came minutes later. Just as I was preparing for a live insert into the RTÉ News 9pm bulletin, an email arrived from the DUP revealing that Edwin Poots, who had only been ratified as DUP leader 21 days earlier, was to step down. We broke the news on air.
'Three weeks exactly since Edwin Poots was ratified as DUP leader, he is no longer DUP leader, or certainly won't be soon' - Northern Editor @vincekearney reports from Belfast on a dramatic day of politics at Stormont | Read more: https://t.co/MCMxQ1hoQP pic.twitter.com/bi2WVqAhUa

— RTÉ News (@rtenews) June 17, 2021
Paul Givan is said to have been shell shocked by the demise of the man who brought him into politics when aged just 17. On Thursday morning they were, to quote the Frank Sinatra song "That's Life", which Arlene Foster used to describe what happened to her, "riding high". By 9pm they'd been "shot down".
During one of her last official engagements as Northern Ireland First Minister, Arlene Foster broke into song at the British-Irish Council summit with a line from her favourite Frank Sinatra song, 'That's Life' | https://t.co/iuLCtbwVds pic.twitter.com/uSnBrLg7ax

— RTÉ News (@rtenews) June 11, 2021
A number of sources say that by Friday morning, Paul Givan told some he was considering his position as First Minister because of the extent of the revolt and the level of anger at what had happened.
His resignation at that point would have plunged Stormont into another, immediate crisis as it would have triggered another seven-day deadline for the DUP and Sinn Féin to agree to go back into powersharing together.
The DUP would also have been in crisis as the party is simply not ready for that process. Without a new leader, there would be no-one to negotiate with Sinn Féin, and no one to nominate the person to replace Mr Givan. In short, the DUP is in a mess.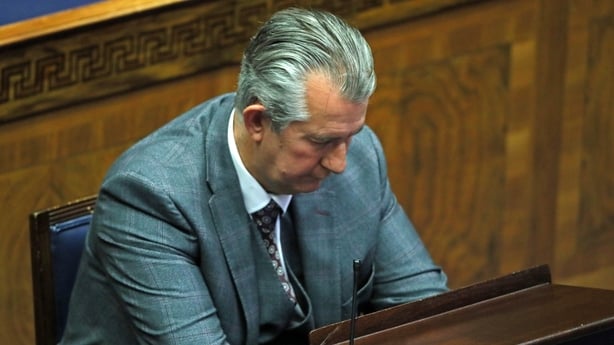 There were serious concerns in Dublin, London and at Stormont that in those circumstances the seven-day period would pass without agreement, at which point the Stormont Executive would be dissolved and Brandon Lewis would be tasked with setting the date for an election.
A number of DUP party officers are said to have spoken to Mr Givan later on Friday and told him he will be asked to resign shortly after a new leader is appointed and feels the party is ready for a new round of negotiations. At 39, he is the youngest ever First Minister in Northern Ireland, he will now also set the record for the shortest term in the post.
The two friends, who ironically share an office in Lisburn in Co Antrim with Jeffrey Donaldson, may not be the only casualties in what has been a bitter political power struggle.
Much of the anger within the DUP is directed at Ian Paisley Jnr, who has made no secret of the fact that he was behind the move against Arlene Foster. In discussions with Sinn Féin in recent weeks, the DUP team was what some called "the triumvirate" - Edwin Poots, Paul Givan and Ian Paisley.
"Junior was pulling many of the strings," said a seasoned DUP stalwart.
"Many thought that during the leadership election campaign, and it became absolutely obvious afterwards. His fingerprints are all over what's happened in recent weeks."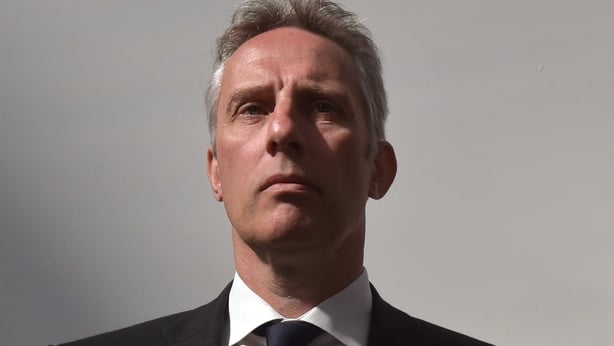 On Friday, unionist commentator Alex Kane pointedly tweeted: "21 days of believing he was in charge. 21 days of imagining himself as holding all the reins of power. 21 days of planning how to shape the party in his own image. I wonder how Ian Paisley Jnr is feeling right now."
Having pulled off a remarkable coup and plotted the downfall of Arlene Foster, many within the party believe the North Antrim MP quickly undermined his lifelong friend Edwin Poots .
Following the late cancellation of a concert by another friend Van Morrison at Belfast's Europa Hotel on 10 June because of Covid-19 regulations, a clearly angry Ian Paisley told reporters that the Stormont Executive "couldn't run a bath".
"He seemed to forget that those who he said couldn't run a bath included DUP ministers and committee chairpersons, so that went down very badly," says a DUP Assembly member. "It smacked of arrogance."
Later, he went a step further and joined Van Morrison on stage while he launched a verbal tirade against Health Minister Robin Swann, who the singer blamed for what happened.
Having been ushered on to the stage, Ian Paisley Jnr then briefly joined Morrison chanting "Robin Swann is dangerous."
This is Extra ordinary . pic.twitter.com/M0jmA0JIf2

— Stephen Nolan (@StephenNolan) June 11, 2021
When video footage of the incident was posted on social media, many of the DUP's elected members were horrified. Shown the footage while leaving the British Irish Council meeting in her native Co Fermanagh, Arlene Foster rolled her eyes in disbelief.
"It was very, very poor judgement," says a DUP member.
"It was a silly thing to do but also very damaging. The bottom line is that most people in Northern Ireland probably think Robin Swann has done a pretty good job as health minister during an unprecedented pandemic, so to criticise him in this way just because a concert couldn't go ahead was viewed very badly. That damaged Team Edwin."
Even "the dogs in the street" can see the extent of the mess the next leader will inherit.
While the MP for North Antrim has kept his silence since Edwin Poots announced his resignation, his wife did not. In a post on twitter, since deleted, Fiona Paisley said she was "disgusted" by what had happened, and referred to those who changed their allegiances as "turncoats".
Fifty years since the Rev Ian Paisley founded the DUP, his son is now on the margins and could be fighting for his political survival.
Those in the Jeffrey Donaldson wing of the party are not surprised at what has happened, only the timing. In the weeks since Edwin Poots won that leadership vote, several senior DUP members confidently predicted that it was only a matter of time before things would unravel.
"Their problem was that the big plan was to get rid of Arlene, but they had no idea what they were going to do after that," says one.
"There was no strategy. Collectively they were like the dog that runs after a car but has no idea what to do if it catches it."
To coin a phrase often used by the DUP's former leader Peter Robinson, even "the dogs in the street" can see the extent of the mess the next leader will inherit. They will have to begin the process of rebuilding a deeply fractured party as well as trying to rebuild power sharing.
Nominations for the position of DUP leader opened yesterday and the identity of the fifth person to hold the post could be known as early as Tuesday, the day nominations close.
If Jeffrey Donaldson is the only candidate it is possible he could be appointed that night, pending ratification the following week.
The past week was a truly remarkable, if short, chapter in the history of the politics of Northern Ireland, and more drama lies ahead. A week is, indeed, a long time in politics