When you think of summer, it conjures up memories of warm nights, concerts, outdoor sports and a season of fun.
At one stage, summer 2021 looked in doubt. Now it's here and it's looking good. A festival of renewal and hope awaits, perhaps.
Summer is a magical time. When you look around at the beautiful trees and plants, it is a reminder of life returning, after the cold decay of winter. The rainbow of colours and growth promises that tomorrow can be better.
Most of the lost freedoms are back, or will have returned by July. However, there are more complex considerations around travelling abroad for people who are not vaccinated.
Ireland, along with other countries, has been piloting outdoor events. For musicians and artists and the public, the wait for these events to return has been very hard.
For now, it is going to be an outdoor summer. But in its advice published this week, the Health Information & Quality Authority urged there should be a cautious approach to lifting restrictions on mass gatherings.
It said that not every mass gathering carries the same risk. The events representing the most risk are high occupancy indoor events with reduced face masks, prolonged contact and poor ventilation.
So it has advised that in the first instance, any organised gathering should ideally involve shorter duration outdoor seated events, with significantly reduced capacity.
We have already seen spectators back at some rugby games, a concert in the Iveagh Gardens in Dublin, spectators being allowed back to GAA events and more events planned.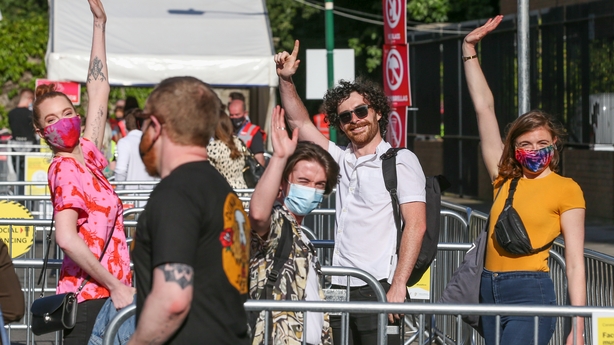 I didn't manage to get to Glastonbury 2020. It unfortunately became another casualty of Covid-19 - and it's off this year too. That's probably a good thing, as I would have increased the average age of those present by quite a bit.
Here in Ireland, Electric Picnic is actually on having been moved back three weeks to late September. Maybe there will be a NPHET tent, with songs and poetry about lockdown. Maybe not.
Mass gatherings are an important part of society. There are so many reasons why people congregate, including to protest, which is a democratic right. We see how fragile some democracies are around the world, so it's something to be conscious of.
But owing to the risk of superspreading coronavirus, these events have been restricted, or even prohibited over the last year or so.
In certain circumstances, campaigns around the world have allowed mass gatherings to resume. It is important to be conscious of the fact that many younger people have not been vaccinated yet, so this may affect exactly what types of events can proceed, or people's willingness to attend festivals.
The World Health Organization and the US Centers for Disease Control have advised that a full risk assessment be conducted in advance of any planned mass gathering. In those circumstances mask-wearing and healthy environments with good ventilation will be important.
HIQA also says that event organisers need to be well prepared in the event that someone gets sick during and after an event. There is also a need for good communication with contact tracing services.
In its review of what is happening internationally, HIQA found that since 10 June mass gatherings have been generally permitted in varying degrees across 22 countries examined, with fewer attendees permitted indoors compared with outdoor events.
The report says that Austria, Denmark, Czech Republic, France, the Netherlands and Portugal currently require Covid-19 health certification (proof of vaccination, immunity and/or a recent negative test to demonstrate an individual is at low risk of acquiring or transmitting Covid-19) in order to access mass gathering events.
Six other countries (Belgium, Germany, Italy, Norway, Sweden, and Switzerland) have plans to introduce Covid-19 health certification as a requirement for accessing certain mass gathering events over the coming months, while England is currently piloting the process.
Pre-event testing varies around the world:
PCR or antigen tests are specified by six countries (Austria, Czech Republic, France, Italy, Norway and Switzerland)
PCR tests only are specified by three countries (Belgium, Denmark and Portugal), and antigen tests only are specified by three countries (England, Germany, the Netherlands)
There are also differences in the requirements for the timing (ranging from seven days prior testing to on-site) and sampling (self-sampled/self-tested or provider taken) of the pre-test.
We know that in Ireland there has been a polarised debate about the benefits of antigen tests, with differing views expressed by NPHET, the Government-commissioned Ferguson Report, medical and scientific experts here, and some from abroad who have watched how it has all played out here.
Everyone agrees that antigen tests have a role, but what exactly that role should be has been the subject of hot debate. While the issues are complex, the NPHET concerns can probably be said to be around the use of antigen tests in populations without symptoms, as well as self-administration.
The fact the world around us is becoming a better place should, generally speaking, be music to our ears.
The debate may fizzle out soon, as large numbers of people are fully vaccinated and antigen tests are not seen as necessary for mass gatherings, once people take the well-rehearsed public health precautions.
However, many in the airline industry view antigen tests as a way of making travel safer and easier. There was a mass demonstration of pilots outside the Department of Health this week on the issue.
Some countries have seen a virtual end to restrictions. There is now unrestricted access to all establishments and sectors in Israel, without any requirement for proof of vaccination, recent negative test, or recovery from Covid-19.
All restrictions on mass gatherings are set to be removed by June 2021 in France and Iceland, by July 2021 in Austria, England and Finland (for outdoor events), and by August 2021 in Finland (for indoor events).
Denmark, the Netherlands and Sweden have stated that all mass gathering restrictions will be lifted only when certain targets or indicators have been met.
The fact the world around us is becoming a better place should, generally speaking, be music to our ears.
For much of lockdown, many people may have felt like they were in solitary confinement. We know that anxiety levels rose for people. There was also quite a lot of anger being expressed especially on social media. Some people may not have had an opportunity to fully express their anger and the return to relative normality will not be easy for everyone.
From 19 July, people in Ireland will have the use of the EU Digital Passport to travel around Europe, providing they are fully vaccinated, have a negative test result, or proof of having recovered from Covid-19.
The NPHET advice this week is that people should not travel unless they are fully vaccinated. They are not saying to vaccinated parents, don't travel because their children are not vaccinated. That is because NPHET has not advised for children to be vaccinated, so it does not arise. The National Immunisation Advisory Committee (NIAC) is still looking at the issue of vaccination of children.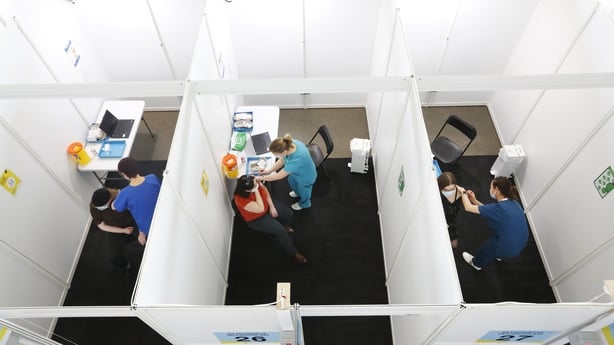 However, if fully vaccinated parents are travelling abroad, they will need to check what the negative test requirements are for children in the country they are going to. And also the test requirements for children of a certain age on return here. This could add considerably to the overall cost of travel for families this year, especially if parents who are not vaccinated, decide to go abroad.
It is important that the vaccination campaign progresses as quickly as possible to immunise younger age groups and any people in older groups that have been missed.
The programme cannot stop until there are no more people to vaccinate. While older age groups are largely protected, everyone deserves the benefits that vaccination brings.
Being in this together also means people should not forget all those still waiting for vaccination and, if they are receiving AstraZeneca, for many it will be at least eight weeks before their second dose comes.
At the end of last week, I noted how the NPHET briefing on Thursday was one of the most upbeat I had attended in the past 15 months. There had been so many dark days in that briefing room during the various waves of Covid-19.
But we are in this better place now after a swathe of the most difficult measures seen in modern times, which saw ordinary members of the public face extraordinary challenges. And of course, the impact of significant progress now with national vaccination. All these things have helped unlock the country.
Still, there is no place for complacency and there are big lessons about how the virus came back to bite us on several occasions.
It is not all over yet and the Delta variant will need to be watched here carefully given the havoc it is causing in England and also because it has forced the planned lifting of restrictions in Northern Ireland to be put back to 5 July.
But we should look forward to this season of sun, for both young and old. And hopefully an end to our difficult journey with this virus.
We should have time to relax, to reflect on how precious freedom is and how being truly alive is priceless.