Joe Biden deflected criticism of his no-strings-attached meeting with Vladimir Putin in Geneva with the words: "It's always better to meet face to face."
The Biden Administration appeared determined that the Russian President would not enjoy any beneficial optics beyond the encounter itself. Washington had insisted that Putin arrive first at the Villa la Grange on Lake Geneva, to avoid the risk of an American president being kept waiting (as Barack Obama once was, for 40 minutes).
There would be no "breaking of bread" between the two delegations, and no joint news conference. Memories of that extraordinary joint appearance between former president Donald Trump and Putin in Helsinki in 2017, when Trump publicly said he believed the Russian president ahead of his own intelligence agencies on electoral interference, were still too raw for the Biden team.
With expectations deliberately kept low, any achievement during the summit would be a bonus. While the summit lasted less than four hours - much shorter than expected - there were some deliverables.
A joint declaration on achieving Strategic Nuclear Stability through further warhead reductions was a sign that, on arms control at least, Washington and Moscow can work together.
Both sides also agreed to restore each others' ambassadors, who had been recalled following a spat in March, when Biden called Putin a "killer".
They also agreed to work together on the uber-sensitive issue of cybersecurity, a sphere in which Washington has levelled consistent allegations against the Kremlin, to little effect.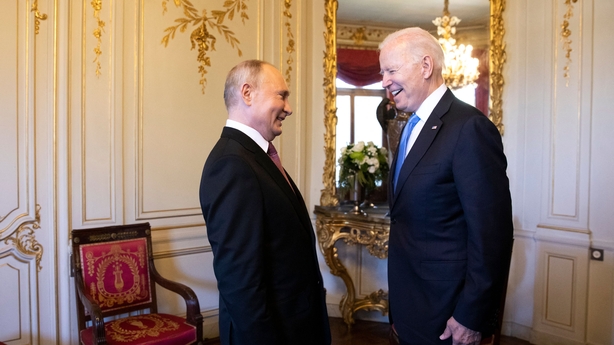 Rather than continue to trade accusations, both sides agreed to draw up a list of national targets that should be off-limits if either side is targeting the other's cyber infrastructure.
This will suit Vladimir Putin, as it chimes with his narrative that the US is equally culpable of cyber attacks and hacking. "We need to throw out all kinds of insinuations, sit down at the expert level and start working in the interests of theUnited States and Russia," he said.
Biden was surprisingly stoical about Putin's worldview, which depicts a bruised, but not-properly-respected Russia, being encircled by Western-inspired enemies, and undermined by decadent Western values, such as LGBT rights.
In a news conference after the summit, Biden said: "I don't think [Putin] is looking for a Cold War with the United States. I don't think it's, as I said to him, I said, 'your generation and mine are about 10 years apart. This is not a Kumbaya moment as you used to say back in the '60s in the United States, like let's hug and love each other.
"But it's clearly not in anybody's interest, your country's or mine, for us to be in a situation where it's a new Cold War. And I truly believe he thinks that. He understands that. But that doesn't mean he's ready to figuratively lay down his arms and say, come on, he's still, I believe, concerned about being, quote, encircled. He still is concerned that we, in fact, are looking to take him down, et cetera. He still has those concerns."
Indeed, Russia has been articulating those concerns for over a decade, despite protestations from the West that former Soviet Republics have every right to hitch their wagons to Western democracy, rather than stay in Moscow's embrace.
This faultline is essential to Putinism, and the Russian President has engineered the possibility of his staying in power well into the next decade.
Biden's response was to depict a Russia that, rather than being an emerging powerhouse, was feeling the heat. "Russia is in a very, very difficult spot right now. They are being squeezed by China. They want desperately to remain a major power."
For Russia to compete with a powerful China on its doorstep, it needed to grow its economy, and constant hostility towards the West would not help, was the argument.
The Geneva summit was the final leg in a gruelling first foreign visit for the 78-year-old US president. He used the G7, NATO and EU-US summits to drive home a message that America was back following four years of Trumpian hostility to the rules-based international order.
His grand tour message conveyed an urgency for the world's democracies to rally together to confront, and then out-compete, the growing threat of autocracies like China and Russia.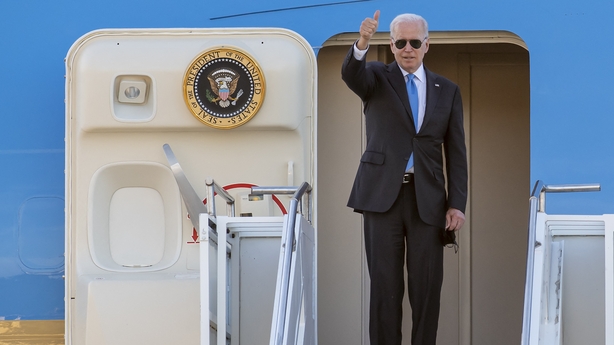 In Brussels he warned that democracy had to show that it could solve the big problems, and not leave the stage to populists - charlatans, he called them - who would seduce voters with empty promises.
While there was a sigh of relief in EU capitals, there are concerns that in the rush to tilt the world back in the West's favour, Biden may be trying to do too much, too quickly, and with too little regard for how Europe's view of America has been damaged by domestic issues, from gun law, to racial conflict, to voting rights, all the way back to the handling of Hurricane Katrina.
In January the European Centre for Foreign Relations (ECFR) surveyed European attitudes to America, and its incoming president.
The survey found that Europeans had turned away from a reliance on America's preeminent power and role in the global order.
"Many Europeans' perception of the US political system as broken seems to make them doubt whether America will be able to return to global leadership in the manner that Biden promised when he said "America is back", the reports authors Ivan Kraslev and Mark Leonard wrote.
"Across the 11 surveyed countries, 51% of respondents do not subscribe to the view that, under Biden, the US is likely to repair its internal divisions and invest in solving international issues such as climate change, peace in the Middle East, relations with China, and European security."
So, Biden has a lot to prove, and Vladimir Putin did not appear in the mood to help him, despite the agreements reached.
Putin poured scorn on concerns about the poisoning and then imprisonment of opposition leader Alexei Navalny, blamed Ukraine for breaching a ceasefire with Russian-backed separatists in Eastern Ukraine, and implied that America - with the Black Lives Matter movement, and the ransacking of the Capitol - was in no position to preach on democracy.
Biden will know that fomenting racial division and fuelling the conspiracy theories that drove Trump supporters to the Capitol, were just the kind of cyber interference that the Kremlin stands accused of.
Repairing relations will take a long time, and Biden has just four years to do it. Europeans are still wondering who will succeed him in 2024.
---
Read more:
'Glimpse of hope' for mutual trust after US-Russia summit
US-Russia summits: Cold War chill to good chemistry