It was late November 2020, just a few days before the Thanksgiving holiday here in the US. President-elect Joe Biden was preparing for his transition to the White House from his home city of Wilmington, Delaware.
Every day his motorcade would drive the short distance from his lakeside mansion to The Queen Theatre in downtown Wilmington.
From there, he would speak with world leaders, hold Zoom conference calls with advisers and take questions from reporters.
On 24 November, he took to the stage at The Queen to unveil key members of his foreign policy team.
"America is back and ready to lead the world, not retreat from it," he said as he introduced nominees who would be tasked with reversing four years of Donald Trump's 'America first', go-it-alone policies.
They vowed to be loyal to the country rather than the president and to be led by facts and the truth.
The resetting of US foreign policy in the post-Trump era means re-establishing links with traditional allies and once more challenging adversaries.
Their mission would be to embrace multilateralism once more and to repair divisions with international allies.
Joe Biden said his team would restore the US as a leader on the international stage and move the country away from isolationist policies.
After unveiling his nominees, he left The Queen Theatre. I stood with my fellow journalists by the stage door and asked Joe Biden what message he had for the Brexit negotiators when it comes to Northern Ireland.
"We do not want a guarded border. We worked too hard to get Ireland worked out," he said.
"The idea of having the border north and south once again being closed... it's just not right. We gotta keep the border open," Mr Biden told me.
.@BrianOD_News asked US President-Elect @JoeBiden about #Brexit. He told him: "We do not want a guarded border... we've worked too long to get Ireland worked out." @rtenews pic.twitter.com/5MTvKaDA4L

— RTÉ (@rte) November 25, 2020
Seven months later, he brought his Brexit message to the UK on his first foreign trip as president.
Ahead of his meeting with Boris Johnson, there were reports that Joe Biden would issue threats and warnings about protecting the Good Friday Agreement and reports that he had hit the UK with a diplomatic reprimand for imperilling the Northern Ireland peace process.
The White House played it down, saying he would not be confrontational or adversarial.
"He didn't come here to give a lecture," a senior administration official said before the meeting.
"He came merely to communicate what he believes very, very deeply about peace in Northern Ireland, about the priority the United States places on that, about the priority Joe Biden places on that."
If there were threats or rows between the two leaders over Brexit, it certainly wasn't obvious from the joint statement issued after the talks.
"The UK and US reaffirm their commitment to working closely with all parties to the (Good Friday) Agreement to protect its delicate balance and realise its vision for reconciliation, consent, equality, respect for rights, and parity of esteem," the statement read.
In reality, there was never going to be a big, public bust-up between Joe Biden and Boris Johnson over Northern Ireland. Instead, there were lots of references to the "special relationship" shared by two old allies.
Rather than accusing the UK Prime Minister of back-pedalling on the Northern Ireland protocol, the US President gave him a gift of something upon which he could do lots of front-pedalling, an American-made touring bike and helmet.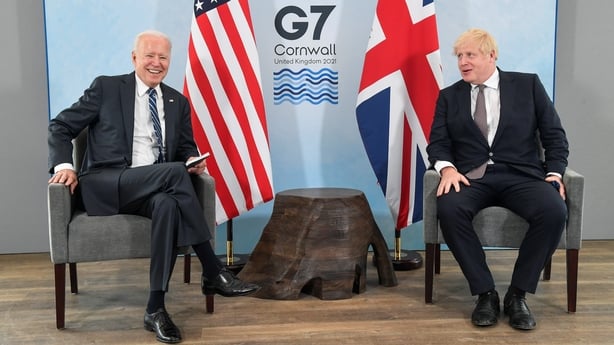 There will no doubt be more gifts and declarations of friendship over the coming days as Joe Biden meets other allies at three summits - G7, NATO, and EU-US.
He will reaffirm America's commitment to multilateralism and stress that the US is back on the world stage. But that is the easy part.
On Monday, Joe Biden will meet with Turkish President Tayyip Erdogan.
Ahead of the talks, US National Security Adviser Jake Sullivan said the two leaders would deal with some of their "significant differences on values and human rights and other issues".
"President Biden knows Erdogan very well, the two men have spent a good amount of time together and they're both, I think, looking forward to the opportunity, to really have a business-like opportunity to review the full breadth of the relationship," Mr Sullivan said.
The resetting of US foreign policy in the post-Trump era means re-establishing links with traditional allies and once more challenging adversaries.
The real diplomatic test will come on Wednesday when Joe Biden meets with Russian President Vladimir Putin.
Donald Trump's critics accused him of cosying up to Moscow when he was in the White House.
Allegations of collusion between his campaign and Russia led to the establishment of the Mueller Investigation.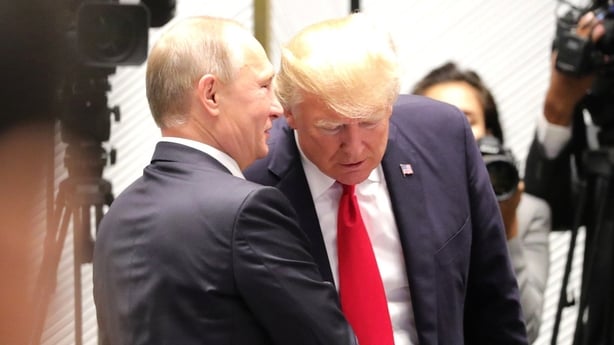 In 2018, Mr Trump met with Vladimir Putin in Helsinki and infamously suggested that he trusted the Russian leader over his own intelligence agencies.
Ahead of Joe Biden's meeting with President Putin, Donald Trump issued a statement on Thursday.
He defended his dealings with Russia and described Obama-era intelligence officials as "sleazebags".
"Our government has rarely had such lowlifes as these working for it. Good luck to Biden in dealing with President Putin - don't fall asleep during the meeting, and please give him my warmest regards!" Mr Trump said.
Warm regards may be few and far between during the meeting. Joe Biden has made no secret of his dislike of Vladimir Putin.
In March, in an interview with ABC News, the US President replied "I do" when asked if he thought the Russian President was a killer.
In the same interview, Mr Biden said that during a phone call with Mr Putin he said he would "pay a price" for his attempts to interfere in US democracy.
After a face-to-face meeting in 2011, Joe Biden claimed he told Vladimir Putin that he didn't think he had a soul.
"I'm looking into your eyes, and I don't think you have a soul," Mr Biden said he told the Russian leader. "He looked back at me, and he smiled, and he said, 'We understand one another'."
Wednesday's meeting will have a packed agenda, with the US President promising to hold the Kremlin to account on a range of issues including the imprisonment of dissident Alexei Navalny, interference in American elections, Russian aggression in Ukraine, recent cyber attacks and Russia's support of the Assad regime in Syria.
Joe Biden has made no secret of his dislike of Vladimir Putin.
Also likely to be discussed is Belarus, where a government led by a Putin ally recently forced a Ryanair flight to land and seized journalist Roman Protasevich.
Speaking to US troops after arriving in the UK on Wednesday, Joe Biden said he wouldn't be holding back.
"I'm heading to the G7, then to the NATO ministerial, and then to meet with Mr Putin to let him know what I want him to know," he said.
"We are not seeking conflict with Russia. We want a stable, predictable relationship … I've been clear, the United States will respond in a robust and meaningful way when the Russian government engages in harmful activities," the US President said.
In November, from the stage of a theatre in Wilmington, Delaware, Joe Biden declared that America was back as a global leader.
But that was just the dress rehearsal for his first foreign trip as president.
The critics won't write their reviews of this performance until after closing night, and his meeting with Vladimir Putin.