There were quizzical glances when the Duchess of Cornwall was driven into the loyalist Kilcooley area of Bangor in Co Down in a black BMW fitted with a Dublin number plate behind a cavalcade of PSNI motorcycles with blue lights flashing.
"The Republic's captured Camilla," joked a woman gathered with a small group of friends, all with mobile phones in hand to photograph the moment.
The heavily armoured car was on loan from the British Ambassador to Ireland, Paul Johnston. It was all about appearance, not politics.
The PSNI only has one designated "royal vehicle", much more elegant than armoured 4x4s used to transport senior politicians and judges deemed to be in need of protection, but it was being used to take her husband, Prince Charles, to a separate engagement.
The sleek modern-day royal carriage, a BMW saloon, was deemed much more suitable than anything the PSNI could provide; an example of practical cross-border co-operation in action, with Queen Elizabeth's representative in Ireland extending a helping hand to her daughter-in-law.
Camilla was in Bangor on Wednesday to visit the offices of the Kilcooley Women's Centre, another example of cross-border outreach.
The organisation was formed in 1995 and offers a wide range of services, with a focus on projects to address educational underachievement and poor health. It's been part funded since 2013 by the Department of Foreign Affairs.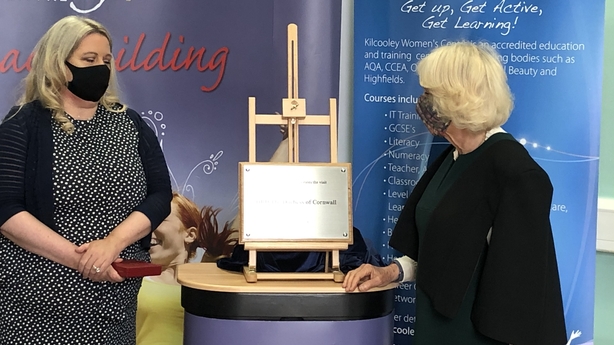 There was to have been a significant exercise in political outreach the previous evening behind closed doors, away from the glare of television cameras, at Hillsborough Castle in Co Down, the official residence of the British Royals in Northern Ireland.
Stormont's Deputy First Minister and Sinn Féin Vice President Michelle O'Neill had been scheduled to have a private meeting with Prince Charles. First Minister and outgoing DUP leader Arlene Foster, was also to have a private meeting.
The two partners in government had accepted invitations to the separate meetings in their capacity as joint heads of the Stormont Executive at least six weeks previously, and there had been regular contact between Sinn Féin and officials at Clarence House, the London home of the Prince of Wales and Duchess of Cornwall.
"Sinn Féin has not offered any further explanation as to why the meeting was cancelled"
Prince Charles had been briefed on the likely topics of discussion, but a senior Sinn Féin member phoned Clarence House on Monday morning, the day before the meeting was due to take place, to inform them that Ms O'Neill would not be attending.
Arlene Foster was only informed by an official from the royal household when she arrived at Hillsborough Castle the following evening that her partner in devolution would not be turning up. The bonus for her was that as a result her meeting was longer than initially scheduled.
In a statement issued in response to media enquiries on Tuesday, Ms O'Neill said: "I met Prince Charles on his last visit to the north last September and recently expressed our condolences to him and his family on the death of his father.
"On this occasion a meeting was not possible.
"The British royals have made a very positive contribution to the development of peace and reconciliation."
Sinn Féin has not offered any further explanation as to why the meeting was cancelled, and Ms O'Neill did not attend any other alternative event on Tuesday evening.
It's clear the reason was Prince Charles' ceremonial role as Colonel in Chief of the British Army's Parachute Regiment. Exactly a week before the scheduled meeting, on Tuesday 11 May, a coroner in Belfast ruled that ten people shot dead during an operation by the Parachute Regiment in the Ballymurphy area of west Belfast in August 1971 had been entirely innocent, and that their deaths had been unjustified.
The Ballymurphy families, who campaigned for decades to clear their loved ones of false claims by the British Army that they were armed members of the IRA, subsequently angrily rejected a written apology by British Prime Minister Boris Johnson.
Sinn Féin president Mary Lou McDonald met the relatives shortly after the inquest verdicts and, standing in Ballymurphy, described the families as "heroes", and what happened in August 1971 as "the sharpest edge of Britain's dirty war in Ireland".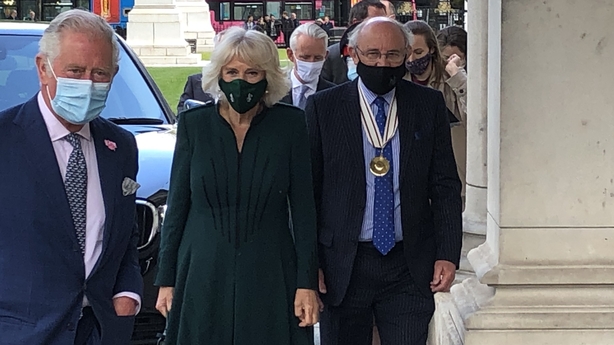 Last Tuesday morning, at the start of a two-day visit to Northern Ireland by Prince Charles and his wife Camilla, the royal household communications team was visibly dismayed by a tweet posted by the Derry-based human rights campaign group, the Pat Finucane Centre, even before news of the visit was public.
The tweet included a photograph of Prince Charles in his ceremonial uniform as Colonel in Chief of the Parachute Regiment and suggested the media should ask him for his views on the Ballymurphy Massacre and that "he be invited to apologise to the families".
A short time later Prince Charles entered a room in Belfast City Hall, where the Northern Ireland Parliament was opened by King George VI following partition in June 1921. He met a number of historians from both sides of the border, including Dr Maurice Manning, chair of the Irish government's Expert Advisory Group on Commemorations.
The short meeting was to outline plans to mark the centenary of Northern Ireland, and the huge sensitivities involved, but one chair had to be removed shortly before it began. Former Sinn Féin Lord Mayor of Belfast and well-known local historian Tom Hartley had been due to provide a republican perspective on the centenary and partition, but he withdrew.
Mr Hartley is not an elected representative for Sinn Féin, but would have been aware of the party's thinking. Earlier that morning his name was still on the list of attendees, but by 1pm it was not. It was a sign that something was afoot.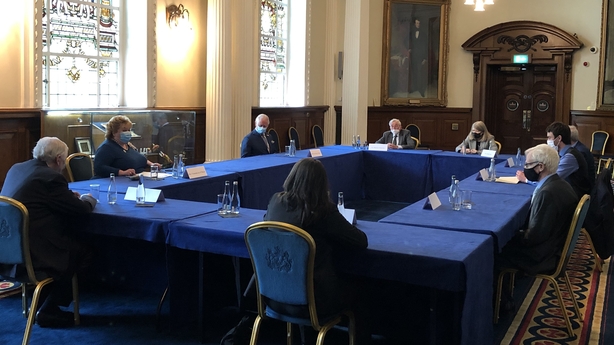 Later came the news that Ms O'Neill had withdrawn from her planned meeting. It was clear that any engagement the Deputy First Minister and Prince Charles, and the accompanying official photograph, was likely to have incurred the wrath of relatives of those killed in Ballymurphy, as well as those who support them.
Ms McDonald was back in Belfast on Wednesday to meet the new incoming DUP leader Edwin Poots at Stormont. Questioned by journalists afterwards about the non-appearance of Ms O'Neill at Hillsborough Castle, she replied: "I wouldn't over read anything into one meeting not happening and I can assure you we'll meet again because we have a lot to talk about and there's a lot of work to be done in Ireland."
Senior Sinn Féin members will indeed meet members of the British royal family again in the not too distant future, but that does not disguise what can only be interpreted as a snub on this occasion.
The planned meeting would have continued a policy of political engagement started by the late Martin McGuinness when he was Deputy First Minister.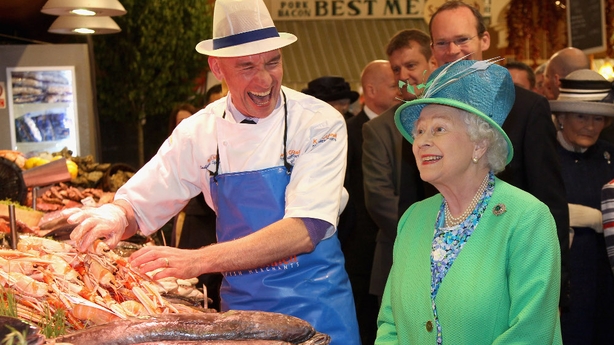 Britain's Queen Elizabeth had herself signalled a new era in British–Irish relations with her historic first visit to the Republic 10 years ago this week. Visits to iconic sites including Croke Park and Dublin's Garden of Remembrance were on the agenda. During the visit, standing alongside President Mary McAleese at Dublin Castle, she said "with the benefit of historical hindsight, we can see all things, which we would wish had been done differently or not at all".
Three years later, a decision by Mr McGuinness to greet and publicly shake hands with the Queen during a visit to Belfast was accorded historic significance. It was the first of a number of encounters and viewed as a hugely important step in efforts to promote reconciliation. Many republicans were outraged by the move, but the former Sinn Féin vice president and senior IRA commander was adamant it was necessary.
In May 2015, he met and publicly shook hands with the Queen's son, Prince Charles, during a visit to a Catholic church in Belfast that had been at the centre of disputes over Orange Order parades. For many, that encounter was even more significant given the fact the Prince is Colonel in Chief of the Parachute Regiment, whose members shot dead 13 unarmed civilians in Mr McGuinness's home town of Derry on Bloody Sunday in January 1972.
"If we are to move forward to put in place a meaningful and serious process of reconciliation then important acts of reconciliation have to take place" - Martin McGuinness in 2015"
There was pain and good reason for not meeting on both sides, with Prince Charles shaking the hand of a former senior member of the IRA, the organisation that assassinated his great-uncle, Lord Louis Mountbatten in Mullaghmore Harbour in Co Sligo in 1979. On the same day, the IRA killed 18 members of the Parachute Regiment in two huge bomb blasts outside Warrenpoint in Co Down.
Sinn Féin's former President Gerry Adams also met Prince Charles at an event at NUI Galway in 2015, and again at a reception at the residence of the British Ambassador in Dublin in May 2017. On that occasion, the Prince of Wales expressed his condolences over the death of Mr McGuinness two months earlier.
In September last year, Ms O'Neill met the Prince at Hillsborough Castle. An official photograph to mark the occasion was issued afterwards, with the Sinn Féin vice president saying she believed he had a role to play in marking the centenary of partition.
Following the death of his father, the Duke of Edinburgh Prince Philip, last month, Stormont's Deputy First Minister issued a statement and video message expressing her condolences, and paying tribute to the royal family for their dedication to peace and reconciliation in Northern Ireland.
The planned meeting at Hillsborough last Tuesday was to be another chapter in the story of rapprochement started by Martin McGuinness, who personally endorsed Michelle O'Neill as his successor.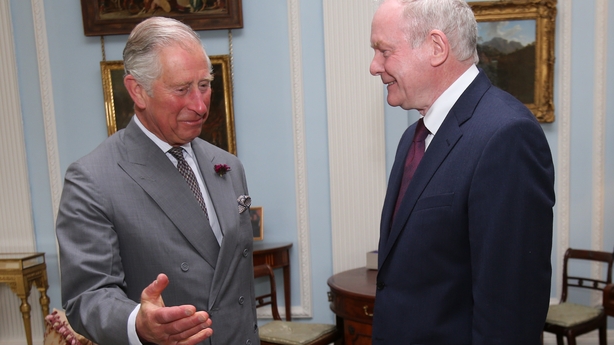 The former deputy first minister faced opposition when he met Prince Charles for the first time in 2015. As they attended mass at St Patrick's Church in Donegal Street on the outskirts of Belfast City Centre and then spoke and shook hands, the Ballymurphy families and supporters staged a protest across the street.
Bizarrely, those who joined them included a number of senior Sinn Féin members, including Old Bailey bomber and Maze prison escapee Gerry Kelly.
Questioned by journalists afterwards, Mr McGuinness, who admitted to being a member of the IRA on the streets of Derry on Bloody Sunday, said he believed their meeting had been important and "an essential step in the peace process, that of reconciliation".
He said Prince Charles had suffered as a result of Troubles, as had the families of those killed in Ballymurphy, Derry on Bloody Sunday, and other parts of Northern Ireland.
"If we are to move forward to put in place a meaningful and serious process of reconciliation then important acts of reconciliation have to take place," he said.
"If we are to move forward to build a better future for our children, who are the most important people in all of this, then I think we do have to rise above old enmities."
Asked specifically about his thoughts while shaking hands with the Colonel in Chief of the Parachute Regiment, he replied: "My thoughts were on my work as a political leader. You've heard me say more times than enough in the past, if you're a political leader there is only one way to lead and that's from the front, you can't do it from behind."
Last week, for reasons they have not yet explained, Sinn Féin took a step back from the process initiated by Martin McGuinness. When the next chapter in this story of reconciliation is written, the question will be what, if anything, will have changed?