It's the first of May and the summer ahead is looking much brighter.
We are definitely moving into a new upbeat gear now, with the lifting of a swathe of restrictions planned for this month, June and onwards.
We are fast moving into a time of light, cheer and warmth.
With lilacs in bloom, new buds and flowers – anything seems possible.
At this stage, most people had done everything they could to keep Covid-19 case numbers low.
Daily case numbers are regularly at over 400, but with the more transmissible new variant so dominant, it has been difficult to see how numbers could be brought very much lower, to double digits.
This time of course the risk to the population is different too, compared with the scenario we faced at the start of the pandemic.
Back in March 2020, there were no vaccines and then it was essentially a different virus the country had to contend with.
Now, a large body of the most vulnerable people have received their first dose of vaccine and over 400,000 people are fully vaccinated.
People in nursing homes and health staff are better protected and thankfully there has been a virtual collapse of cases and deaths in these sectors.
It has been a long and winding road to get to this point, with more highs and lows that the Irish weather.
So vaccination has been the game changer that has allowed the Government to promise more in the months ahead, subject of course to the key metrics staying in the right direction.
Vaccination is the passport to freedom.
The hope is that we are heading towards the last exit from lockdown.
Shortly we will see hairdressers open, then retail, followed by hotels and guesthouses, inter-county travel and the hospitality sector.
Some people have expressed concern that Ireland may be moving too fast with the lifting of restrictions. Certainly, the announcements this week were something of a surprise, given the Covid-19 case levels. But most of the key metrics have been heading in the right direction.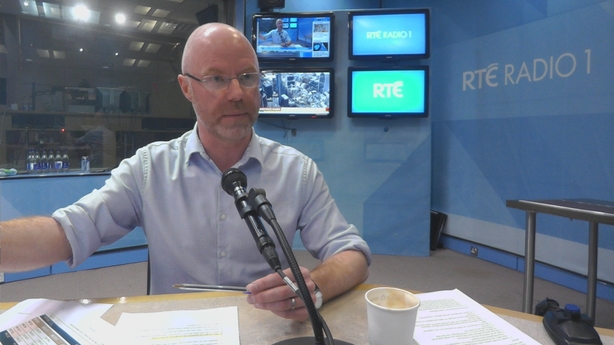 It has been a long and winding road to get to this point, with more highs and lows that the Irish weather.
There is the caveat that the brakes could be put on any planned element of reopening, if the figures go in the wrong direction. Minister for Health Stephen Donnelly said that people need to be sensible about what is planned and not go beyond the measures being introduced.
The point being that personal responsibility has not gone away and a critical factor in the weeks ahead will be people continuing to adhere to safety measures, to protect themselves and others from Covid-19.
Having come so far and given up so much, no-one would wish to catch the virus now, through a lapse in taking the well-known protective measures.
While the changes to the vaccination programme this week were complex and quite hard to absorb, freeing up the Johnson and Johnson and AstraZeneca vaccines for everyone over 50 was a game changer.
Up to that point, the Health Service Executive had factored out the use of the single-dose Johnson and Johnson vaccine.
The availability of four vaccines now poses its own difficulties for the national vaccination programme.
The HSE now has plenty of vaccines for people over 60 years.
Next week, will see registration open for people aged 50 to 59 years.
Currently there are not enough Johnson and Johnson vaccines for this age group but there will be in the weeks ahead.
So as a result, health officials are looking at the possibility of people in the 40-49 age group getting vaccinated at the same time, as those in the 50-59 age group.
The HSE along with the Vaccine Task Force and the Department of Health are crunching those numbers this weekend and a better idea of what is possible will be known next week.
The availability of four vaccines now poses its own difficulties for the national vaccination programme.
Some people have a preference for certain vaccines, which are viewed as more effective than others, or have a shorter interval gap for administration.
People who receive the single-dose Johnson and Johnson will be fully vaccinated.
The benefit of a single-dose vaccine over a two-dose regime is obvious.
Also, people under 50 who had Covid-19 in the previous six months and who are not immunocompromised, will be regarded as fully vaccinated with just one dose of Pfizer or Moderna.
It was interesting that the recommendation on the issue last week from National Immunisation Advisory Committee (NIAC) was for mRNA vaccines. Because that's where the evidence is.
However, NIAC also said that it was reasonable to 'infer' that this (single dose considered as fully vaccinated principle for people who had Covid) could also be applied to the other vaccines (Johnson & Johnson and AstraZeneca). So it's possible this could come in also at some stage for viral vector vaccines.
With vaccines, there will not be a choice involved for people. The HSE has insisted that the best vaccine is the one that people are offered.
This is likely to continue to cause some discontent.
People have a right to refuse a vaccine in favour of another one. Those that do might adopt a tactic to go to the back of the queue and wait until other vaccines become available.
It's a risk that may or may not pay off. The HSE portals will remain open for people to register in their age group.
All four vaccines are effective.
The benefit of a single-dose vaccine over a two-dose regime is obvious.
The benefit of having only to wait 28 days between the first and second dose of the Pfizer, or Moderna vaccine is also clear.
For those who receive the first dose of the AstraZeneca jab, they must wait another 12 or 16 weeks for the second dose, depending on certain factors.
Vaccine supplies appear steadier now although there are still some delays.
Vaccine provision based on risk groups and by age
I have also received quite a number of emails from people concerned that perhaps, vaccination is moving ahead faster in some counties, than others.
The worry expressed is that they feel there might be a postcode lottery in some cases, with people in bigger counties, where there are mass vaccination centres perhaps having an advantage over those in smaller counties.
The provision of vaccines is not based on a pro-rata county system, but on risk groups and by age.
The full opening of society is dependent on widespread population immunisation.
Some measures or restrictions are likely to remain until it is clear that so-called herd immunity is working and the virus has very few places left to go.
While the Government target of having 82% of the adult population vaccinated by the end of June appears to still be in place, the Taoiseach said that there were obstacles and challenges to it.
Micheál Martin told the Dail this week that the aim is to keep as close to the targets by the end of June.
With the reopening of so many sectors on a phased basis, there will be much more movement of people. This will be especially true when inter-county travel is permitted and the holiday season kicks off.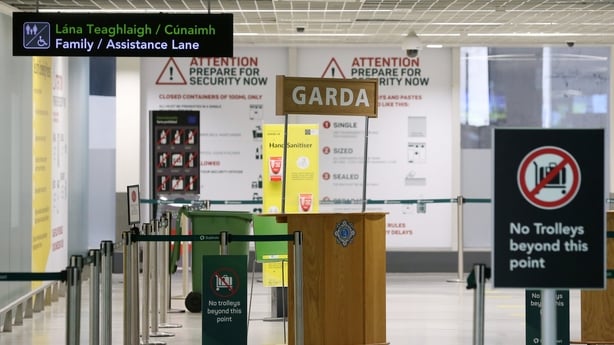 Question marks over international travel
What is less certain is when and exactly what might be permitted by way of international travel, under the expected EU Covid-19 certificate system. One of the factors will be the prevalence of the virus in other countries this summer and autumn.
The current indications, however, are that travel from Ireland to Europe may be possible from late July, if case numbers are low on the continent.
Europe plans to have a certificate showing the bearer's vaccination status, Covid test results and or evidence of having survived the disease up and running in June, in time for the summer vacation period for the continent.
It will not be a travel document, or be a precondition to the right to free movement, or result in discrimination – that's the view from the EU Parliament.
Mandatory hotel quarantine also looks like it will be a time-limited measure, which will come to an end at some point over the coming months.
There is of course a lot of uncertainty about what will happen next with the reopening of society.
All of the measures introduced in Ireland against Covid-19 have amounted to a kind of Swiss-Cheese defence.
Each has had its holes and limits but taken together, the defences have been aimed at keeping the movement of the virus at the lowest levels possible.
There is of course a lot of uncertainty about what will happen next with the reopening of society.
We are entering a new phase. Indeed, it's hard to define exactly what lockdown level we are entering, or what colour code we will be under, based on the recent Government published plans. The Taoiseach has suggested it could be regarded as Level 3-plus. Minister Donnelly suggested perhaps it was 3-plus or 4-minus. In the end, it probably does not matter now what it's called.
The plan for the months ahead now is clearer, with definite dates.
There have been so many plans, and changes to plans and levels, that at times it has felt like being in a hall of mirrors for people. Like being in a puzzling maze in a twisted amusement park, playing whac-a-mole with the virus and its relatives, the new variants.
The majority of cases involving variants of concern here have been of the UK variant, over 6,600 cases. The latest figures show there have also been 71 cases of the South African variant of concern and 27 cases of the Brazilian variant of concern. After that, there are other variants of interest or just of note.
The plan for the months ahead now is clearer, with definite dates.
However, the Taoiseach has warned that the Government will intervene if is there are worrying trends, so there are brake pads that might be applied at any time. No-one should forget that. People are also being reminded that amidst all the changes and greater freedoms, they should continue to work from home.
We have been on this Covid rollercoaster for so long, holding on for dear life, dizzy from the twists and turns.
Bounced from one nasty ride to another, in the horror-Covid theme park, and it has not been a good time.
But now some fun is coming, with a change in the attractions.
There will be better memories, from the fair days ahead.
As sunny times join laughter, in the heavenly outdoors.