Reporting on Joe Biden's presidency has been a very different experience compared to covering his predecessor.
A controversial tweet or comment from Donald Trump could end up changing the course of my day or could add a whole new dimension to whatever story I was working on. The former president would weigh-in on topics such as the coronavirus pandemic or race relations, often in quite remarkable and unexpected ways.
His now suspended Twitter account would be used to announce major policy changes and the firing of staff members, as well as attacks against opponents.
There is a sense here in Washington that Joe Biden has returned some 'normality' to the White House but that in no way means that the problems that have bedevilled America for decades have gone away. Issues around gun violence, immigration and police reform are major challenges for this president, as they were for those who came before him.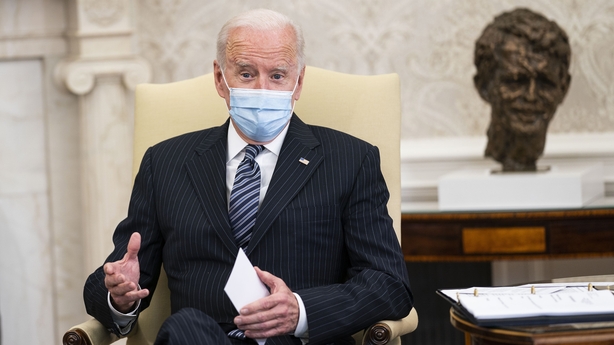 On Wednesday, Joe Biden will deliver an address to a joint session of Congress to mark his first one hundred days in office. He will no doubt speak about the targets that have been met and the goals that have been achieved but the president's critics will be quick to point out that there have also been missed opportunities and failures.
Coronavirus Pandemic
Joe Biden's first 100 days were always going to be dominated by the coronavirus pandemic. His approach was different to that of Donald Trump, who downplayed the seriousness of the virus and was keen to embrace quick-fix solutions and unproven cures.
President Biden warned that things would get worse before they got better. He promoted mask-wearing and social distancing, and also listened to his scientific advisors.
America's top infectious disease expert Dr Anthony Fauci welcomed the new way of doing things.
"The idea that you can get up here and talk about what you know, what the evidence is, what the science is, let the science speak. It is somewhat of a liberating feeling," Dr Fauci told reporters in the first days of the Biden presidency.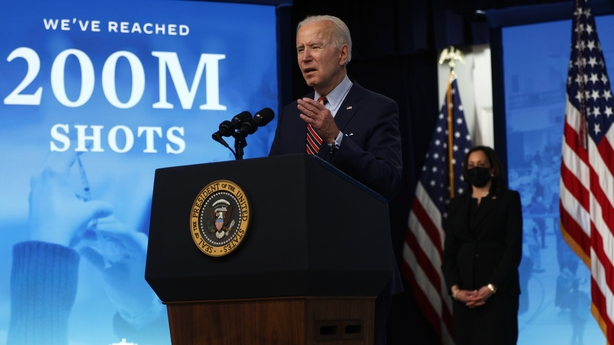 Joe Biden had originally promised to deliver 100 million COVID-19 vaccine doses in his first 100 days in office.
Last week, that number hit 200 million doses. The US vaccine rollout is continuing to surge ahead and is the envy of many other countries around the world.
Donald Trump has been quick to point out that the groundwork that led to the current plentiful supply of vaccines was done during his administration, but it is Joe Biden who is reaping the political rewards.
The president has said that this 4 July may mark America's independence from the virus. His next challenge however is vaccine hesitancy and trying to convince sceptics to get their shots. It means the next 200 million doses could be much more difficult to administer than the first.
Foreign Policy
Joe Biden has been keen to rebuild bridges and restore alliances with traditional allies like the European Union and NATO. There has also been a worsening of relations with traditional adversaries like Russia.
Fresh sanctions have been announced and last month, Mr Biden was asked in an ABC interview if he thought Vladimir Putin was a "killer". He said yes and also vowed that Mr Putin was "going to pay" for Russian interference in US elections.
Two weeks ago, Joe Biden announced the withdrawal of US troops from Afghanistan by 11 September.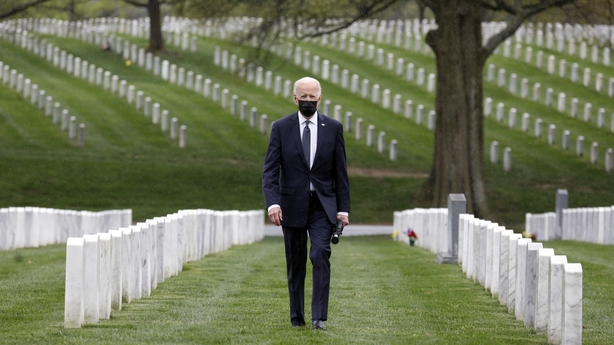 Donald Trump welcomed the move but criticised the timeline. He had set an earlier deadline of 1 May.
"I wish Joe Biden wouldn't use September 11 as the date to withdraw our troops from Afghanistan, for two reasons. First, we can and should get out earlier. Nineteen years is enough, in fact, far too much and way too long," Mr Trump said.
"September 11 represents a very sad event and period for our country and should remain a day of reflection and remembrance honouring those great souls we lost," he added.
Ireland
A US president who is so proud of his Irish roots was always going to make lots of references to the 'home country' and that was certainly the case during Joe Biden's first 100 days in office.
The traditional St Patrick's Day meeting with the Taoiseach had to be virtual but it was still a warm engagement during which the president voiced his strong support for the Good Friday Agreement.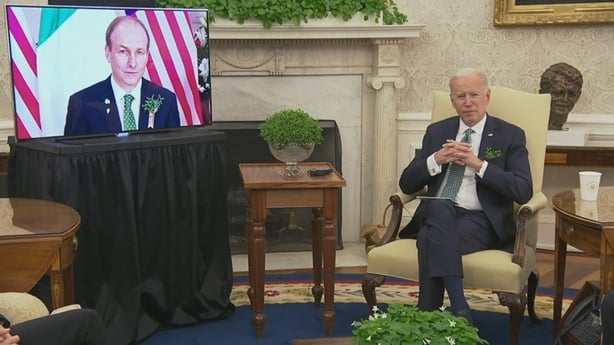 A week later, during his first formal press conference as president, Mr Biden spoke about his Irish ancestry while describing the plight of migrants.
"When my great-grandfather got into a coffin ship in the Irish sea, the expectation was if he was going to live long enough on that ship to get to the United States of America, but they left because of what the Brits had been doing," he said.
A few days after that, Mr Biden made another reference to his Irish roots in a video welcoming newly sworn-in citizens of the United States. He said that an America of possibilities had been "nurtured, enriched and advanced by the contributions sacrifices and dreams of immigrants like you and immigrants like my own ancestors from Ireland."
The 'home country' however could well be harmed by one of the president's signature economic policies.
Joe Biden is proposing a new global minimum tax rate for American multinational companies which may impact the attractiveness of Ireland as a location for foreign direct investment by US firms.
Climate Change
One of Joe Biden's first acts as president was to reverse Donald Trump's decision to withdraw the US from the Paris Climate Accord. On Thursday and Friday, he hosted a virtual summit of world leaders to discuss the challenges of climate change and used the opportunity to announce a big increase in America's emissions cutting targets.
Although relations have been strained with China and Russia, the leaders of both countries took part in the summit. Neither however announced any new climate goals.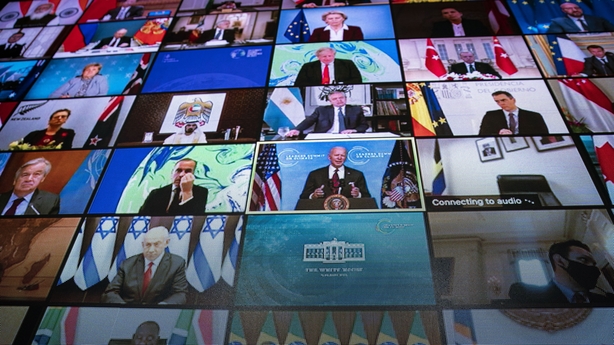 The summit was a chance for Joe Biden to tell the world the US was back as a global leader in the fight to save the planet. Passing legislation to achieve his climate goals could be a struggle however, with many Republicans warning that a move towards clean energy will lead to big job losses in the American oil, natural gas and coal sectors.
After a divisive election that culminated in the storming of the Capitol Building, Joe Biden promised to be a unifying president who would bridge the partisan divide. That was not the case however when it came to the passage of his first major piece of legislation, a massive $1.9 trillion coronavirus relief bill. Not one single Republican voted in favour of the package.
Despite promises of unity, Washington remains as divided as ever. A recent series of mass shootings has reignited rows over gun control measures. Agreement on police reform legislation is still out of reach in the wake of the trial of former police officer Derek Chauvin for the murder of George Floyd. Republicans have blamed Joe Biden's immigration policies for the surge of migrants at the US-Mexico border.
The angry, late-night tweets may be gone but after 100 days of a more 'normal' White House, big problems still remain.