The numbers of mass shootings in the US fell last year due to the pandemic.
With schools and businesses closed, there were fewer opportunities for armed attackers to claim innocent lives.
The shootings that did occur attracted less media attention, competing with the coronavirus, the tumultuous Trump presidency and a dramatic election.
Joe Biden brought a change of tone to the White House. There have been less controversies and no angry tweets. This US president does not dominate the headlines in the way his predecessor did.
But while some would say things have returned to "normal" in Washington, we have also seen the return of one of the darkest problems that continues to beset America.
On Thursday night, a gunman shot and killed eight people and injured several others at a FedEx facility in Indianapolis before taking his own life.
It was the latest in a series of mass shootings in the last month.
On 31 March, four people, including a child, were shot dead in an office building in southern California.
Nine days earlier, ten people were killed in a shooting at a supermarket in Boulder, Colorado.
That came less than a week after a man shot and killed eight people, including six women of Asian descent, in Atlanta, Georgia.
After every mass shooting in the US, a similar pattern of events plays out.
Politicians extend their "thoughts and prayers" to the victims' families but then the divisions start to emerge.
On one side, there are calls for tighter restrictions and tougher background checks. On the other side, the pro-gun lobby will tell you that it is a mental health issue.
"Guns don't kill people. It's people that kill people," I have been repeatedly told by those who oppose stricter gun control measures.
They will also point out that Americans' right to bear arms is protected by the Second Amendment of the US Constitution.
According to opinion polls, most Americans support tougher gun laws, but such measures frequently face an uphill battle in the US Congress.
In March, the Democratic-controlled House of Representatives voted in favour of legislation expanding background checks, but it has yet to be passed by the US Senate, which is split 50-50 between the two parties.
Earlier this month, President Biden announced his first steps since taking office to tighten gun controls including new rules for certain types of weapons and investments in community violence intervention programmes.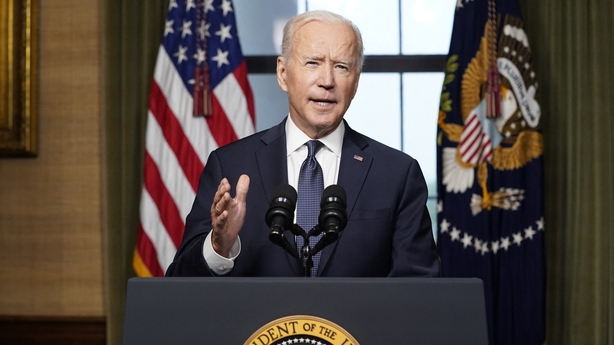 He vowed to clamp down on self-assembled or homemade "ghost-guns", which are untraceable, and he also promised action on devices called "stabilising braces", which effectively turn pistols into rifles.
The president announced plans to make it easier for states to adopt "red flag" laws which identify at-risk individuals who own guns.
The House Republican leader Kevin McCarthy accused Mr Biden of trying to trample over people's constitutional rights. "He is soft on crime but infringes on the rights of law-abiding citizens. I won't stand for it. And neither will House Republicans. Follow the Constitution!" he tweeted.
After Thursday's shooting in Indianapolis, the US president repeated his calls for Congress and the Justice Department to act.
"Too many Americans are dying every single day from gun violence. It stains our character and pierces the very soul of our nation. We can, and must, do more to act and to save lives," Mr Biden said in a statement.
As the US vaccine rollout continues to surge ahead, it has brought a welcome reopening of the country.

Normal service may be resuming across the US but unfortunately so too is the problem of gun violence.