On last Tuesday night's Prime Time, Miriam O'Callaghan was quizzing Tánaiste Leo Varadkar about several matters. It was civilised fare.
As the interview drew to a close Miriam brought up a controversy from Leo's time as Taoiseach when it is claimed he leaked sensitive information to GP Maitiú Ó Túathail.
Miriam: "It is being said within the Fine Gael party some people are very unhappy about this issue and that it has made you less respected. Do you accept that and do you understand that if that is the case, why that is so?
Leo: "I have to say nobody said that to me ... perhaps they wouldn't ... but you know, I think that anybody in their political career, and this goes for all of us in any career they have, all of us make mistakes on occasions. And I would never judge someone on their worst moments. I would always try to judge people on all the things that they tried to do. And that's what I would ask for everyone else."
Incidents, like that Leo one, involving public displays of fragility, linger. Maybe we are drawn to such moments because we recognise and empathise with a slice of our imperfect selves.
There was another example in 2002: Nora Owen's crushed state as she learned she had had lost her Dáil seat. There was no possibility of shelter as she absorbed defeat before the cameras in a packed arena.
A Northern Ireland episode I will carry with me to the next address occurred on 13 December 2019. With his wife, son and daughter around him, the DUP's Nigel Dodds suffered public humiliation as he learned that his Westminster seat was gone.
Four times since 2001 Sinn Féin's Gerry Kelly had tried but failed to wrestle the north Belfast seat from him. But at the fifth attempt and with a first-time candidate, John Finucane, son of Geraldine and the late Pat Finucane, Sinn Féin finally took out the sitting DUP MP.
How quickly change can occur. For more than two years, Nigel Dodds and his DUP colleagues practically had their own room at Downing Street as Theresa May and then Boris Johnson courted their support.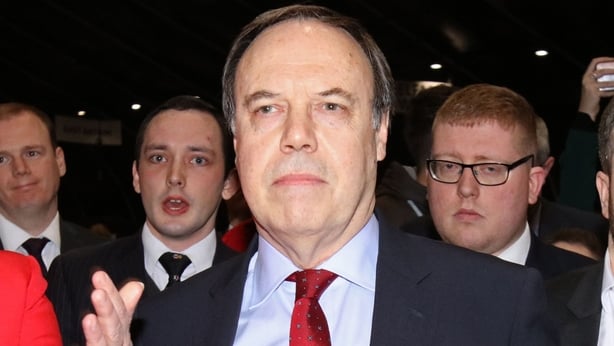 Here he now was, in the days before Christmas with his family around him, a beaten docket in full public view.
The Brexit he championed and shaped was probably the clinching factor in turning a decisive number of voters against him in north Belfast.
The winning margin was 1,943 votes. Crucially, the SDLP (and the Green Party) did not run candidates. They left the space to John Finucane is an effort to maximise the Pro Remain impact in a first-past-the-post contest.
Before he was cleared to successfully run for Sinn Féin, John Finucane had to first join the party. In Westminster, like his colleagues, he follows an abstentionist policy.
Two years before, on foot of his Brexit dealings with Theresa May, the Spectator magazine had named Nigel Dodds negotiator of the year.
An example of DUP unionism
The Dodds family are a vivid example of the complexities and the idiosyncrasies of DUP unionism.
Nigel was an August 1958 baby, born in the city he calls Londonderry, where his father, Joe, was a customs official. Work transferred the family to Enniskillen, Co Fermanagh, where Joe would eventually become a local DUP councillor. Nigel went to the local Portora Royal School, where the past pupils included Oscar Wilde and Samuel Beckett.
Nigel was bright. He was a scholarship boy who went to Saint John's College, Cambridge, and emerged with a first. Back in Belfast, he met his future wife, Diane, who was studying at Queen's. Her family were farmers in Rathfriland, Co Down. She would later teach history and English at Laurelhill High School in Lisburn.
As with his father, Joe, Nigel was attracted to the party founded by Ian Paisley. The Big Man secured an important political platform and a useful income source when he was elected to the European Parliament in 1979. An administrative EEC post followed for Nigel Dodds in 1984. He simultaneously began to carve out a political career in Northern Ireland and was elected a member of Belfast City Council in 1985. Four years later, aged 29, he became the city's youngest mayor.
Ian Paisley had a cohort of young fry helping to drive the party growth. Sammy Wilson enjoyed being jester; Willie McCrea could quote scripture and sing. Peter Robinson, had less academic qualifications, but he was the ice-cold strategist; Nigel, the barrister, helped to give the party a badly needed layer of intellectual respectability.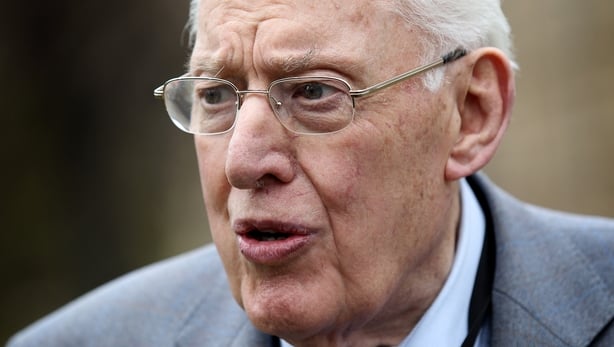 Within a world where the taking of life was routine, Paisley's DUP equated political compromise with weakness. But for decades the DUP could command no more than the space between loyalist paramilitaries and mainstream politics. The Unionist Party had first call on most of the full-time political jobs.
Belfast suffered some of the most awful episodes of The Troubles. As long as they live, Nigel and Diane Dodds will have nightmares about what happened to their family in December 1996.
The IRA ceasefire had been announced in August 1994 but broke down in February 1996. During Christmas week that year, the Dodds' seven-year-old son, Andrew, was in Belfast's Royal Children's Hospital, requiring care for his spina bifida and hydrocephalus conditions.
The parents were conscious of police advice that republican paramilitaries considered them legitimate targets. They routinely varied the car used when making hospital visits to west Belfast.
On the Saturday evening before Christmas Day, IRA gunmen came, determined to kill, to the intensive care ward on The Falls Road where the young child was being treated.
An RUC officer pushed Nigel and Diane Dodds and a hospital worker into a closet. The policeman was wounded in the leg by one of four bullets fired. Another bullet lodged in an empty baby incubator.
The Dodds survived their ordeal. They got their little boy home to their bungalow in Banbridge, with its wide doors and other special fittings.
The Good Friday Agreement, without DUP support, was agreed in April 1998. On 29 December that year, Andrew Dodds died. He was nine.
Party of protest to party of government
In the 1997 Northern Ireland Westminster elections, the outcome in unionist constituencies was UUP 10, DUP 2.
In 2001, the gap narrowed to UUP 6, DUP 5. By 2005, the balance had shifted completely to UUP 1, DUP 9.
The story of DUP dominance has been consolidated at every subsequent election.
In 2001, Nigel Dodds was a factor and a beneficiary in the turning tide. The DUP targeted Ulster Unionist leader, David Trimble and his party over what their Good Friday/Belfast Agreement 'appeasement strategy'. Republican prevarication about weapons decommissioning made the DUP task easier.
In north Belfast, Dodds took on and comprehensively defeated the sitting Ulster Unionist north Belfast MP, Cecil Walker. Nigel was set fair for the House of Commons.
Two years later, consistent with what is often a DUP trait, his wife Diane entered the fray. She was a candidate in 2003 Stormont elections and won one of the six Assembly seats in the west Belfast constituency.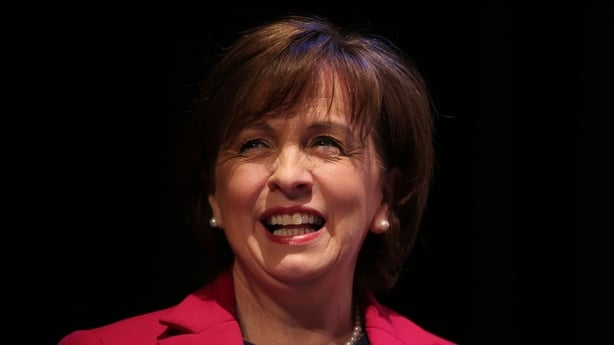 It is an overwhelmingly nationalist/republican part of the city. Key to her victory was she gathered support from what are traditionally non-voting homes in the loyalist Shankill Road area.
Consistently throughout his career Nigel Dodds has given the impression that he doesn't want the top job. He seems more comfortable as a No 2 or less.
When Ian Paisley and Peter Robinson went south to government buildings on 30 September 2004 and sat across a table from Taoiseach Bertie Ahern and then Foreign Affairs minister, Dermot Ahern, Nigel Dodds wasn't brought. It was an omission that, with the benefit of hindsight, might be done differently.
In 2007, when Sinn Féin held their first face-to-face meeting with the DUP to begin planning how their power-sharing government would operate, Nigel Dodds wasn't there. The shinners were spooked. They have their own problematic history with discordant voices. They were worried that Nigel might have jumped ship, at the first opportunity.
It turned out that he had been struck down by a bout of food poisoning as the DUP inspected its new surroundings at Stormont Castle. He had been genuinely sidelined by a temporary illness.
He served as Minister for Enterprise in that first DUP/Sinn Féin power-sharing partnership, formed by Ian Paisley and Martin McGuinness in May 2007.
When Peter Robinson took over as First Minister in 2008, Nigel Dodds slotted into the vacant Finance Minister role. But when the choice had to be made between the House of Commons and the Stormont Chamber, he opted for the London assignment.
More than any DUP representative, Mr Dodds can hold his own with the Tory 'in crowd' so meticulously ridiculed by Sasha Swire in her racy 'Diary of An MP's Wife'. In his Oxbridge phase he wasn't interested in competing with the extra-curricular history of Boris, Cameron, Gove and co. But they know he is at least their equal in terms of smarts and could never be dismissed as a backwoodsman.
A shy man, an Everton supporter, gracious and helpful in private, he rarely looked comfortable at the raw edge of interface politics in his north Belfast constituency. On a summer morning in 2013 I watched him, colarette on, as he and fellow Orange Order members gathered at Ballysillan. Below was the contested space of nationalist Ardoyne where the marchers would pass on their way to annual 12th July celebrations.
We both saw significantly more than the agreed number of supporters gather and prepare to stride down the road behind their bands. No fingers were offered for the dyke.
Later tension reached boiling point. As the marchers sought to make their way home past nationalist homes, their route was blocked by PSNI land rovers. On this occasion, Nigel Dodds, sought to be a calming influence, interceding with the police. In the constituency he represents, he was hit on the head by a flying brick fired from the loyalist side and knocked unconscious.
Sammy Wilson carries a very obvious sense sense of 'hard done by' in DUP promotional stakes. But Nigel Dodds didn't push himself forward to succeed Peter Robinson as he retired as both first minister and party leader at the end of 2015.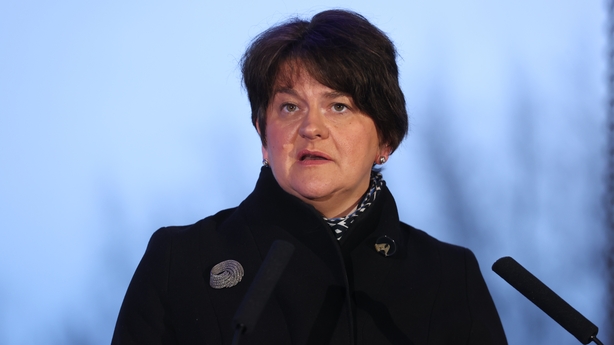 Arlene Foster's coronation was Peter Robinson's parting example of craftwork. Nigel Dodds was content to stay on the Westminster beat - a different world to the Stormont where power must be parsed, analysed and shared with former foes.
Brexit - the game changer
Diane Dodds only managed one term as a west Belfast member of the Northern Ireland Assembly. In 2007, the DUP's partners in government, Sinn Féin, took the seat. But two years later she was back to a bigger job - one of Northern Ireland's three positions in the European Parliament.
It was the seat Jim Allister took over when DUP leader Ian Paisley retired from it in 2004. Even though he resigned from the DUP over its power-sharing partnership with Sinn Féin in 2007, Jim Allister wanted to retain the job. Diane Dodds outvoted him in 2009. She withstood his challenges in the 2014 and 2019 European Elections.
The Brexit Referendum of June 2016, arranged by then British prime minister, David Cameron, changed the lives of Nigel and Diane Dodds. It also set the DUP on a journey, way beyond its control, destination unknown.
The DUP was the only one of the five main Northern Ireland parties to campaign for leaving the European Union. Diane Dodds supported her party policy, even though success would take away her MEP job. When Pro Remain Conservative prime minister David Cameron lost the referendum, he resigned and his successor Theresa May subsequently called a general election. The result saw Theresa May's minority conservative administration depending on the DUP to remain in power.
Stormont was in mothballs due to the RHI dispute while the DUP's Westminster team exerted influence over Theresa May. They grew tall in their transformation from stage hands to star turns. The DUP extracted considerable largesse for Northern Ireland from the prime minister. Then it rejected the Brexit backstop model she proposed and transferred loyalty to Boris Johnson.
The new Conservative party leader promptly called the December 2019 election to assert his authority and to provide him with the means to deliver Brexit. His landslide victory and 80-seat majority ended his dependence on the DUP.
That General Election election also finished Nigel Dodds' 18-year career as an MP. When the UK left the EU, Diane Dodds lost her MEP job.
Dealing with uncertainty
The two have since started new political chapters. In July, as expected, Nigel Dodds was given a berth in the House of Lords and took the title, Lord Dodds of Duncairn.
Diane Dodds was handed a DUP Upper Bann Assembly seat, vacant because its holder, Carla Lockhart, successfully contested the 2019 Westminster elections. Arlene Foster appointed Mrs Dodds Economy Minister when she formed her ministerial team in January 2020.
A part of Diane Dodds came to the Stormont role, intent on creating a legacy of pathways. During more than ten years working and learning on the European stage, she developed an appreciation of how job creation can transform lives as well as an economy.
Like her counterpart south of the border, Leo Varadkar, she was looking forward to busy times chasing down foreign direct investment and engaging with entrepreneurs.
But then came the ambush: our generation's version of cataclysm - the Covid-19 pandemic.
Seeing Diane Dodds on her feet in her Assembly ministerial role last week, buffeted by the pressures of Covid-19 and the Northern Ireland protocol, made for painful watching.
In better times, things could be, she could be and probably would be different.
In behind-the-scenes interactions with the British government over the Northern Ireland Protocol, Nigel Dodds has 'trusted trader' status. He is the wisest, most loyal and most influential colleague available to DUP leader, Arlene Foster, in challenging times.
But from him or his party so far there is no sign of a plan to better the imperfect formula that emerged from four years of tortuous negotiations between London and Brussels.
Northern Ireland is the most vulnerable UK family member after the messy divorce it sought and got from the European Union. The fundamental problem with Brexit is it challenges the sensitive chemistry of the Good Friday Agreement.
The two - Brexit and the Good Friday Agreement - struggle to comfortably co-exist.
Maybe the British Prime Minister Boris Johnson and his chief negotiator, David Frost, did not understand that truth. It certainly is not reflected in the Brexit deal they pursued and agreed, Northern Ireland Protocol included.
Or maybe they had a sense of what they were doing but ploughed ahead because they had other priorities.
David Trimble and his lifelong political rivals, the DUP, are now calling for the Protocol to be scrapped. Mr Trimble, the former Ulster Unionist Party leader and now Conservative party peer, negotiated and signed the 1998 Good Friday Agreement. The DUP walked away from those same talks. For years afterwards they pilloried him and undermined him for the deal he struck.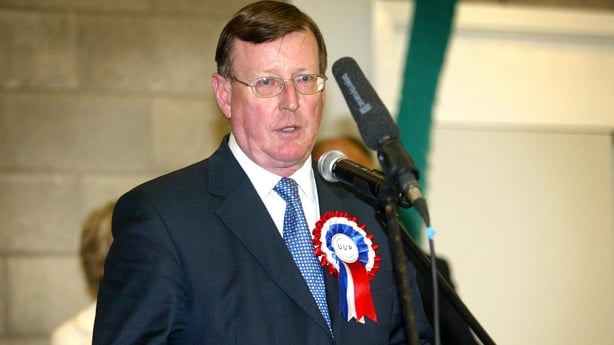 Yet on Brexit, they were on the same side. Mr Trimble as well as the DUP supported leaving. And, again like the DUP, he opposed Theresa May's backstop solution. At one stage, he actually shaped up to take a legal challenge against it.
But it would be wrong to decide that Northern Ireland's Brexiteers should be left to contend with a mess of their own making. Or to conclude 'problems, I see no problems' and seek to swiftly move on.
Memories from almost two decades ago return of a Northern Ireland count centre where David Trimble and his wife were pushed and heckled by baying crowds (including DUP supporters) in circumstances that would have terrified most of us.
Nigel and Diane Dodds were once corralled in a hospital intensive care ward with their ill child when gunmen came to kill.
Such pain and resilience cannot be forgotten because they contributed to the dynamic that removed the scourge of violence and threat.
A willingness to compromise and to take account of the other side defines the Good Friday Agreement. The template the DUP eventually signed up to, using the St Andrew's Agreement as a convenient bridge.
Brexit has completely different priorities. It was based on a "we're off and really we were never happy here" attitude.
If Good Friday Agreement principles are used by London, Brussels, Belfast and Dublin in the search for a solution to the Northern Ireland Protocol controversy, there is a chance of success.
If the negotiations are reduced to "give us our way" arguments, the trouble will deepen.
All sides need to understand that.