It started in the early hours of the morning after election night.
As expected, Donald Trump accused the Democrats of engaging in voter fraud and claimed, without evidence, that he was the rightful winner of the election.
Delivering an address from the White House, to the sounds of cheering supporters, he vowed to fight the result all the way to the Supreme Court.
And so began a series of legal challenges in various states. The claims of irregularities and fraud varied from district to district, but the cases all had one thing in common, failure.
The dismissal of legal challenges by judges, however, hasn't stopped Donald Trump and his team making their baseless allegations in public.
On Thursday, Mr Trump's personal lawyer Rudy Giuliani held a lengthy press conference that grabbed lots of headlines.
Not because of any of the conspiracy theories or claims of voter fraud he presented, but because of his hair dye.
He sweated profusely throughout the event, which resulted in trickles of black liquid streaming down his face.
It streaked across his cheeks and stained his white shirt collar.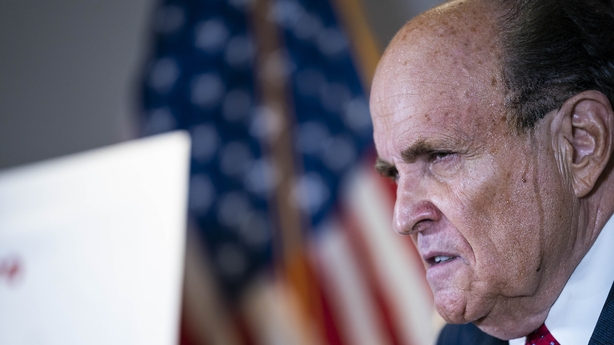 It wasn't the only bizarre moment. He spoke about votes being cast by dead people and by Mickey Mouse. He referenced the movie 'My Cousin Vinny'.
The gathered press also heard claims of interference from the Clinton Foundation, billionaire George Soros and Venezuelan leaders living and dead.
Rudy Giuliani was joined on stage by former federal prosecutor Sidney Powell, who also made baseless claims of voter fraud.
Claims that were even questioned by the normally pro-Trump Fox News host Tucker Carlson. He said that despite asking Ms Powell for proof of this alleged corruption, no such evidence was ever produced.
Fox News did however carry the entire 90-minute Rudy Giuliani press conference while other networks cut away from the live feed of the event.
And this is the worrying part. Millions of Americans watched while Mr Giuliani and his colleagues spoke at length about rigged voting machines and rubbish bins stuffed with ballots.
The claims have been disproven and thrown out of court but many who watched a well-known lawyer make these accusations on live TV would have believed them.
It has sowed the seeds of doubt in the minds of countless voters and has sought to undermine the electoral process.
"What I'm describing to you is a massive fraud. It isn't a little, teeny one," Rudy Giuliani said, going on to attack the media.
"The coverage of this has been almost as dishonest as the scheme itself," he said.
As their legal challenges continue to fail, the new Trump campaign strategy appears to be to take the so-called "evidence" of fraud, which was deemed inadmissible by judges, and peddle it from podiums in front of the TV cameras.
This, coupled with Donald Trump's relentless tweets about winning the election, appear to be having an impact on many Americans.
A recent Reuters/Ipsos opinion poll showed that 52% of Republicans believe Mr Trump "rightfully won" the US election but that it was stolen from him by widespread voter fraud that favoured Democratic President-elect Joe Biden.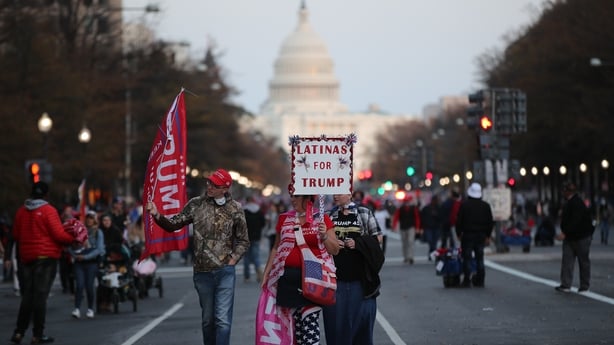 I saw this first-hand last week while covering the "Million Maga March" in Washington DC when tens of thousands took to the streets to show their support for the US President.
Everyone I spoke to believed that Donald Trump was the rightful winner of the US election and that he only lost because of fraud and corruption. When I retorted by saying there was no evidence of this, I was dismissed as someone who was pushing the lies of the "fake news", corrupt media.
Another shift in strategy has come from Donald Trump himself in recent days and it is even more worrying.
The US President has started reaching out directly to state officials in the hope of overturning results in districts he lost.
On Thursday, the Washington Post reported that Mr Trump called a member of the Board of Canvassers in Wayne County, Michigan after she first refused, and then agreed, to certify election results from the state's largest county. She subsequently tried to "rescind" her vote for certification, which officials said was impossible.
Donald Trump invited senior Republicans from Michigan's state legislature to the White House on Friday.
The state's Senate Majority Leader Mike Shirkey and House of Representatives Speaker Lee Chatfield were met by protesters when they arrived here in Washington, calling on them to certify the election results in their state, a state that Joe Biden won.
With his legal challenges failing and his attempts to convince state officials to overturn legal results being met with outrage, what exactly is Donald Trump's endgame? What is he hoping to achieve?
When Mr Trump is eventually forced to leave the White House, he wants it to appear that he didn't lose the election because he was beaten, he lost because of corruption and fraud.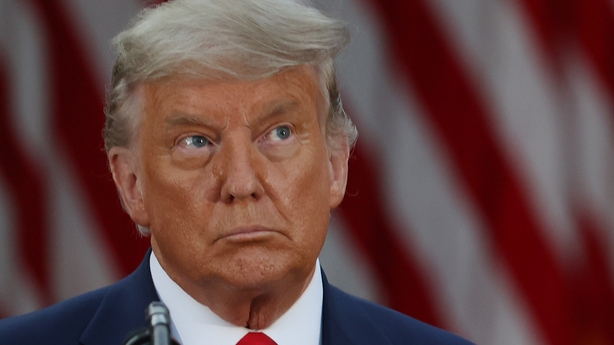 He feels that Democrats cast doubt over his election win in 2016 by launching investigations into Russian collusion and now he wants to do the same to Joe Biden's victory.
But Donald Trump's refusal to concede and to cooperate with Mr Biden's transition team is having real, damaging consequences.
The president-elect has warned that the lack of information sharing on the Covid-19 response could cost lives and that it could leave his administration weeks or months behind when it comes to the rollout of vaccines.
Mr Biden said Donald Trump would be remembered as "one of the most irresponsible presidents in American history".
He added that "incredibly damaging messages are being sent to the rest of the world about how democracy functions".
Time is running out for Donald Trump. Over the next two weeks, states will certify their election results ahead of a meeting of electors on 14 December when the formal process of voting for the next president will take place.
Joe Biden has 306 electoral votes to Donald Trump's 232. Conspiracy theories and disputed claims of fraud won't change the maths, but there is a danger that they will damage confidence in the entire democratic process.