There have been small crowds of Joe Biden supporters outside the White House over the last few days waiting for the result of the election.
When the projections finally came, those who had gathered made a lot of noise.
They cheered, danced and waved flags and posters.
Within minutes, more people started to appear and before long the numbers swelled to thousands.
Bradley Baker said it was a wonderful day for America.
The scene outside the @WhiteHouse right now, @JoeBiden supporters gathering to celebrate his projected win. #Election2020 @rtenews pic.twitter.com/3Vl40HDPx7

— Brian O'Donovan (@BrianOD_News) November 7, 2020
"There's a sigh of relief here in Washington DC and across the nation. There are lots of children here and I think it is going to be a better country for them," he said.
Erin Uritus came to the White House with her two young daughters.
"My girls are half Arab Muslim; their father is Egyptian. For four years we have been waiting to restore integrity to government and I want my girls to know that no matter who are, you can be treated fairly in this country," she said.
Most of the signs being waved carried Joe Biden's name but others were messages to Donald Trump with slogans such as "you're fired" and "time to go".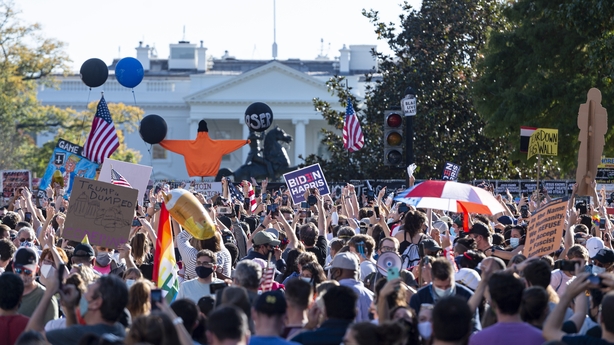 Many of those who gathered outside the White House said they believed the US president would not leave without a fight.
Mark Joseph Stern said he does not think Mr Trump will concede and fully expects him to launch legal challenges.
"As a lawyer, I can say that his lawsuits have no merit. They will fail and he will be gone on January 20th," he said.
RTÉ Washington Correspondent @BrianOD_News reports live from Washington as Joe Biden secures victory in #Election2020 | https://t.co/YSWIHaBejZ https://t.co/lC1WnUXqvl

— RTÉ News (@rtenews) November 7, 2020
Donald Trump was at his golf course in Virginia when TV networks projected that Joe Biden would be the next US president.
As he returned to the White House, he was greeted by thousands of people calling for him to go.
Their cheers could no doubt be heard from inside the West Wing but they will fall on deaf ears for now as Mr Trump vows to fight the election result in the courts.
As time passes however, those voices will grow louder and the pressure on the US president to facilitate a peaceful transfer of power will increase.