All things in life can be taken from you and in the end they will be.
Three good friends of mine died unexpectedly in recent weeks. They all lived on the same side of the road, just doors apart, but left this world from different causes.
We know how life can change in a heartbeat. People around the country have lost loved ones this year to Covid-19 and, we must also not forget, to other conditions.
These past eight months have been such an endurance for people. It is understandable that some may feel they can dig no deeper. Of course, with the clocks going back this weekend, we get an extra hour of this dystopian nightmare.
Our greatest wealth lies within ourselves.
The battle with coronavirus has been both physical and psychological. It has been a terribly difficult week with the country having to face into the prospect of at least another six weeks of national restrictions.
It feels like a horror game of Monopoly where you go directly to jail, you can't go around the board, or buy anything special.
This time the experience is different, but no less physically and mentally testing for so many people. Perhaps it is because more businesses and schools are open and that there are capacity limits on public transport, but there has been a lot of traffic around this time compared to March and April.
The overall atmosphere in the country could be described as fractious. There is quite a lot of finger-pointing and blame about and that's understandable. The harsh weather is here, the evenings are darker and normal celebrations for Halloween and Christmas will not happen. So many hopes have been dashed.
They say it's often darkest just before the dawn. Well there was a notable spark of light last night, with the significantly reduced daily case numbers. Also, there was a fall in the average number of close contacts of confirmed cases. It could be a sign of the impact of the earlier restrictions - fingers crossed.
We battled through the first shutdown in wonderful weather and it may have had a novelty element for some people as it was a first. This time around we know from personal experience what is involved and now visits to other people's houses are not permitted.
What people have been going through should also sharpen their appreciation of life and the gift of being healthy and active.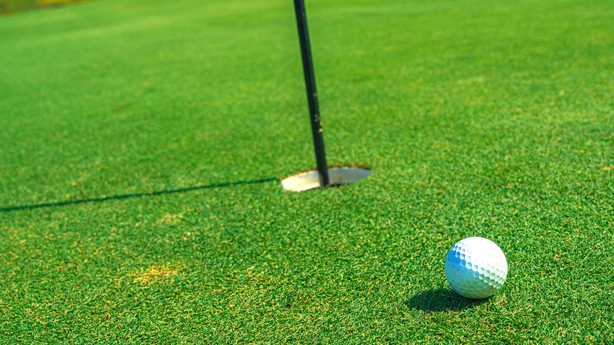 The decision not to allow so many sports to continue to operate has generated much debate. Sports are healthy pursuits and some sports would appear to be of very limited risk in terms of spreading the virus.
Apart from elite sports and certain GAA games, sports have now been closed off to citizens for at least six weeks. It will have a direct impact on the health and welfare of people, young and old, some of whom may fall back into a sedentary lifestyle.
People need an outlet for physicality and aggression and sport is so important in this regard. Sports test endurance, like the way our endurance to handle the coronavirus threat is being tested.
There are a range of sports that are now shut off that people have raised questions about. On the face of it, golf would seem to offer little risk in terms of spreading the virus.
However, the position taken by Minister for Health Stephen Donnelly in the Dáil on Thursday was that while cases can be made for various sports, if one is allow proceed, others will demand the same. So the blunt instrument of shutting down most sports has been taken.
Like tough restrictions, the effect is severe.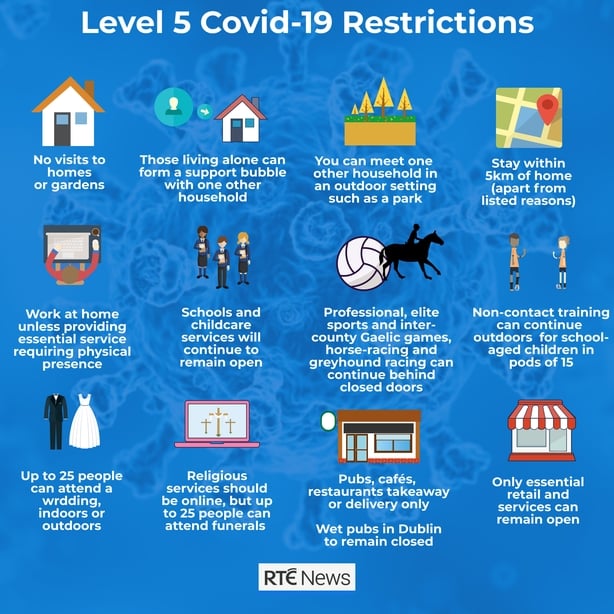 The decision to go for Level 5 is also something of a gamble. It uses up all the bullets in the gun in the attack against the virus. It has to work.
The arrival of these measures brought a terrible gloom to the country.
What happens if this new raft of restrictions are not successful? Does Ireland continue for a further six weeks?
The indications are that we may face rolling restrictions into 2021 if the case numbers and risks do not reduce.
Some medical experts completely disagree with this strategy.
While the detail of any exit strategy from the current Level 5 restrictions is quite scant, the view from NPHET is that we need to get to a place where there are less than 100 cases of the virus a day and get the R number down under 1 to 0.5. Some believe this is achievable by end of November.
What is less clear is how Ireland, or each county, might move back down the levels of restrictions, what will re-open and how and over what time period.
We may have got used to uncertainty but it makes for very uneasy living.
Different countries are trying different measures. In France, for example, cafes and bars are open but there is a curfew from 9pm to 6am.
People can only be out on the streets between these hours with written exemptions, otherwise they face a rising rate of fines, for repeated offences.
Since I began covering the coronavirus crisis and also writing this weekly long read for Saturdays on events of the week, I have been receiving a large volume of emails, social media DMs and other communications. Some of the messages are heartbreaking.
The isolation and home restrictions have long-lasting affects. I have heard from men and women in their 30s or 40s, who want to have relationships. They are keen to find a partner and some want to to have children. For some of the women, time matters greatly in terms of pregnancy and the age they are currently at.
The younger set of 18-24-year-olds can not visit their partners. Everyone of an older generation will appreciate what that must be like. And for the older generation of people, especially those who live alone, there is great loneliness and not a little fear too at this time.
During the week, people have pointed to the great work done in New Zealand to deal with coronavirus. While their efforts are laudable, it is difficult to make comparisons with other countries. With New Zealand, it is a very remote island, close to 2,000km from its nearest neighbour Australia.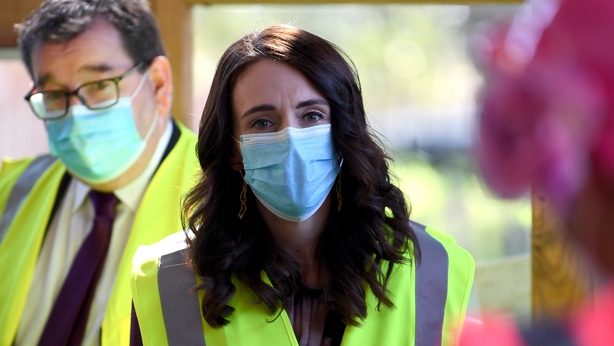 You simply can not compare Ireland to it. We also have the added complication of a porous border and have seen the cases reach dramatic levels in the border counties.
The challenges for each country are complex. It is important however to hear all reasoned voices in the debate about how to deal with the pandemic here. There are deep divisions among medical and scientific experts, politicians and others - no doubt most genuinely held.
There is continuing and often heated debate about the true number of cases in schools. We see conflicting figures from the HSE and the unofficial data gathered by a large body of parents.
Whatever the true numbers, there is no denying that schools being open generate a lot of people movement. Schools are also a part of the community and students go home after class. It will be interesting to see what impact the mid-term break this week may have.
Some people seem so definite about what to do despite the fact that no-one has the Oracle of answers.
Thank goodness we know an awful lot more about Covid-19 now than at the start. It does help in treating people with the virus now and understanding better the long term effects.
We have seen the trends of the virus - the first wave and a second under way now. There have been the ups and downs. One day during the summer, we had three cases reported on a day, then on another day last week a record 1,283 cases were reported.
There was a great collective effort to reach a place where just three cases were reported. Can it be done again? The answer must be yes.
There is a great price to all of this. Concerns have been expressed about the contribution to mental illness the next six weeks will have. The first shutdown saw a raft of health services paused. This time, the National Screen Service is planning to continue the screening programmes during the national Level 5 restrictions.
It was a bad week for the HSE as the test and trace system came under the spotlight. The temporary measure to ask people who tested positive over last weekend to do DIY contact tracing shocked many people. The Taoiseach and Minister for Health first learned about it from The Irish Times online.
It showed how the track and trace system was not as promised. Some departments had already reported being overwhelmed. By definition, there are not sufficient contact tracers if the aim is to get the overall numbers to 1,000, as referenced by the Taoiseach.
Yesterday, the UCD National Virus Reference Laboratory announced that due to unavoidable staff shortages, it will not be able to do Covid-19 testing this weekend from 24 October to 26 October and next weekend 31 October to 1 November.
The cause of this was different – it was due to the fact that one of two the teams of testers has had to self-isolate. The lab does about 600 tests a day, a small number in the scheme of things now and so the tests affected will be performed elsewhere.
Ireland has adopted its own strategy for dealing with Covid-19, for good or for bad. Only time will tell if the correct decisions have been made here. There is a lot at stake. And there will be mistakes.
Questions continue to be asked about the position of NPHET. Former attorney general and now Senator Michael McDowell raised several points during the week. NPHET is classed as an independent advisory body, it is not the Government or the health service itself.
Questions have been posed as to how independent NPHET can be if it has a large number of HSE staff on it – people with 'skin in the game' as it were.
No doubt, NPHET would counter that it draws from a wide range of expertise and needs to understand the HSE capacities and limitations when making recommendations.
Who thought that come late October, we would all be facing into this bleak winter?
There is little warmth from the sunlight at this time of year.
The northern hemisphere tilts farthest from the sun.
We are heading into the coldest season.
So we must dig deep, to navigate the coming weeks.
And face things as they are, not as we would wish them to be.
Like all tests of endurance, we must break through the wall.
Maybe go the extra mile.
To make it to the finishing line.