Lawmakers are set to grapple with the complex issue of assisted dying as a new Bill has galvanised support for a conscience vote.
However, the proposal is certain to undergo broader scrutiny to ensure a public airing of the weighty matters involved.
All this means it is some time away from becoming law but the move looks set to facilitate a difficult conversation tackling if and when assisted dying might be legalised.
People Before Profit TD Gino Kenny has introduced the Dying With Dignity Bill which aims to provide the right to assisted dying for people with a terminal illness.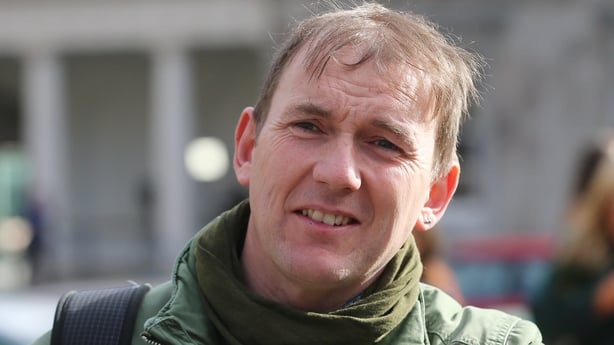 He argues that his Bill allows for only narrow access to ending suffering and is not a move to assisted suicide as the individual must be terminally ill as certified by two doctors.
In addition, the Bill specifies that assistance to die can only be given by a medical practitioner and not simply, a friend, and it must be demonstrated that the sick person has the capacity to make such a monumental decision.
However, others have warned about the repercussions of opening the door to assisted suicide with fears that a small liberalisation may lead to multiple consequences.
Nonetheless, the Bill has passed an initial hurdle in the Dáil and is due to be debated next Thursday and voted on the following week.
Sinn Féin, Labour and the Social Democrats have given backing to allowing the Bill go through to the next stage with the expectation of more detailed oversight at committee stage.
.@ImeldaMunster says SF will support the passing of the Dying with Dignity Bill. She says it's important it going through proper pre-legislative scrutiny. #rtetwip pic.twitter.com/px9IVSR9jE

— The Week in Politics (@rtetwip) September 20, 2020
So its continued passage depends on the attitude of Fianna Fáil, Fine Gael and the Green Party.
In the past, this is where similar measures have faltered as government parties impose a whip to defeat proposals.
Back in 2016, the early months of the last government were blighted by repeated run-ins between the Independent Alliance looking to defy whips on conscience issues.
---
Read More:
Vicky Phelan appeals for politicians to support bill on assisted dying
'Dying with Dignity' bill discussed at FG parliamentary party meeting
---
But in this instance, all indications are that the three government parties will agree a free vote for TDs to allow the Bill go through for further analysis.
This has been the case in recent years as Ireland has moved through an era of profound societal change.
The coalition party leaders will likely discuss the issue at Monday's regular meeting with a final decision at cabinet the next day.
Green Party leader Eamon Ryan told the Dáil that a conscience vote was a possibility particularly in his own party.Green deputies have agreed to meet on Monday to finalise their position.
In Fine Gael, the vast majority of speakers at this week's parliamentary party meeting wanted a free vote with some suggesting the Bill should go to a Citizens Assembly or all-party committee.
.@SimonHarrisTD speaking about the Dying with Dignity Bill says nobody should ever have to die in pain and he welcomes the fact that they are going to get a chance to debate it. #rtetwip pic.twitter.com/sa1xdeXh5w

— The Week in Politics (@rtetwip) September 20, 2020
Party leader Leo Varadkar told the meeting there appeared to be consensus on a free vote although he added that the Bill could not go forward without amendments.
For Fine Gael, matters of conscience led to the painful loss of four TDs including Lucinda Creighton over the Bill which legislated for the X case – the Protection of Life During Pregnancy Bill.
Since then, the party has offered a free vote on big social issues like repealing the Eighth Amendment.
In Fianna Fáil, Micheál Martin has agreed free votes since 2013 on conscience matters – with a majority of the party voting against the Protection of Life during Pregnancy Bill and somewhat fewer on the move to repeal the Eighth Amendment which paved the way for broadening access to abortion.
And on this issue, he indicated yesterday that a free vote was likely saying that that Fianna Fáil's recent position on life or death issues is that "it's about conscience".
But there are several deputies against the proposal including many of the Rural Independent Group including Michael Healy-Rae.
Aontu's Peadar Tóibín says he is opposed to any form of assisted suicide and people need to consider the consequences of introducing euthansia.
And even among those TDs in favour of allowing the Bill to proceed at this point, many have concerns and are only offering qualified backing for now.
Many will push for more safeguards on how assisted dying could be introduced in Ireland.
And crucially, the government will also want to get a sense of where the country stands on the issue.
Broadening access to abortion involved a lengthy process with the input of a citizens' assembly and an all-party Oireachtas committee.
This lengthy consultation paved the way for bringing the public onside ensuring that a referendum would be assured of success.
However, convening a citizens' assembly during a pandemic would be extremely difficult and other issues are already ahead of this one in the queue.
That leaves the all-party committee as the most likely forum to tease out the immense social, legal and ethical questions and provide for a rational debate with input from all shades of opinion.