Convention season is upon us here in the US. Over the next two weeks Democrats and Republicans will gather at their respective events to nominate their candidates for president.
In the past, conventions have been among the big centre pieces of election campaigns.
Candidates and party grandees made enthusiastic speeches in front of packed arenas. There were cheers and applause as balloons and confetti fell from the ceiling.
But that was the past. In the era of Covid-19, this year's conventions will look very different.
Tomorrow, the Democratic National Convention will get under way in Milwaukee, Wisconsin, but only a handful of delegates will gather in person at the event venue.
The bulk of the convention will be virtual with speakers delivering their addresses remotely.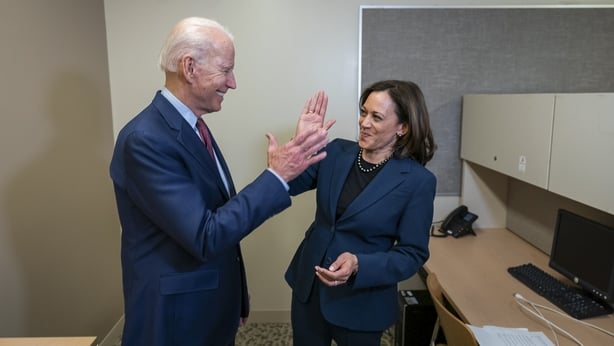 Every night, for four nights, big-name Democrats will make speeches voicing their support for Joe Biden and his running mate Kamala Harris.
Speakers will include Barack and Michelle Obama, Bill and Hillary Clinton, Senator Bernie Sanders, Speaker of the House Nancy Pelosi and Congresswoman Alexandria Ocasio-Cortez.
The keynote address will be delivered on Thursday night when Joe Biden formally accepts the Democratic party nomination.
The speeches will be made by some of the biggest names in US politics but they won't be standing on a stage. They'll be speaking over Zoom and Skype from their living rooms and offices.
There will be no cheers and no standing ovations. Surely this will lessen the impact of the message and weaken the media buzz that would normally come with a party convention?
Not so says Joe Andrew. As the former national chairman of the Democratic National Committee he knows all about organising party conventions.
He told RTÉ's 'States of Mind' podcast that going virtual will actual improve the event.
"Conventions have always been controversial. They're perceived by many Democratic activists as a chance to fete the wealthy," Mr Andrew said.
"While the activists are out there trying to get someone elected, the wealthy contributors are getting the best seats at the convention while enjoying brie and chablis. But taking that challenge away and just focusing on the messages is how Democrats will win," Mr Andrew said.
One of the themes of conventions is always party unity. A chance for rival candidates who clashed during the primaries to put their differences aside and give their backing to the nominee.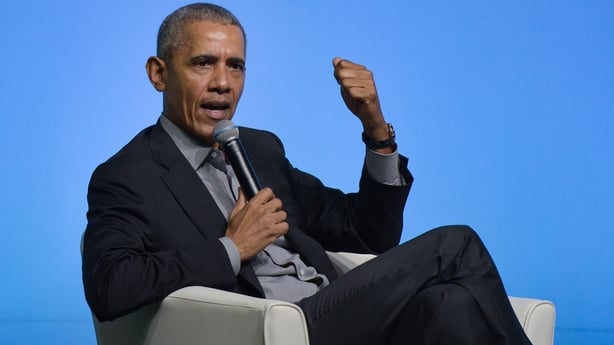 That show of support will now have to happen online but Mr Andrew believes a virtual convention will strengthen the message of unity.
"Most of our conventions have shown disunity, that's the history of the Democratic Party. In the past, conventions were a chance for the left and the right of the party to talk about disagreements. With a shorter, more concise convention you're going to see a much more unified party," he said. 
A scaled back, virtual Democratic convention is the continuation of a theme that we have seen from the Biden campaign since the start of the coronavirus outbreak.
Until recent days, Mr Biden had barely left the basement of his home and it was from there that he carried out his media interviews, online fundraisers and virtual rallies.
It is a strategy that appears to be working, with the Democratic candidate continuing to lead in the national polls and in key swing states.
Mr Andrew believes a shorter, online convention will work in Mr Biden's favour.
"He doesn't need to have more attention. He doesn't need a party that shows public disagreement. He doesn't need any controversies or mistakes," he said.
"Conventions have become about internal politics, battles and rivalries but this year you'll have a more integrated, focused and unified event."
Mr Andrew believes all conventions from now on should be run this way.
Republicans may not agree. Their convention will begin in North Carolina on 24 August. It has also been scaled back, much to the annoyance of Donald Trump.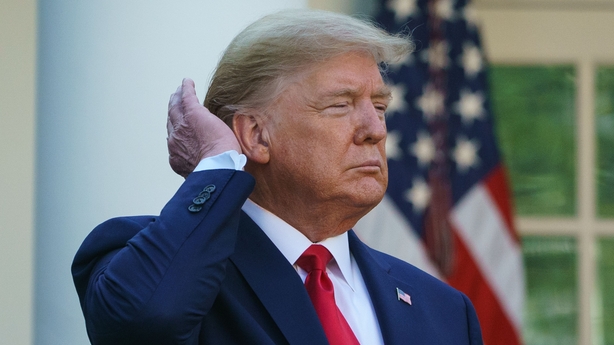 He had desperately wanted a big rally-style event packed with supporters but it wasn't to be. 
As the virtual Democratic convention gets under way in Wisconsin this week, the US president will visit the state to hold campaign events.
"As you know Joe Biden refuses to come to Wisconsin next week for his own convention," Mr Trump told supporters on Thursday.
"He's not even going to pay the respect of at least making a stopover," he said.
Mr Trump is eager to return to traditional campaigning in the hope it will boost his poll numbers.
By contrast, his Democratic opponent is happy to embrace this new, virtual reality.