Did you notice how there were only three places set out for the news conference when South met North at Dublin Castle on Friday? One for Micheál, one for Arlene and one for Michelle.
No sign of Leo, the Tánaiste and very recent Taoiseach. Nothing for Eamon Ryan, the leader of the Greens, the third party in the coalition Government.
Or for Simon Coveney, the former Tánaiste and still the Minister for Foreign Affairs, who has the most regular North/South and British/Irish interaction as part of his job spec.
Noise and kerfuffle usually command attention. In a past life, when an understanding of escapology was a useful asset, republicans became dab hands at lobbing in a smoke bomb or using some other mechanism to absorb attention and distract from the main business that was causing a problem.
Within days, the distraction would run its course and the fuss around it disappear from consciousness.
In many aspects of our lives, we are regularly waylaid by diversions with little significance or shelf life.
In the makeshift parliament at Dublin's National Convention Centre, some blood pressure rates and decibel levels soared in the final session of the Dáil before the summer recess.
But much more significant political business was done the following day at Dublin Castle. During it, those who suspect that Micheál Martin may continue as he has started - badly - were given reason to think again.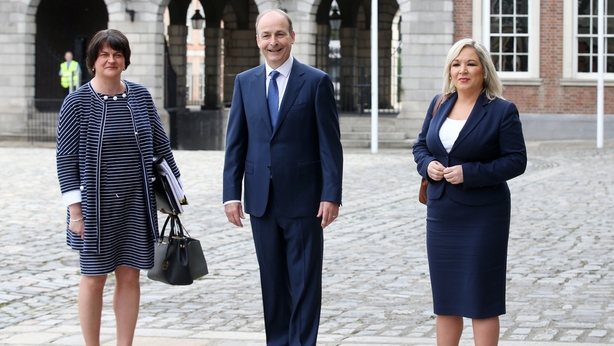 The short shelf life trade
What must it be like for The Donald, over in Washington these days and nights? Four years ago, he defied even the most cheesy scriptwriters in Hollywood when, as the politician from God knows where, he won sufficient support to be elected President of the United States.
In that role, he has travelled to several levels beyond slapstick. And now having failed to prove his earlier theory that the coronavirus is much ado about very little, as the disease continues to spread and the US economy tanks, he is facing rejection in the November polls.
Micheál Martin took over the role of Taoiseach last month, knowing that - provided the three-party coalition stays together until the end of 2022 - he will be out of a job then.
Yes, he has avoided the ignominy of being the first Fianna Fáil leader not to make it to the top political role. But the terms of the contract have him on course to exit as Taoiseach in two-and-a-half years and allow his likely replacement, Leo Varadkar, lead his Fine Gael party from a position of strength into the next election.
Yet the truth worth emphasising is that the time-limited Taoiseach, Micheál Martin, is going to be holder of the highest political office when our nearest neighbour leaves the European Union.
He will also be behind the wheel when we discover the degree to which our economy and our way of life will be bent or broken by the Covid-19 pandemic.
A gathering of the needy
Eight political parties, three from Dáil Éireann and five from Stormont, were involved in Friday's two-hour meeting at Dublin Castle.
Because a Sinn Féin-DUP row caused the collapse of power-sharing in January 2017 and kept it closed for three years, there had been no such meeting of the two administrations since November 2016.
All came to the table razor keen to get on together, publicly and privately, and to avoid a row.
For Arlene Foster and Michelle O'Neill, the two leaders of the Northern Ireland administration, it was the first very public example of them working together since their falling out over Sinn Féin's involvement in Bobby Storey's funeral.
The DUP leader had several weeks on the high moral ground, with all the dangers that entails.
But internal DUP wrangling over policy strategy, and an admonishment from several of her party's MPs and Assembly members, brought Mrs Foster back to the vulnerable space where Michelle O'Neill has been beached in recent times.
Wounded status gave them something in common again.
Micheál Martin does not have the turn of phrase, presentational skills or scriptwriters that helped Leo Varadkar recover his self-confidence and poll ratings after a disastrous general election.
But at his news conference on Friday afternoon, the Taoiseach made a range of remarks that indicated he is far from a beaten docket after the very poor start of the three-party coalition he leads.
He did not duck from acknowledging that, in relation to the Covid-19 pandemic, there are some differences in the strategies being pursued south and north of the border.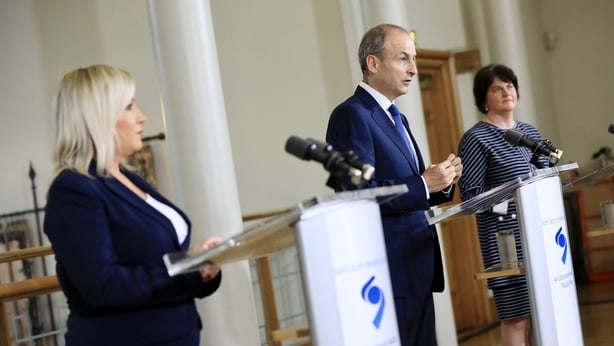 But Mr Martin detailed the rationale behind the more cautious approach being pursued by the administration he leads. He emphasised the importance he attaches to getting schools up and running again.
He almost became animated when he talked about the significance of having the country's students return to routines that have a vital role in their well-being and development.
It was clear the Taoiseach believed in what he was saying.
Another issue he articulated in detail had Arlene Foster and Michelle O'Neill engaged and sometimes nodding in agreement. A number of civil servants in the room, not the most senior ones, mentioned what he had said afterwards.
He was responding to a question about the Dáil remarks of Marc MacSharry. The Sligo-based TD had indicated that some public servants might be using the Covid-19 circumstances to catch up with box sets from a position on the home couch.
This time, the Taoiseach spoke of the value he places on a properly-resourced public service and the belief he has in the role such an asset can play in a modern democracy.
It was far from 'to be fair' and 'going forward' terminology. It was the kind of social democrat language often aired by the likes of Rúairí Quinn, Brendan Halligan, Pat Rabbitte and Roisin Shortall.
On the day that was in it, when Northern Ireland visitors were navigating the cobblestones around Dublin Castle for the first time in almost four years, inevitably the Taoiseach was asked and spoke about his "shared island" philosophy.
Micheál's gamble on the shared island space
It is such an interesting space for the leader of Fianna Fáil ('The Republican Party'). Its greatest rival in Dáil Éireann, indeed the party with the very definite ambition to obliterate them at the next election, is Sinn Féin, who are unapologetic United Irelanders.
There is a possibility that Micheál Martin is being quietly advised by some who say Fianna Fáil must recognise it is in a fight to the death with Sinn Féin and his party must prioritise policies, including fostering a 'shared island', which distinguish it from Sinn Féin.
Some republicans see Micheál Martin's 'shared island' approach as 'united Ireland-lite and maybe not at all'. Some within the SDLP are aware of that interpretation and are wondering does that strategy squeeze or concede political ground to Sinn Féin?
The Taoiseach may also believe that if you want to get unionists to question their long-term constitutional future, the last way to achieve this is to badger them about signing up for a United Ireland.
As was discovered in the Siege of Derry over 300 years ago, unionists tend to shut the gates when they sense they are being told what they must do.
But his strongest instinct may be in keeping with the views set out by the late Seamus Mallon in a memoir, where former diplomat Tim O'Connor and former Irish Cross Border Studies Centre director, Andy Pollak, had an input.
The title of that book by the former SDLP deputy leader was A Shared Home Place. One of Seamus Mallon's theories, developed during a long life in south Armagh, was that unionists have been around for hundreds of years and we have to learn to get on with each other.
Some republicans see Micheál Martin's 'shared island' approach as 'united Ireland lite and maybe not at all'. Some within the SDLP are aware of that interpretation and are wondering does the Taoiseach's strategy squeeze or concede political ground to Sinn Féin?
Brexit will have a role in how the shared island debate develops. If Boris Johnson and his Conservative government leave the European Union without a comprehensive trade agreement at the end of this year, there is likely to be significant economic fallout on both sides of the border.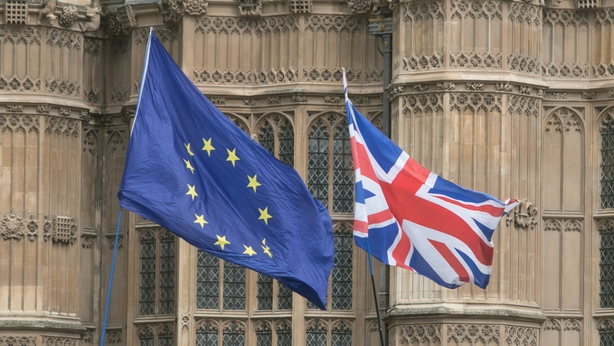 A hard Brexit will be a destabilising factor on the island of Ireland.
If, on the other hand, there is a last-minute improvement in relationships between Brussels and London, as happened in 2019, the 'sharing and caring' climate, north-south and east-west that Micheál Martin favours could emerge.
In the autumn of 2019, the then taoiseach, Leo Varadkar, had a role in facilitating Boris Johnson's journey to 'deal-making' mode with the European Union.
Micheál Martin, in his new role as Taoiseach, has not yet met the British prime minister. That will change very soon. How the relationship evolves will be important.
The Cork South Central TD is on track to be one of Ireland's shortest serving prime ministers. He will be centre stage during some of the most significant, unpredictable times in the country's history.
Lucky man or sorry for your troubles?