Trinity College professors at the School of Biomedical Sciences have been given almost €5m in new funding to embark on what for them is a most exciting quest.
It is to lead a scientific partnership in collaboration with researchers at University of Limerick and University College Dublin to find answers to some of the most perplexing questions related to Covid-19.
Why are some people so susceptible to the virus and do so badly while others have very few symptoms or no symptoms at all?
How can we boost the human immune system to ensure that it will respond better to the virus?
What therapies can we find to help reduce the inflammation it can cause within our bodies in order to give those who suffer the most a better outcome?
And how can we ensure that the antibodies resulting from an infection or a potential vaccine will provide immunity for longer than a few weeks or months?
These questions and more will keep the 16 professors in the scientific partnership and their research teams really busy in the months ahead.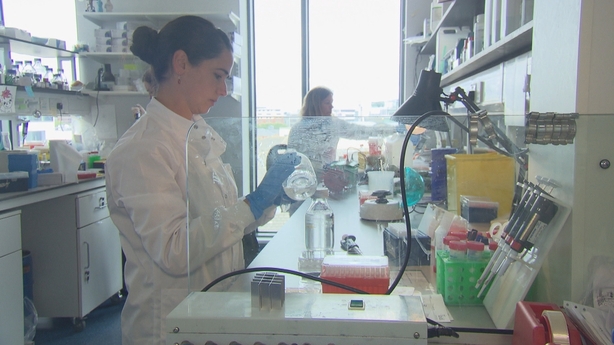 In the main it is taxpayers' money delivered through Science Foundation Ireland that is funding the quest. It is also boosted by a generous contribution from Allied Irish Bank who wants to lend a helping hand.
There are now 11 separate laboratories or research groups at Trinity College Dublin, each with their own specialism working on Covid-19. That is a lot of scientists in white coats. The new money means they will probably create about 22 new posts.
The next stage is to recruit some really bright researchers to fill those roles from all over the world.
Kingston Mills, Professor of Experimental Immunology runs a laboratory focussed on finding a vaccine for Covid-19.
His team is examining aspects of the immunology of infected people, as well as those who were exposed to the virus but did not become infected or only got a mild disease or who were asymptomatic.
We need your consent to load this rte-player contentWe use rte-player to manage extra content that can set cookies on your device and collect data about your activity. Please review their details and accept them to load the content.Manage Preferences
His team is trying to understand the immune response of those who resist infection because it could help in the design of a vaccine.
There are significant worries about how long the immunity resulting from a Covid-19 infection or a potential vaccine will persist and continue to be effective in the body. Trying to extend the effectiveness of a vaccine is the biggest focus for Professor Mills.
His team are experts in "adjuvants" - special molecules capable of enhancing the memory of our immune system.
They are using this expertise to inform scientists around the world about how to make their Covid-19 vaccines even better so they can improve the design of candidate vaccines.
Professor Mills says that in the global rush to develop a vaccine, scientists are using existing technologies that have been developed for other infections.
What his team is doing is trying to find ways to add better adjuvant molecules to those older technologies so that they become more potent and long lasting. Prof Mills says there are some very promising signs so far.
Some of the candidate vaccines have already induced antibodies capable of stopping the virus from infecting cells. Prof Mills says he is optimistic we will have an effective vaccine sometime next year.
The laboratory right next door to him is home to perhaps the tallest scientist in the country, Luke O'Neill Professor of Biochemistry at Trinity College Dublin, arguably one of the best scientific communicators around.
He runs a team of 14 people specialising in inflammation, which is the most damaging aspect of Covid-19.
The immune systems of those infected become highly irritated by the virus, causing fluids to build up in the lungs and elsewhere and also causing a lot of pain.
If we can somehow block the body's inflammation response it would help people in hospitals and hopefully prevent them from dying.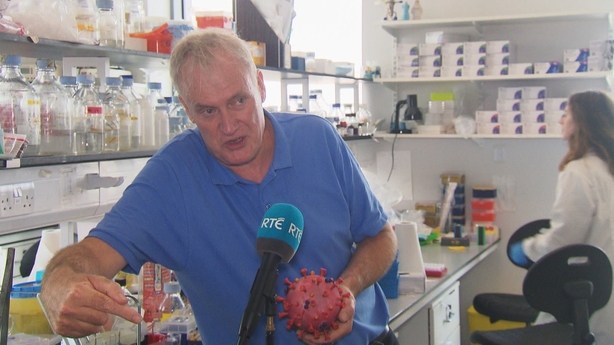 Two years ago, Prof O'Neill's team discovered a highly potent anti-inflammatory molecule produced in the body called "itaconate". They are working flat out to see if this special little molecule could be used to stymie Covid-19.
If it works as a treatment, it will provide very much needed hope and remove a huge amount of fear about the impact of the virus.
Of course none of these labs work in isolation - the battle against Covid-19 is global.
Prof O'Neill's laboratory is collaborating on its work with other laboratories in Harvard, The Massachusetts Institute of Technology, as well as laboratories in Holland and Belgium.
So much of scientific research is about trying and testing and failing, over and over again. And on this occasion it is not like there is no pressure. The whole world is watching, and waiting and hoping for a breakthrough.
Prof O'Neill is optimistic about the prospects for an effective therapy for those who contract the disease. It could be an antiviral drug that could kill the virus on contact.
"Remember," he says, "We never got a vaccine for Aids, but antiviral drugs work on aids. They kill the virus. They're tremendous. So that is another option."
He also refers to dexamethasone, the inexpensive and common anti-inflammatory steroid drug that has been shown to help 30% of very sick Covid-19 patients in a trial. We are going to see more and more of this, he says.
Prof O'Neill uses the analogy of shots on goal to describe what is happening in relation to Covid-19 right now. He compares it to a football match with 100 players on the pitch all taking shots at goal. One of them is bound to score.
If a potent anti-inflammatory drug against this virus is discovered, doctors would not have to watch their Covid-19 patients die before their eyes in the kind of horrific scenes as we saw in the recent RTÉ Investigates documentary about the Intensive Care Unit at St James Hospital in Dublin.
We have never seen so many vaccines being tested, ever.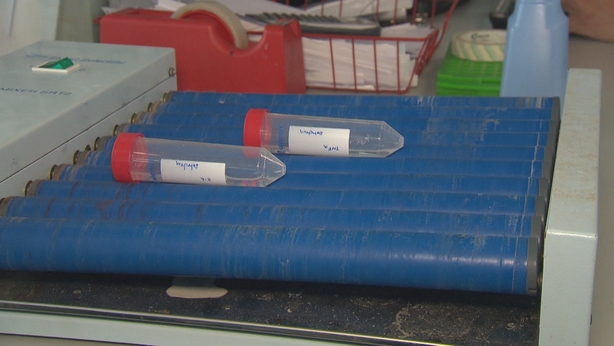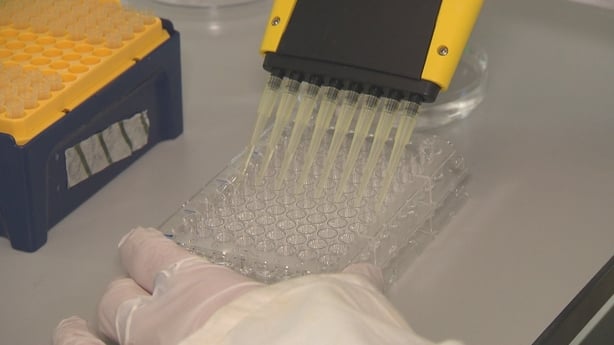 So much is already known about how vaccines work. Three candidates are already in phase three human trials. One has already been licensed for use among the military in China.
In total, there are 170 vaccines now under development, surely one of them will work. We also have 30 years of knowledge and expertise about inflammatory responses.
We know all the component parts of the immune system and how it responds. We even have drugs that work like dexamethasone and remdesivir - the antiviral medication developed to treat Ebola that has now been shown to help people recover faster from Covid-19.
Then there is the fact that the biggest drug companies, with the deepest pockets, are now collaborating with each other to develop a vaccine. Prof O'Neill says it is like watching Coke-Cola and Pepsi joining forces to invent a new drink.
It is most likely that the first therapies for Covid-19 will involve using antibodies taken from the blood of people who have already been infected. Those antibodies can be taken, scaled up hugely, and then given to someone who has just contracted the disease to kill the virus.
There are 43 such projects already in trials. A solution on this front could be just three months away, according to the TCD Professor.
Then there is the issue of IL-6, a pro-inflammatory cytokine or molecule made by the immune system that causes arthritis. There is a drug in humans that blocks it. Tests are now taking place to see if that drug will work on Covid-19.
Could it possibly block the cytokine storms that cause very serious damage to the internal organs of those worst affected?
The BCG vaccine for tuberculosis is also providing big hope in the fight against Covid-19.
It was 15 years ago that it was noticed that BCG protects against the flu virus. This was really strange because tuberculosis is caused by a bacterium while the flu is caused by a virus. Why would it work on both?
It turns out however, that the BCG vaccine has been shown to effectively put up barrier that any pathogen will bounce off. Seven trials are now being run to see if it will work against Covid-19.
The good news of course is that we know BCG is safe. Millions of people have had it and it is hoped that if it is shown to be effective it will form a bridge to the development of a real vaccine for the coronavirus.
All of these things fuel the optimism of Luke O'Neill.
"For heaven's sake, I can't think of anything else we should be doing to tackle the virus," he says.
"Every morning I am on my phone looking for the trial results that come in. Let's see what's going to happen next. It's fantastic. With a bit of luck we are going to get there."
---