Leo Varadkar and/or his script advisers came up with one more punchy line in the National Convention Centre on Saturday. He suggested that civil war politics had ended in Ireland a long time ago but now they are officially over in our parliament.
An alternative view is the formation of a three-party coalition marks the start of a new Irish political drama.
Let's give in a working title: Ireland's 100-year war - The sequel.
The 33rd Dáil may or may not run its full term. During it, at least one of the four principals, Micheál Martin, Mary Lou McDonald, Leo Varadkar and Eamon Ryan may accrue quantities of damage and baggage to make ongoing leadership of their faction impossible.
One and maybe more of the four will emerge from the battlefield a loser.
Not just injured but fatally wounded.
Our tumultuous past
In the decade from 1913 to 1923 monumental shifts took place on the island of Ireland. Tens of thousands of Irishmen headed off as British soldiers to World War I and many of them never came home. The failed 1916 Rising took place, followed by the War of Independence and the Civil War.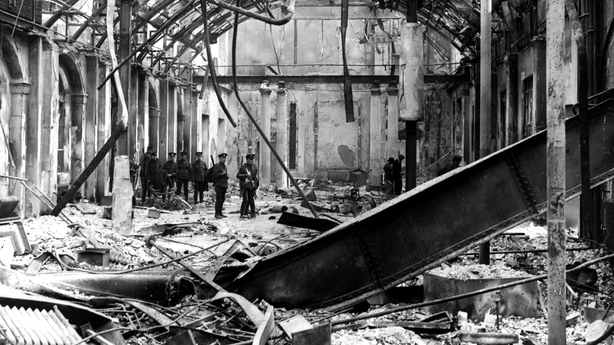 Partition occurred. Northern Ireland, made up of six counties, was formed to stay part of the United Kingdom and a 26-county Irish Free State was established.
North of the new border, unionists became the dominant political force. In the south, nationalism experienced several convulsions and would eventually morph into two main factions, Fianna Fáil and Fine Gael, with Sinn Féin dispatched to the sidelines.
Sometimes the continuing Sinn Féin marginalisation was a result of its own absolutism, including its attachment to the use of physical force. It was also partly due to the attitude of former colleagues, now deadly rivals, that there was no vacant space in the political mainstream.
During the lifetime of the administration christened in Dublin on Saturday, those century-old wounds and fissures are going to be revisited.
Sinn Féin is tooling up for an opportunity at score-settling with Fianna Fáil and Fine Gael. Queensbury rules will not apply.
Depending on how Brexit impacts on the island, on Ireland's changing relationship with its nearest neighbour and on what's sometimes called 'The European project', in the lifetime of this Dáil, Sinn Féin may push to establish a timetable, including a date, for the holding of a border poll.
Part of Sinn Féin's period as the main opposition party will be devoted to advancing its united Ireland project.
Leo's perfect exit
The absence of Clark Kent glasses apart, for the past three months Leo Varadkar has looked and acted like Superman.
After a disastrous General Election when a track record on Brexit issues cut little ice with voters, he and his deflated party seemed resigned to a phase in opposition.
The Covid-19 emergency changed all that. Some very early misjudgments aside, Leo became Clark Kent. From the pavement outside Blair House in Washington to Government Buildings, inside and outside, the lectern became his secret weapon.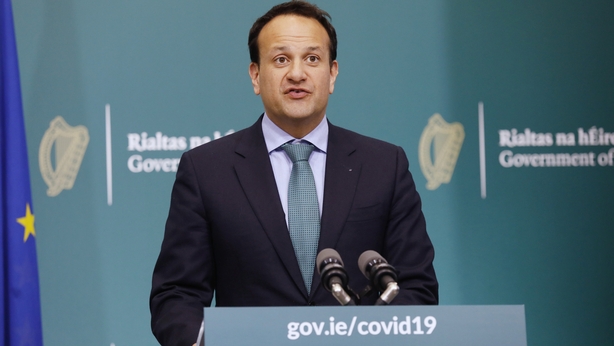 The sometimes shy, awkward character transformed into Super Leader and the country closed ranks to combat an existential challenge.
He exited the Taoiseach's office with the electorate on its feet applauding. Using the lectern with ease and regularity, he emptied the Achievements and Staging Posts trophy room before departing.
Leo has bought himself two years. He has so many options - all good ones. He can rebuild Fine Gael, spend time in what is often a good news ministry and use the international travel that is part of his jobs brief to check out if, for him, a career phase away from Ireland has attractions.
He also knows that his fall-back position is, barring the coalition disintegrating, he can replace Micheál Martin as Taoiseach at the end of 2022.
Leo is 41. He was elected to the Dáil in 2007. He held the position of Taoiseach for three years.
Micheál's date with destiny
Micheál Martin will be 60 in August. He was elected to the Dáil in 1989. He has been Fianna Fáil's leader since 2011. Despite a General Election when his party failed to capitalise on voter disgruntlement with Fine Gael, he and circumstances have manoeuvred him into the role of Taoiseach.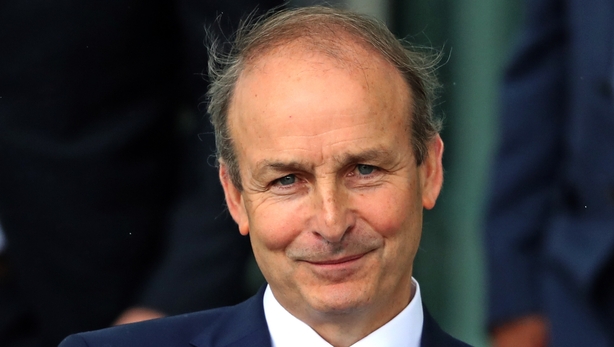 A direct consequence of Micheál Martin getting the top job is the century-old dispute with Sinn Féin is being revisited.
Once republican guns went silent, this contest was inevitable. In Northern Ireland, Sinn Féin became the largest nationalist party in the 2001 Westminster elections and the 2003 Assembly elections.
In the 2011 General Election, Gerry Adams going south to the Louth constituency helped boost Sinn Féin's Dáil representation from five to 14. In February 2020, under Mary Lou McDonald's leadership, Sinn Féin's TD count increased from 22 to 37.
Ms McDonald is 51, she has been a TD since 2011 and took over the leadership of the party in February 2018. In the General Election, Sinn Féin received the highest share of the popular vote, 24.5%, more than two points better than Fianna Fáil and almost four points above Fine Gael.
Already, Ms McDonald can point to the fact that in an advance of what Gerry Adams achieved, she is now the leader of the opposition in Dáil Éireann.
But to take Sinn Féin to the next level, she will have to create the circumstances that will set her on course to become Taoiseach in the next Dáil.
As part of the Sinn Féin pattern of incremental advances, in both jurisdictions, rival parties were nobbled or their influence curtailed.
North of the border, it got ahead of the SDLP (often borrowing its policies) and, to date, it has limited the advances of People Before Profit.
South of the border, it's the same pattern, with space, oxygen and votes taken from among others, the Labour Party.
It was an interesting quirk that in the February 2020 Election, Sinn Féin transfers helped to revive the Green Party and propel it to participation in Government.
The fact that Sinn Féin unwittingly helped the Greens, a party of the left, at its own expense will influence Sinn Féin behaviour towards the Greens in the Dáil and Stormont.
Eamon Ryan and his 11 fellow Green TDs, and Clare Bailey and Rachel Woods in the Assembly, can expect no Sinn Féin favours.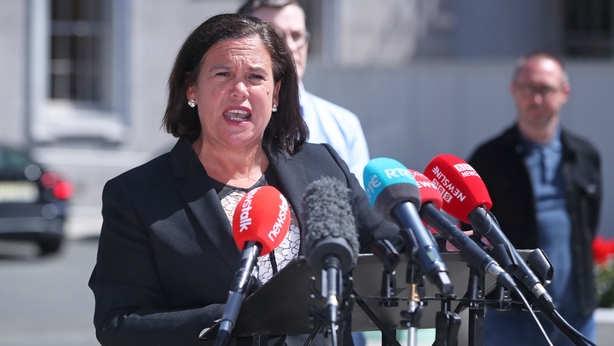 But Mary Lou McDonald's firepower will be mainly directed at the parties that can trace their relationships and their falling out back to the days of Eamon De Valera and Michael Collins.
Sinn Féin will take confidence from its pattern of growth on both sides of the border during the past two decades.
The counter argument is that Fianna Fáil and Fine Gael have successfully marginalised Sinn Féin since the foundation of the State. The Big Two have entered a coalition arrangement to make sure that exclusion continues.
It is hard to see Micheál Martin or Leo Varadkar putting his name to any future agreement that would see him personally commit to any burying of the hatchet with Sinn Féin.
The fourth green field
In a weekend Irish Times column, Fintan O'Toole described in detail how Ireland had taken a different stance to the UK in its handling of the Covid-19 emergency.
This parting of traditional ways happened as the UK gears up to leave the European Union on 31 December - a partnership it joined with Ireland (and Denmark) in 1973.
Northern Ireland's fledgling five-party, power-sharing Executive was struggling to act coherently during the early fire-brigading of the pandemic emergency. Unionists were instinctively inclined to look to the mother parliament and revenue provider in Westminster.
Nationalists were drawn to what was happening across the border, where defensive measures were more speedily applied.
Stormont's managed compromise involved creating a hybrid: Westminster finances, mainly Westminster-supplied Personal Protective Equipment but policies that often dovetailed with what was being done elsewhere on the island.
The ultimate vindication of the pick-and-mix strategy is Northern Ireland's virus-related mortality statistics. They are similar to the figures from south of the border and significantly better than the ones acknowledged by British Prime Minister Boris Johnson's administration.
If Leo Varadkar and his administration impressed in their handling of the pandemic challenge, the Stormont Executive is also entitled to praise. It acted cohesively and its two main figures, Arlene Foster and Michelle O'Neill, grew as a partnership.
Despite the misleading First Minister and Deputy First Minister terminology, they are equal in authority. After a tentative start, they have worked as equals and partners, attempting to deal with the health emergency.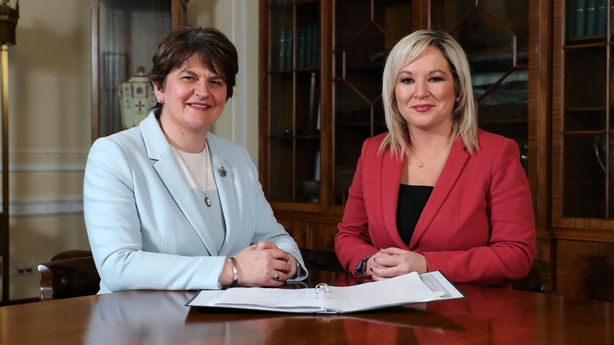 But maintaining that Foster-O'Neill dynamic is about to become more difficult. The DUP is the only one of Northern Ireland's five main parties that supported Brexit. Northern Ireland is about to become the laboratory where the realities of the UK's changed relationship with the EU will be tested.
The ditching of Mark Sedwell, the UK's most powerful civil servant, would suggest that Boris Johnson's chief advisor, Dominic Cummings, is back in charge, his eyesight restored and Britain has its foot to the floor, heading for the EU exit door.
For the DUP and its leader, Arlene Foster, the potential dangers of Brexit are obvious. If it has negative consequences for Northern Ireland, the DUP will be in the firing line.
But Michelle O'Neill is also heading towards territory that is lined with traps. After three years of Stormont lockdown, she now has an opportunity to practice her craft. But she is a partner in a working Stormont administration while her boss is leader of the opposition in Dáil Éireann.
Michelle O'Neill will need the help and support of Dublin's coalition administration while Mary Lou McDonald is trying to undermine it.
Leo Varadkar's decision to leave Simon Coveney in the role of Minister for Foreign Affairs, the main interface with Sinn Féin in Northern Ireland, was a significant action on many levels.
The sequel begins
Bertie Ahern is a Dub to the core. His ancestors on both sides were from Cork. He can easily trace the lines back to tumultuous times a century ago. A family republican gun was buried rather than handed in.
When he was Taoiseach in 1998, his mother was in the final stages of her life in the days immediately before the signing of the Good Friday Agreement. He left her bedside to attend meetings with Sinn Féin as it tried to maximise its gains, before formally committing itself to a deal.
In 2012, a year after Micheál Martin became leader of Fianna Fáil, Bertie Ahern resigned from the party he once led for 14 years as the pressure to expel him gathered pace.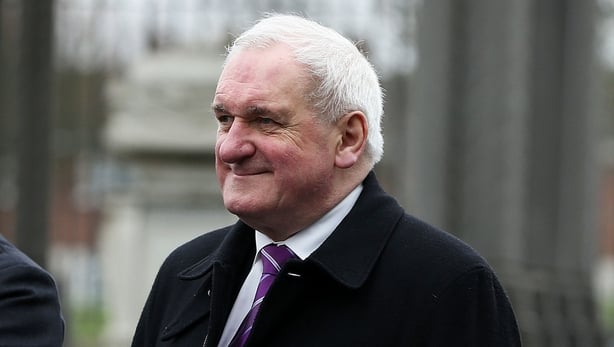 He had become an unacceptably controversial figure due to the financial and propriety issues that were publicly aired during the Mahon Tribunal.
In the 1980s, Charlie Haughey thought about attempting a political initiative to end the bloodshed in Northern Ireland. His successor Albert Reynolds pursued it in a practical way. Bertie Ahern was the Fianna Fáil leader who made the most decisive contribution to deliver the breakthrough agreement. Brian Cowen was the one who helped to implement some of its most challenging consequences.
Now Micheal Martin is centre stage. His relationship with the DUP leader Arlene Foster goes back more than a decade when he was Minister for Foreign Affairs (2008-2011) and she was one of Peter Robinson's most loyal ministers. Micheál Martin and Arlene Foster have maintained the contacts, right up to recent days.
He also knows the SDLP leader, Colum Eastwood - the pair formally launched a 'partnership' in February 2019. Pat McPartland, one of the few in the tight Martin inner circle, is from an SDLP background in Co Armagh.
The new Taoiseach has a respectful relationship with senior UUP and Alliance members.
His challenge will come in his relationship with Sinn Féin. What are the chances of he and Michelle O'Neill finding a modus operandi while, south of the border, Mary Lou McDonald and her colleagues focus on tripping him up?
Simon Coveney, Micheál Martin's fellow Cork South Central constituency representative, political rival and now colleague in a coalition government, will have his skills tested in the complicated matrix.
The season of anniversaries will include a rematch of adversaries. Not senior hurling. Heavyweight boxing.
It's hard to see any circumstances that would allow the Fianna Fáil-Sinn Féin slug fest end in draw.
Micheál Martin has spoken to Arlene Foster and Mary Lou McDonald by phone. They expect him to travel North to meet them later this week.