Imagine this scenario.
It is five months from now and Donald Trump has lost the US presidential election to Joe Biden.
Mr Trump, however, says he will not accept the result claiming the high numbers of postal ballots, cast because of the coronavirus, have resulted in voter fraud.
Two months later, when it is time to hand over power, he refuses to leave the White House.
What would happen? Would the US military intervene to remove him or would they remain loyal to their Commander-in-Chief?
It may sound like an unthinkable sequence of events but this is the scenario outlined by the Democratic candidate Joe Biden in an interview with The Daily Show on Wednesday.
"It's my greatest concern, my single greatest concern. This president is going to try to steal this election," Mr Biden said.
"This is a guy who said that all mail-in ballots are fraudulent, voting by mail, while he sits behind the desk in the Oval Office and writes his mail-in ballot to vote in a primary," he said.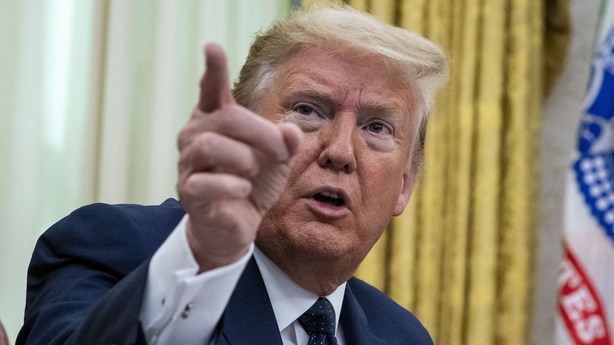 In response, the White House Press Secretary Kayleigh McEnany dismissed claims that Mr Trump might refuse to leave office saying it was a "ridiculous proposition".
The communications director for the Trump campaign, Tim Murtaugh, described the remarks as "another brainless conspiracy theory from Joe Biden as he continues to try to undermine confidence in our elections".
Mr Trump has said that if he is defeated in November, he will leave the White House.
"Certainly, if I don't win, I don't win. I mean, you know, go on and do other things," Mr Trump told Fox News recently.
"I think that would be a very sad thing for our country," he added.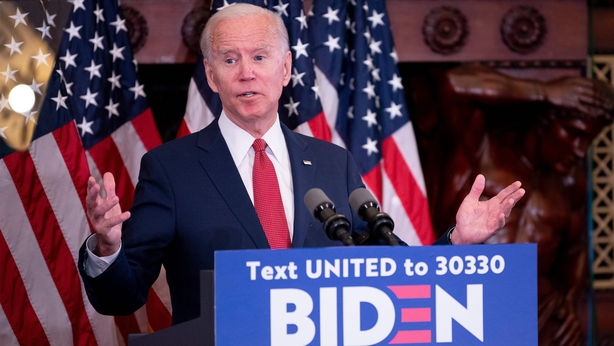 But if he were to lose and refuse to leave the White House, events of recent weeks suggest he may not have the support of his generals.
Military leaders past and present have criticised Mr Trump's handling of the wave of protests and unrest currently gripping the US.
There was stinging condemnation from his former Defence Secretary James Mattis.
Writing in The Atlantic, Mr Mattis described the president as a threat to the constitution.
"Donald Trump is the first president in my lifetime who does not try to unite the American people - does not even pretend to try," Mr Mattis wrote.
"Instead, he tries to divide us."
"I should not have been there. My presence in that moment and in that environment created a perception of military involvement in domestic politics" - General Milley
The current Defence Secretary Mark Esper also distanced himself from the US president when he said he would not support the use of the Insurrection Act to deploy US troops to restore order.
"The option to use active duty forces in a law enforcement role should only be used as a matter of last resort, and only in the most urgent and dire of situations.
"We are not in one of those situations now. I do not support invoking the Insurrection Act," Mr Esper said.
In recent days America's top general said he regretted his role in a controversial photo opportunity involving Mr Trump.
On 1 June the Chairman of the Joint Chiefs of Staff General Mark Milley, dressed in his camouflage battle uniform, accompanied Mr Trump as he walked from the White House to a vandalised church where the US president posed while holding a bible.
Minutes before, peaceful protesters had been cleared from the area by police.
"I should not have been there. My presence in that moment and in that environment created a perception of military involvement in domestic politics," General Milley said.
Yesterday, Mr Trump praised the US army during an address to graduates at West Point military academy.
He thanked the National Guard for maintaining order during the recent unrest.
He said they had responded "with precision to so many recent challenges, from hurricanes and natural disasters, to ensuring peace, safety, and the constitutional rule of law on our streets."
He also made reference to turbulent times.
"What has historically made America unique is the durability of its institutions against the passions and prejudices of the moment. When times are turbulent, when the road is rough, what matters most is that which is permanent, timeless, enduring, and eternal," he said.
But how will the US president's relationship with the defence forces endure after this period of turbulence?
Mr Biden believes the concerns being expressed by military leaders mean Donald Trump would not have the backing of his generals should he refuse to leave the White House.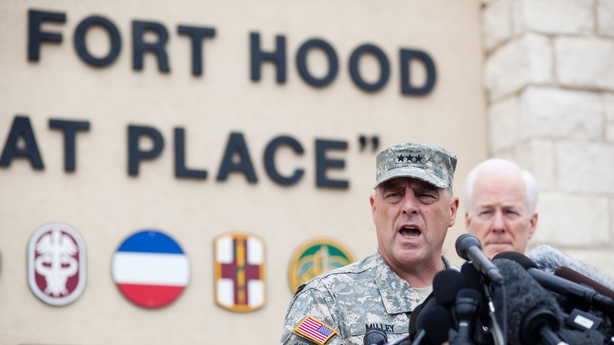 "You have so many rank and file military personnel saying, well, we're not a military state, this is not who we are. I promise you, I'm absolutely convinced, they will escort him from the White House in a dispatch," he said.
But for his scenario to play out, Mr Trump would first have to lose the election and, although behind in the polls, it would be a grave mistake to write him off at this stage.
Mr Trump has weathered storms that would have destroyed other politicians and in the frenzy of modern-day US politics, five months is an eternity.
With an economy starting to recover from the devastation of the coronavirus, there will be months of falling unemployment figures and rising GDP numbers to announce.
There will also be months of claims by Mr Trump that he 'Made America Great' once and that he will do it again if re-elected.
In the coming days, Mr Trump will resume campaign rallies; the platform where he is most comfortable.
Surrounded by cheering supporters he will seek to reinvigorate his base and his bid to retain the White House.
If that happens then neither the military, nor the removal trucks, will be needed and the current occupant of 1600 Pennsylvania Avenue won't be going anywhere.