The vast majority of Irish adults expect the economy to be in worse shape next year as a result of the coronavirus, with almost a third of people worried about their job security.
A new wide-ranging survey on Irish perspectives and experience of Covid-19 shows universal concern among the public about the impact of the pandemic.
In the survey, which was commissioned by Behaviour and Attitudes and produced for RTÉ, some 97% of respondents said they were worried, while 42% said they were "extremely concerned".
A quarter of people indicated some connection to the infection, mainly knowing someone with the condition.
More than half (56%) of those surveyed are anxious about the spread of the virus, while 49% are anxious about the lack of a vaccine.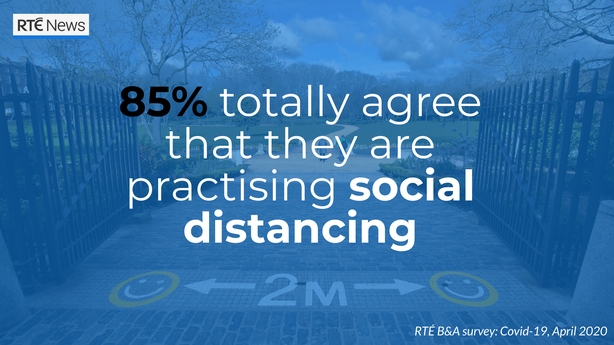 Some 85% of people say they are practicing social distancing, but 10% said they were not.
Four out of five people (82%) say the Government is doing a good job.
Support for the Government's handling of it was higher in Dublin and among older adults, while those aged 25-34 appeared to be less convinced.
Four out of five people believe that Ireland has reacted better to the crisis than other affected countries, while half of people surveyed are "very proud" of our response as a nation.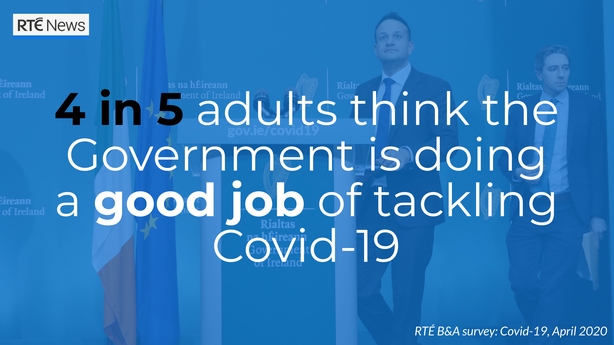 The survey was taken between 27 March and 1 April with a sample of 1,016 adults meaning the field work had just begun when Taoiseach Leo Varadkar announced stricter restrictions on movement.
It is part of a multi-country analysis that is under way in 14 countries. The margin of error with the survey is plus or minus 3.1% points.
Television is the main source of information on the virus, with 85% saying this is where they get their information, followed by 65% online, 54% saying radio, 41% online news sites, 38% social media and 24% print.
Some 76% said they trust RTÉ television or radio above all other news sources.
Health
Almost everyone (97%) is at least somewhat worried about the virus and 29% are "extremely concerned" about contracting the disease.
Men, older adults, the working classes and those outside Dublin are the more likely to be extremely concerned about personally contracting the virus.
There is lower concern among younger people and those living in Dublin.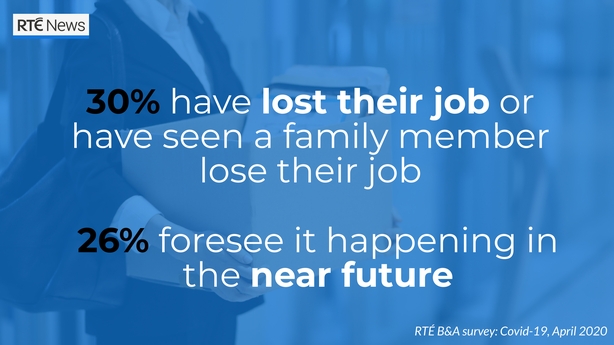 Some 67% of over-65s are extremely concerned about getting the virus. This drops to 13% for the those aged 18-25. But younger people were concerned about others with around a third of those aged between 25 and 49 expressing worry about their parents getting it.
Half of adults (52%) said they are very concerned about a relative they care about. This increases with age while women, the middle classes and people without children are more likely to feel very concerned.
Of those with a pre-existing medical condition, 42% were fearful of contracting it.
Society
For many young people this is their "first crisis" and those under 35 are much more likely to indicate anxiety about being unhappy than those over the age of 50.
More than a third (36%) of people between 18 and 25 say they are very anxious about being unhappy, this reduces to 9% for those aged over 65.
Some 12% of Irish adults feel "very isolated" and in need of social support. Again, this is higher among younger people with 24% of those under 25 feeling this way compared to 7% of those over 65.
Those living in urban areas are more likely to feel isolated (14%) compared to those in rural areas (8%).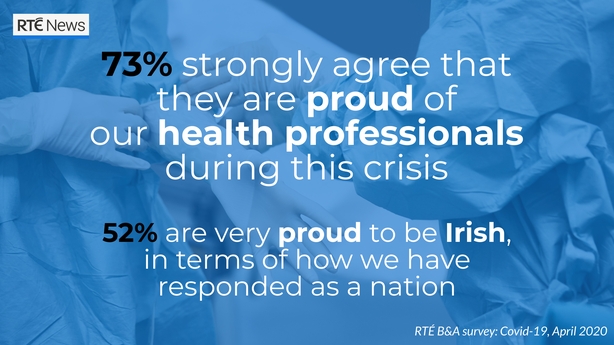 Social distancing
A majority (85%) said they are practising social distancing, while 2% said they "cannot understand what people are worried about – it is just a flu".
Women, older adults and Dubliners are more inclined to be practising social distancing.
The survey found 77% of under 25s are practising it, 79% of people between 25 to 34 and 95% for over 65s.
A fifth of under 25s said they have not avoided social activities that would put them in contact with others.
Just over half of people said they have cancelled a holiday as a result of the virus.
Finances
The vast majority of Irish adults (91%) feel that the economy will be worse off this time next year.
Some 29% are worried about job security, this rises to 38% among those working part-time.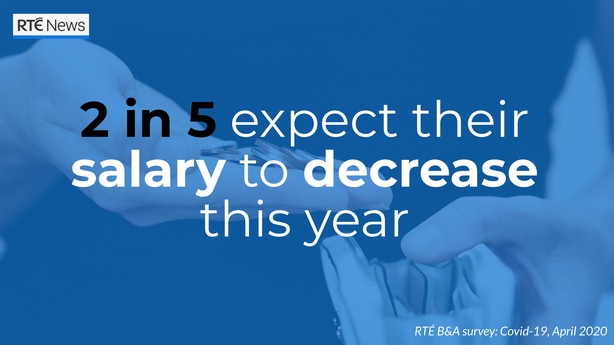 Two out of five (41%) expect their salary to reduce this year.
Younger adults, those with kids and those who are struggling financially are the more likely to believe that they will earn less.
We need your consent to load this rte-player contentWe use rte-player to manage extra content that can set cookies on your device and collect data about your activity. Please review their details and accept them to load the content.Manage Preferences