We are at the foothills of the Covid-19 peak and the climb ahead is very uncertain.
Our preparations have been good but we are not professional mountaineers, and this looks a mightier challenge than even Everest.
For us now, it's a leap into the dark, with common sense, hope, and the facts we do have as our guide.
And so here we are 35 days later, and the coronavirus surge is ahead.
It's hard to believe that it is 35 days since the first confirmed case of Covid-19 in the Republic of Ireland.
As has often been observed, a week is a long time in politics.
Well with the coronavirus, a week feels like aeons.
And politics has taken second place to this virus.
Events are changing by the minute and it's hard for anyone to keep full pace.
Despite the number of cases here now exceeding 4,000, the outbreak is still in its early stages.
The main battle still lies ahead.
In the last week, there have been severe pressures on the testing system, which dropped to around 1,500 tests a day. The plan is to get up to 5,000 a day and then to 15,000.
Test delays have been foremost on the mind of many people who have contacted me by email, text, via DM on social media and in other ways. I'm trying to answer all the queries, as best I can.
I'm sorry if I have missed out on anyone's query, such is the volume of questions and valuable observations received. With some questions, I am passing them to other RTÉ correspondents, as it may be outside of my strict health remit but within their portfolio, and I thank my colleagues for their assistance.
I have discovered that this online long read article each week allows time to reflect on the past week, to step back and think about where we are and where we may be heading.
It is inspired by the reservoir of information gathered each week and the personal interactions with people - many also using social media, which has really come into its own in the Covid-19 crisis. It has helped us all keep in touch, however remote we feel.
I have received a large number of communications about test delays. Some people report 15 days or more waiting on a result. Between 2,000 and 3,000 tests are being booked by doctors each day.
The HSE has apologised for test delays and says it is working hard to return to 5,000 tests being done a day, and a ramp-up to 15,000 a day.
To do this, some tests need to be performed outside of Ireland. The HSE has reached a deal with a laboratory in Europe. Along with problems getting reagents, it may be that we simply do not have the laboratory/equipment capacity for this scale of workload.
Extraordinary times call for extraordinary measures, but we always have to bear in mind that there have been problems with outsourcing tests abroad in the past.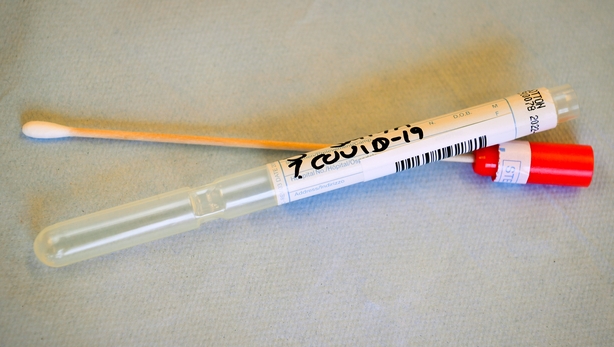 Testing is important, in order to identify each possible case and the close contacts. But it's not done for clinical management - more for public health reasons - and that message is proving a bit of a challenge to fully convey.
Understandably, people wonder why test if there appears a lack of urgency in getting and conveying the result.
The advice for people is of course to adhere to self-isolation while waiting, but it makes people anxious.
They are also being asked by family members what the news is about their test. And employers may want to know also, so these are added pressures for people.
The World Health Organization advice has been to test, test and test.
Testing here, under the changed criteria of more targeted testing for those at particular risk, like health staff and vulnerable groups, is also proving more accurate. Now, 15% of tests are proving positive. It was 6% before.
In Ireland, we are testing more than many European countries, if you look at it per head of population - more than the UK, France, Denmark, Finland, Belgium and others.
Cases have come to my attention of seriously ill people waiting for a test result, and in some cases people who were swabbed and died, when the test result was still not available.
It has caused difficulties for some nursing homes, where they have had no confirmed case, and for some hospitals trying the manage the crisis.
Earlier test results would free up valuable resources like isolation rooms, personal protective equipment and staff. It would also make a difference for bereaved families - if there is a negative result, funeral arrangements and the approach taken by undertakers could be different, less distressing.
A friend of mine who lives in the south of France has been dealing with the death of an elderly relative in a nursing home last week.
There have been calls for an investigation into the cause of the spread in the nursing home, which saw 24 of its 80 residents die in two weeks. The story has been picked up on national French television and national newspapers. The families affected are in deep distress.
Each country has its own and in some cases similar problems to our ones. This is truly a global problem.
Another friend of mine has been seriously ill in a health facility, after a major injury a while ago. Now that she has been improving somewhat, the health authorities have been looking to move her from a facility in the east of the country, where she has been for a few months, over to a facility in the west of Ireland, no doubt to free up a valuable bed.
Her issue is that she does not wish to be moved to a nursing home at her relatively young age - a facility that is also quite isolated in another part of the country and that does not have the daily support service she needs - to try and fully recover.
Health services are understandably under pressure at this time and it was suggested to her that the legal department may have to get involved if she did not agree to move.
It's a position that no one wants to be facing - the patient or the hospital. She has held her ground and is waiting for a home care package to come through, so she can go home and recover.
No doubt these and other individual stories are being played out in health facilities around the country, facing pressures never imagined.
Here, some nursing homes have been facing particular difficulties in maintaining staffing and PPE materials.
Of course, families are dealing with extraordinary challenges too. It is almost unimaginable to think that people who are dying with a Covid-19 related illness can not be visited by relatives.
None of us ever thought we would live to see such things being necessary, for the greater good. It stirs fear in all of us, that it could be me or you, or a loved one, a close friend.
These are the things, at this moment in the cycle of this virus, that may keep us up at night. The hour going forward for spring last weekend, and the brighter mornings, makes the dawn chorus now that bit more special, poignant and precious.
Among the few places still open are community pharmacies, which are very busy. They provide a vital link with people in the community, especially older people.
Yesterday, Minister for Health Simon Harris signed regulations allowing for the electronic transfer of prescriptions to a pharmacy via an approved electronic system - the HSE's Healthmail system.
The maximum period of validity of a prescription has also been increased from six months to nine months, as of the date specified on the prescription.
These measures should be of help to everyone who needs to have their prescription filled, or have scripts going out of date.
I know there are also some concerns among pharmacists and the Irish Pharmacy Union that not everyone over 70 is adhering to the cocoon measures.
While it can be difficult for those who are fit and well and who enjoy getting out and about to remain inside, it's in their safety interests and that of others to do their best to adhere to the guidance.
Others should be able to assist in getting prescriptions filled, collected and delivered for people who need to stay at home.
We hail the health staff working in unprecedented conditions. They have always cared for people with serious illness and facing death as part of their daily work, but yet they have seen nothing like the threat coronavirus poses. Problems with personal protective equipment have been a genuine concern.
The latest delivery from China is welcome and is up to WHO standards. However, the HSE has acknowledged that some of the material is of a specification that health staff here have not been used to.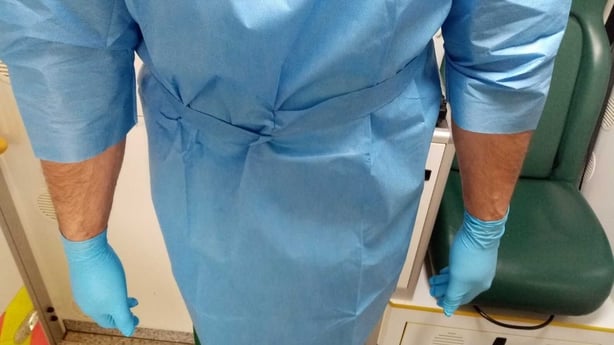 I have had reports from some nursing areas that the protective gowns and face masks may be too small. In other cases, the equipment may be more robust and heavy duty than health staff expected.
The HSE says it has been tweaking future orders since the first shipment came in, and it is looking to secure other sources in case the full China order does not materialise as expected.
This is a worldwide challenge being played out in a real-time global crisis. There has been a problem with securing reagents to do the laboratory testing.
The real figures we should focus on, in terms of the trends, are the hospitalisations - and of these cases, the number in an intensive care unit.
Those numbers are increasing. Currently there are around 312 ICU beds available, but with plans to double that over the coming weeks. While this is an improvement, it would not be enough at the current rate of growth of cases.
Health officials say there is the capacity to ventilate 1,500 people at any one time. Let's hope that does not come to pass.
Continued thanks to my colleagues George Lee, Orla O'Donnell and Katie Hannon on the main RTÉ News Covid-19 team, as well as all of our other correspondents, including regional correspondents and reporters, camera crews around the country, news production staff and managers, who are all working to ensure we provide full coverage of the impact of the virus in the most difficult of circumstances.
Because I am one of those working remotely, I do not see many of these people anymore, and that's an odd aspect of the new working environment.
As with other media, this is a huge RTÉ team effort, in terms of news gathering and providing as much verified information to the public as possible, as soon as possible, all within context across all platforms - TV, radio, online and on social media.
Like others I'm sure, I was taken aback by the news on Friday that half of humanity has been asked to stay in confinement because of the coronavirus. That was the stuff of off-the-scale science fiction a few months ago.
We must also look outside of Ireland for encouragement. There is some hope to be taken from the news that the number of new cases in Italy and Spain has started to plateau.
A bit like Irish people today, our economy is also in hibernation. The latest projections suggest this could cost the economy €16 billion. The hope is that it will be short-lived and we will bounce back.
Perhaps over time, the virus will become less potent, and we will have widely available antibody tests, treatments, and a vaccine.
However, taking the science of what we know about viruses into account, most people will likely be exposed to coronavirus at some point.
Let's hope that exposure point is a long way down the road, when countries are even better prepared. It's something not to dwell on too much now, as we try to manage what is facing us in the immediate period ahead.
At the end of next week, the measures in place in Ireland to try and limit the spread of this virus will be reviewed, against the backdrop of how they are helping to keep the curve of cases down to a manageable level.
The restrictions on people are very hard. The longer it goes on the more difficult it will get. It's perfectly understandable that some people are frustrated and fearful, and holding together will not be easy.
People will also be looking to health authorities for hope, and some easing or tweaking of the measures. Some of the hardest decisions have still to be taken.
The trip ahead has major dangers. It's something we cannot see but we must try and avoid. In Ireland, we stand in solidarity, facing the peak challenge of our lives - for each our own Everest.
But I hold the rope for you, and you hold the rope for me.