The Government says that tackling the Covid-19 virus is the principle objective and singular priority of every minister in Cabinet. That seems appropriate given that the HSE predicts that Ireland could hit the peak of the deadly pandemic in just two weeks' time.
Yet the lead party in the coalition - Fine Gael - lost 12 Dáil seats in the General Election which happened back on 8 February. It begs the question: when will a new Government be formed, given it's more than 50 days since the voters cast their ballots?
Under our Constitution, there is no time-limit on how long the minority coalition can remain in power, with full executive functions. Article 28:11:2 states clearly: "The members of the Government in office at the date of a dissolution of Dáil Éireann shall continue to hold office until their successors shall have been appointed."
Yet as one political player put it last night: "The political reality is that the General Election has to count for something - and pretty soon." That's the view across all of the parties - something significant has to happen in the next three to four weeks. But what?
Fine Gael says, in as much as it can be certain given the focus on Covid-19, that the party's negotiators will engage with Fianna Fáil on a potential Programme for Government. If successful, those talks would create a policy platform which in turn could be negotiated with other interested parties.
Two of their red lines, however, are very clear: Sinn Féin can't be involved; and any coalition must have a functioning majority which can ensure it can last at least four, if not five years.
"There's only a small number of options left open."
After regularly stating his post General Election preference was to lead Fine Gael into Opposition, Leo Varadkar said last week: "I do think it's possible to form a government in the next few weeks." It was a "game on" moment.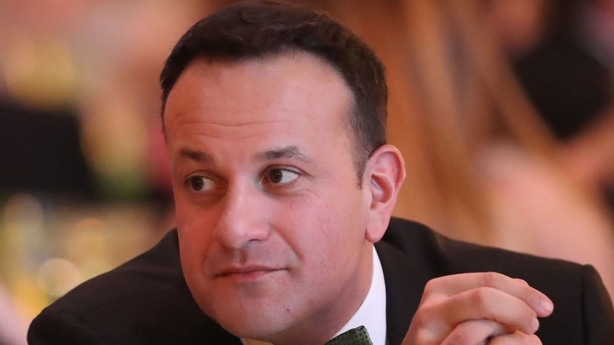 The party's negotiating position has also been somewhat enhanced by its handling of the Covid-19 crisis to date. There was an indication of increased public support suggested in this weekend's Business Post opinion poll. But in a crisis of this dimension, where nothing is certain, one Fine Gael TD told me the poll was "close to meaningless."
Fianna Fáil says it will continue to participate fully in the all-party approach to tackling Covid-19. However, its focus is also on how best to prepare for the post-crisis period. Party leader Micheál Martin has been referencing the "tough decisions" which lie ahead and suggesting a new "social partnership" might be the best means of maintaining the solidarity of the nation when difficult choices have to be made.
But before the party can "reboot the economy" and drive a "people centred recovery", it has to finalise a coalition deal. There is an understanding within Fianna Fáil that the smaller parties will only really engage, or feel forced into making a difficult decision, when its talks with Fine Gael have been concluded.
This is where the "four-legged stool" comes into play.
Both Fianna Fáil and Fine Gael believe that any coalition has to be stable - and that means having more than the 80 seats required to command a majority in the Dáil. One Fine Gael source said 85 seats, or above, would provide what he termed the required "wiggle room". In other words, enough of a majority to survive the inevitable resignation, or three, which will almost certainly arise in what clearly will be challenging times.
So if Fianna Fáil and Fine Gael do a deal, and therefore command 72 seats and two legs of the stool - which other parties, or groupings, will provide the required stability? One senior Fianna Fáil figure conceded last night: "There's only a small number of options left open."
To a certain extent, this is a problem of their own making: both parties have refused to participate in a coalition with Sinn Féin, the party which won the most first preference votes in the General Election. A Sinn Féin source said "our preference is to be in government" but added it appeared Fianna Fáil and Fine Gael were engaged in "serious discussions now."
So to a certain extent, Sinn Féin has become a political by-stander when it comes to government formation. While it is maintaining contacts with other parties, its negotiators are watching the "new dynamic" set in train by Varadkar and Martin. That said, the party firmly believes, in these unprecedented times, that "everything is still possible."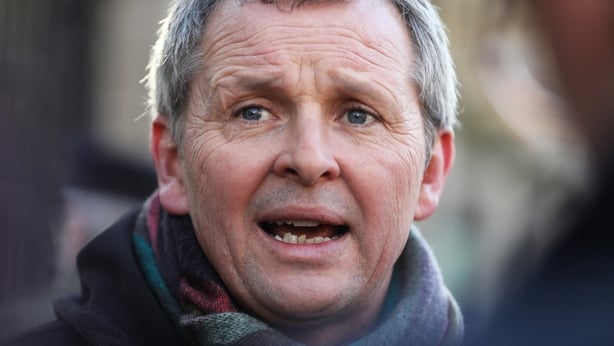 Also watching, and waiting, is Solidarity-People Before Profit. This grouping engaged in detailed negotiations on the possibility of an historic left-leaning albeit minority government. Among those involved in the talks was the now Independent group, which is formally called Independents4change. Richard Boyd-Barrett of PBP told me: "Most people on the left would look forward to the idea of a left government - even if it is a minority one. In our view, it would be a big mistake for any party of the left to prop-up Fianna Fáil and Fine Gael."
The party which could deliver a majority to Fianna Fáil and Fine Gael are the Greens. The difficulty is that the Green Party has its own firm ideas on how the next government should look.
"You can't rule anything out because the crisis is so unprecedented."
Party leader Eamon Ryan told me last night that he and his 11 Dáil colleagues are continuing to push "to see if a national unity government is possible." He argued politicians need to "match" the "real solidarity" which is being shown by the public when it comes to tackling the coronavirus. He said he "understands the concerns" people have that such a government could be unwieldy and ineffectual, but believes such problems can be overcome.
I asked him about the suspicion that the Green principled stance on a national unity government is merely a means of escaping into Opposition and avoiding tough decisions. Ryan's reply was forthright: "I don't think there is a scintilla of truth in that."
Separate sources in both Fianna Fáil and Fine Gael still think it's possible the Greens could join a majority coalition - although they seem less hopeful about such a scenario in recent days. But the truth will only be known when a proposal about going into government is put to the Green's parliamentary party.
If the Greens involvement is questionable, could the Labour Party, and their six seats, be another "leg" on the coalition stool? Not if the parliamentary party's initial position is maintained. Labour TDs and Senators decided their best option was to go to the Opposition benches, and support desirable policies from there.
Yet there is a swirl of speculation about that hardline stance being modified. And for good reason. This week's Seanad elections could lead to new Labour Senators and, more significantly, the party will definitely have a new party leader by this weekend.
While candidate Aodhán Ó Ríordáin has made it clear he would oppose going into government with Fianna Fáil and Fine Gael - his rival Alan Kelly has, to date, kept his counsel.
One person close to the party said they "can't see" Labour joining an FF/FG coalition but then added: "You can't rule anything out because the crisis is so unprecedented." Labour TD, Seán Sherlock, told The Irish Times such a move may have to be considered. Whoever wins the leadership contest, one of the first questions is bound to be: are you prepared to go into government?
Social Democrats 'remain in frame'
Yet another coalition option are the six seats of the Social Democrats. The party remains in the frame despite the often repeated position that: "We do not believe our policies would be compatible with those of a combined FG/FF arrangement." While party sources say they "have been speaking to all of the main parties," there seems to be a waning belief in Fianna Fáil and Fine Gael that they will get involved.
However there is no doubt that the Social Democrats will come under substantial pressure as the negotiations reach endgame. While the party continues to give its "full support" to the government in the national endeavours to tackle the virus, the "Soc Dems" would have to be able to explain why they will not play a full role in rebuilding the country - should they refuse to go into coalition.
One coalition option which seems to garner considerably more optimism is the newly formed Regional Independents grouping of independent deputies. That optimism is based on a number of factors: a stated willingness to get involved; a demand for a government of longevity; and the involvement in the block of experienced minsters like Denis Naughten and Seán Canney.
The Regional Independents grouping has made it clear, however, that it's up to Fianna Fáil and Fine Gael to define the scale of their ambition for what would be a watershed Programme for Government, and, crucially, how the coalition can last the distance. As one member said to me: "This can't be a band aid. We are only going in, if it can last."
There is another grouping, the Rural Independent group, which also sees opportunities and possibilities. Mattie McGrath and other members like Michael Healy-Rae have also been engaged in in-depth discussions with the larger parties. The cohesion of a political party affords more stability. However if the Greens, Labour and the Social Democrats don't want to get involved in government formation, then Fianna Fáil and Fine Gael will have to recalibrate their options.
As mentioned earlier, the government could, under the Constitution, continue for months to come. However this week's election of a new Seanad appears to have narrowed political options. It's the view of the Attorney General, and the Secretary General of the Department of the Taoiseach, that the Seanad can't be properly constituted until a new Taoiseach appoints 11 new Senators.
Whatever about the procedure, this means that the Government - in the middle of an unprecedented crisis - can't pass any legislation. That alone should be enough to pressurise parties into making decisions which either elect a new government or - yes it's possible - precipitate a new General Election.