The emergency laws passing through the Oireachtas are extraordinary not just in their scope and scale, but in how they have prompted the political system to quickly adapt.
The wide range of provisions contained within the 36-page omnibus bill - which has essentially many laws in one - would typically be regarded as ideologically divisive and logistically or bureaucratically near impossible.
If any of them were to be implemented in normal times, they would involve intense public debate and months of deliberation in the Houses of the Oireachtas.
But instead, a whole suite of them were approved after just 12 hours of Dáil debate. They will be enacted after being passed by the Seanad in what will be the final act of the current term of the Upper House.
Sláintecare – the cross-party health care plan that was the subject of hours of debates for the entire lifetime of the last Dáil – has been realised overnight with the effective nationalisation of private health providers for the duration of the emergency period.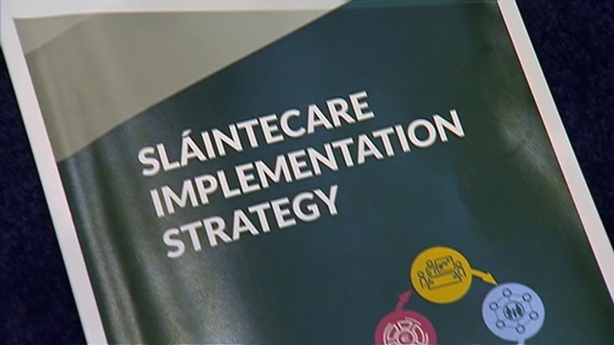 Rent freezes, the constitutionality of which was a major point of contention in the general election, have come into effect for the short term.
Privately employed childcare and crèche workers are to be paid by the state while parents do not have to pay fees – a measure that the Government was aiming to incrementally and very gradually move towards.
The Emergency Measures (Covid-19) Bill was also remarkable because of the broad consensus it generated across the political spectrum.
Yes, many concerns were raised around a range of issues from building sites remaining open to a shortage of protective equipment for healthcare staff to confusion and delays in the testing system.
But on the question of what needs to be done, the Dáil - which was constituted just seven weeks ago following a general election that left Irish politics more fragmented and ideologically divided than ever before - came together with an overarching common cause.
This consensus may have been more from necessity than choice. Many amendments to the Bill tabled by TDs did not even get a look in because of the time constraints in passing this legislation before the weekend.
As well as this, the general working of the Dáil itself has been disrupted and normal tools of accountability – such as parliamentary questions – do not apply.
As the Fianna Fáil leader, Micheál Martin told the Dáil (while calling for accountability and open debate) a lot of the suggestions have been made by opposition parties privately to officials "and there has been an approach to limit public disagreements".
There was enough consensus there to pass the laws quickly and seamlessly – something not to be underestimated at a time when no party has anything near a majority or an advantage in terms of Dáil seats that would normally be needed to pass such far reaching measures so quickly.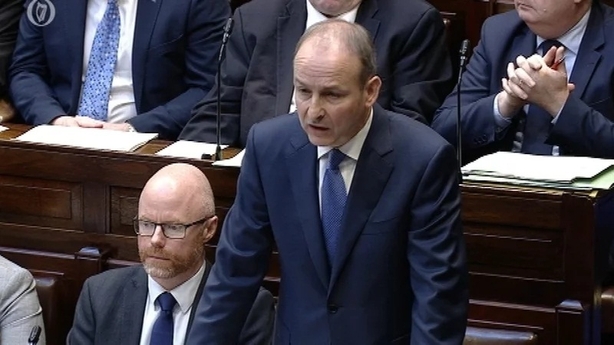 As the Green Party leader Eamon Ryan, pointed out to fellow TDs: "We are good at this in a crisis - not dividing along party lines, but working together."
But despite such collaboration, the debate left a big question hanging over it: How good will Irish politics be at the sort of approach Mr Ryan was talking about after the health crisis abates and the economic and societal fallout begins?
The debate gave some very strong hints that the current consensus will be short lived.
There were signs everywhere that while Covid-19 might have brought politicians closer together, to borrow a phrase, it will ultimately leave them further apart.
The left – already buoyed by the general election result where voters particularly those under 50 were enthused by their policies – see these measures as a reason to contest what they see as a political consensus around public spending and services.
Sinn Féin's Pearse Doherty (who was standing in for a self-isolating Mary Lou McDonald who is showing symptoms of a common cold) said the emergency measures including "a single-tier health system, a right to a roof over your head and robust social protection" are things that his party were calling for long before Covid-19 ever entered our lives.
"These measures cannot be temporary, they cannot be rowed back on once the crisis subsides," he said.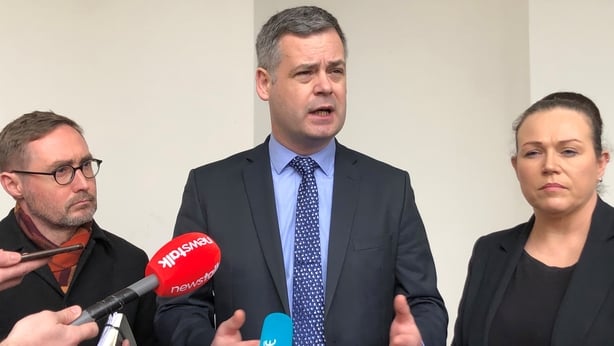 The Independent TD, Catherine Connolly, said it is extraordinary that the Dáil is being forced to make these choices because of a virus. She and colleagues have for years been calling for a rent freeze, she said, "we have been laughed at and derided and we were told it wasn't possible, and suddenly it is possible.
"I don't think we will ever go back to where we were. I hope we don't."
Another Independent, Marian Harkin, who has many years of experience in the European Parliament, said some of the measures are likely to stay in place.
"That is a recognition that we as parliamentarians can and must step outside our comfort zone and we must smash the status quo when we need to," she said.
In her maiden speech to the Dáil, the Green Party's Neasa Hourigan said politicians have to consider what the crisis "tells us about what we truly value".
She said: "That would appear to include a decent quality of life for everyone in our community through a universal basic income."
Cian O'Callaghan of the Social Democrats said the Dáil must ensure that people have sufficient income at all times, but especially in a crisis "and losing your job or income is always a crisis".
The Taoiseach, Leo Varadkar, was keen to dampen expectations, eager to stress that these are emergency times and the rent freeze, for example, would not be a long-term measure. He did however suggest that some measures could remain for the longer term.
Provisions whereby child care is paid for by the State may not be rolled back entirely, he said, while workers should not in the future have to wait six days before qualifying for sick pay.
The Finance Minister, Paschal Donohoe, who earlier this week spoke about the "social contract" between the state and citizens, was both pragmatic and philosophical in his expectation management message.
The State is a "vital response back at a time of need", he said, but "it is also something that exists within constraints, it is also something that creates incentives, it is also something that needs to be able to fund itself".
The Fianna Fáil leader, who is highly likely to be part of the next Government and possibly Taoiseach in a few weeks' time following a breakthrough in Government formation talks on Wednesday, recognised that "tough decisions will have to be made" by the new administration who will have to implement an urgent economic recovery plan.
He proposed a "social partnership model" which would "involve key stake holders so that there can be real engagement across society and a true societal response to what we plan for our national recovery post-Covid-19".
The remarkable Dáil debate points not just to the difficulties that the next Government will confront when it rows back on and unwinds the measures in the aftermath of the emergency period. But it also signals a demand that will no doubt exist for a different approach to politics in the post Corona era.
If governments' handling of the aftermath of the last economic crisis was attributed to the rise of populism elsewhere and the disruption of political traditions here, then how they handle this one will also dictate the direction of politics for the generation to come.