For the EU and UK it was not a good week on the trust front.
It began with what was described as a "sniping" speech by David Frost in Brussels, and ended with both sides all but accusing each other of bad faith over the level playing field issue and whether or not a Canada-style trade deal was on offer.
In between, disagreements smouldered over the obligations of the Irish Protocol, there was a bizarre appearance by the Elgin Marbles, and what the EU side saw as a snide question from Number 10's official Twitter account over what kind of trade deal was on offer.
"If a politician had said it, fine," complained one source. "But it's at a time when we're trying to build some semblance of a relationship. It really pissed people off."
All of this just a few weeks ahead of the trade negotiations.
On Monday there were great expectations around the speech by David Frost, Boris Johnson's chief negotiator, at the Université Libre de Bruxelles (ULB)
London saw it as an opportunity for a Brussels audience to finally "get" some fundamental UK positions - where better than at the former alma mater of no small number of senior EU civil servants, including Michel Barnier's deputy Clara Martinez Alberola.
Frost spoke at length about his intellectual journey from being a "typical pro-European" on assignment in Brussels in 1993, to turning against the EU through an every day "form of cognitive dissonance...about the value of my work".
Brexit, he said, was not a reaction against austerity but "a revolt against a system - against as it were, an 'authorised version' of European politics, against a system in which there is only one way to do politics".
Rather than indicate where this "authorised version" fell down, Frost steered the narrative towards an abstract set of markers: Europe lacked the "organic creation" of Edmund Burke's nation state, which was "entwined with custom, tradition and spirit" and so could never win the allegiance of the British.
Brexit heralded, therefore, the return of the nation state; "who can deny that we see something a bit like it in different forms across the whole continent of Europe," said Frost.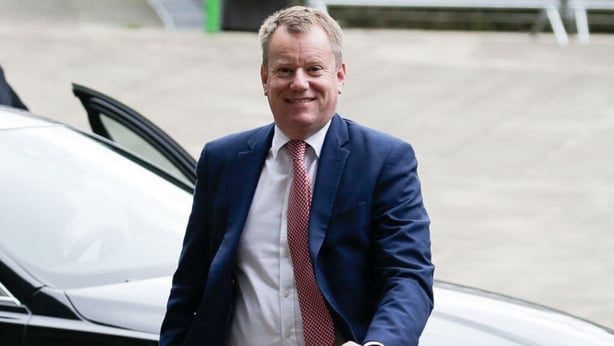 Critics would say the EU has never attempted to mimic a nation state nor the organic impulses of tradition and spirit, and that, shorn of the federalist ambitions of the 1980s, it has since focused on issues that are cross border in nature, or that pose a global challenge that would overwhelm a single nation state acting on its own.
Whatever the arguments, Frost's references to France and the failures of the French Revolution were seen as deliberately rankling Paris as it holds a tough line on the level playing field issue (an idea dismissed by British sources).
"That sort of sniping at the development of the EU as an intellectual project done by design...," observed one EU official, "French people would tend to take that personally."
To date the EU has not signed off on its negotiating mandate because of French concerns that commitments to ensure the UK does not undercut European businesses by lowering standards are not strong enough.
With the latest draft negotiating mandate appearing last Monday, France seemed increasingly isolated. One meeting of EU officials and ambassadors after another had come and gone with no sign-off on a final text.
France is understood to have been pressing for "dynamic alignment", effectively meaning the UK remaining in lockstep with EU regulations over time.
However, the noise around a level playing field tends to simplify things rather bluntly: the UK must "align" with EU rules; no, says London, that would be an outrageous trap.
David Frost told the ULB that any such notion would not only defeat the whole purpose of Brexit but would "snap" the democratic consent of the British people "finally and dramatically".
However, a closer reading of the French position reveals more nuanced thinking.
At a meeting of EU ambassadors on Wednesday, France was said to have taken a "constructive" approach.
While member states have acknowledged that the UK will not be a rule-taker, the French have three main concerns.
Paris wants to make sure that whatever is agreed on the level playing field is built on trust and understood by both sides.
It should work over the long term, and should not end up constraining the EU's own ability to legislate for the future.
As such, the language now being used appears looser.
The latest text makes no reference to "dynamic alignment". Instead it talks about both sides agreeing not to lower standards by maintaining corresponding standards over time.
For the UK to have standards that "correspond" to EU norms on the environment, taxation, climate change, state aid and so on is not the same as saying these standards have to align; equally, to say that these standards should correspond over time is less onerous than the idea of "dynamic alignment" which assumes a more perpetual obligation for the UK.
"We're looking more and more at dynamic equivalence of outcomes," says one EU source.
British sources remain unconvinced that thinking on the EU side is shifting and believe that France is still pushing for dynamic alignment.
But member states will take a strict approach to the issue of trust.
The UK is asserting its right to diverge from EU's rules when it suits. When it does diverge, then London is saying the UK will be happy - or reconciled - to pay the price of increased trade friction.
To the EU this kind of à la carte approach sounds more like a pre-nup to a free and easy marriage than a stable, long term relationship. One official likens it to a partner admitting in advance he won't look after the kids but will happily pay the price in other ways.
"We understand [level playing field] as a guarantee of trust and the stability of the partnership," says the source. "It's got to work out over time. It's got to work out for both sides, not just something the UK is going to just bolt out of.
"For us to have a close relationship what we need is for both sides to have a set of commitments that we're comfortable with, that has ground rules.
"This is about enshrining a certain number of things that define us as Europeans, that are part of our European identity, of how we do things in Europe."
Above all, Paris is worried that the UK's terms will skew the relationship over time, giving London a disproportionate degree of influence over how the EU makes its own rules.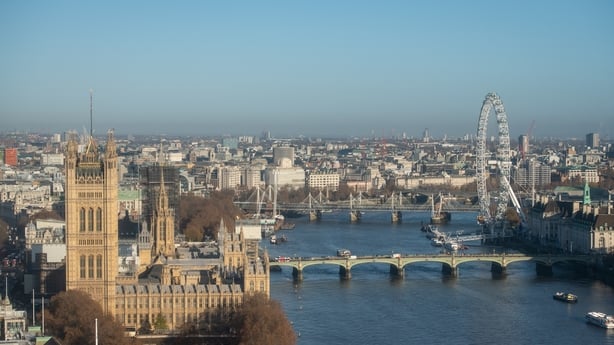 If the EU wants to move in a certain direction and London says, no, we're going to do it this way, then the EU could be faced with a choice of freely legislating or face being undercut by the UK.
What's more, in that scenario the UK would be able to constrain or influence the EU in a way that individual member states cannot.
The problem is that under Boris Johnson the UK has a very determined and different view of the relationship.
Instead of an assumed harmony underpinned by a "European" way of doing things, British sources talk of competition, of a mix of competitive advantages and disadvantages where each side uses its strengths to get ahead of the other on a field that might be level but where there are a lot of sliding tackles.
Britain believes it must be acknowledged as a free-trading country operating within a global, WTO framework, not one solely determined by its geographical proximity to, and deep history of integration with, Europe.
"We are going to have a huge advantage over the EU," David Frost told his audience, "the ability to set regulations for new sectors, the new ideas, and new conditions - quicker than the EU can."
Britain, he said, will be able to branch off, adapt, make mistakes, then correct them. "The EU is going to find this much, much more difficult," he told his audience.
It is no wonder his speech went down badly. Frost had called for a Canada-style free trade agreement, but the next day Michel Barnier, the EU's chief negotiator doubled down on the level playing field issue.
The EU would offer "a trade agreement that includes... a level playing field, with a country that has a very particular proximity - a unique territorial and economic closeness - which is why it can't be compared to Canada or South Korea or Japan."
This reopened the row over whether or not the EU was now moving the goalposts.
Downing Street's official Twitter account promptly revived a European Commission slide from 2017, showing how the UK's red lines - leaving the single market and customs union - had by a process of elimination left only a Canada-style FTA available.
The Tweet said: "In 2017 the EU showed on their own slide that a Canada type FTA was the only available relationship for the UK. Now they say it's not on offer after all. @MichelBarnier what's changed?"
"What's changed," quipped an EU official, "is the Political Declaration [which contains a joint commitment to a 'robust' level playing field]."
The war of the slides deepened. The next day the European Commission published another slide, showing the relative size and proximity of the UK to the EU compared to Canada, Japan, Mexico, South Korea and others.
"The UK will be the EU's third largest trading partner," the document stated, "with EU27 imports from the UK worth €197bn for 2018. This represents almost 10 times more imports into the EU than Canada. At the same time, Canada is some 5000km away."
Therefore "comparing the situation of the UK to other countries, such as Canada, simply does not work".
However, a number of trade experts described the chart as misleading, questioning the depiction of Japan as a much smaller trading entity.
Kevin McConway, emeritus professor of applied statistics at the Open University, told Politico: "The UK does have more trade with the EU27 than each of the other countries shown, but nowhere near as much more as you'd think from looking at this."
A Commission spokesperson responded: "The purpose of today's slide is for information and presentational purposes only. The chart was generated with an Excel chart tool, based on data from Eurostat. The width of each bubble is proportionate to the total trade of each country."
There was an added edge to the Commission document. "There must be robust level playing field safeguards to avoid unfair competitive advantages in social, environmental, tax and state aid matters. This is not new. The UK government - and parliament - agreed this with the EU's 27 Member States less than six months ago."
London then seized upon a letter from Ireland's EU Commissioner Phil Hogan to the Dutch government, which had been struggling to get its parliament to ratify the EU-Canada trade agreement (CETA).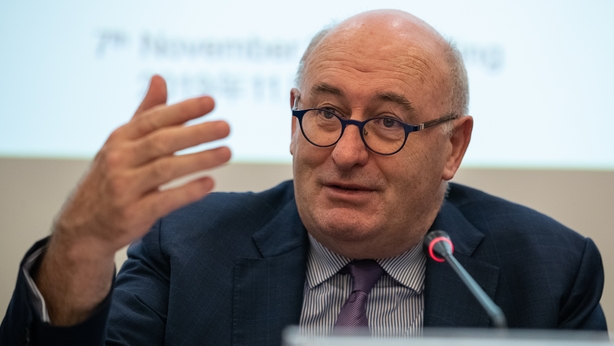 Hogan wrote that "CETA's rules on environment and labour are solid and anchored in a vast network of underlying international conventions and agreements, including the Paris Agreement on climate change".
To British officials this was a case of Hogan admitting that the Canada FTA had sufficient level playing field provisions, while Michel Barnier had been saying the opposite.
"It's easy to portray the UK as really wanting to burn all standards and do whatever we like," says one UK official.
"That's not the case. We recognise labour and environmental standards, but there is more than one way to meet labour and environmental obligations."
But clearly trust is now in short supply. What's more, it seems that how the UK approaches the Northern Ireland Protocol has become a test of London's trustworthiness.
The EU and UK have been at loggerheads over how much discretion the UK will have in implementing checks and controls on goods moving from Great Britain to Northern Ireland from 1 January next year.
Brussels believes the Joint Committee, which will comprise senior figures from both sides to implement and oversee all aspects of the Withdrawal Agreement, is restricted to agreeing what goods crossing the Irish Sea qualify for tariff rebates or exemptions, and that it is not designed to start negotiating the level of checks required.
"The Protocol is definitely going to be a test case," says one EU source. "Even when it's very clear to us that there was no fudge in the language [of the treaty], it's still being debated, discussed, reopened by the UK as being up for discussion in the Joint Committee, whereas some of it is not up for discussion."
But until the Joint Committee sits, both sides are making assertions that are clearly not in sync and are unsettling for businesses in Northern Ireland.
Brussels believes the UK must begin preparations now to implement the Protocol. However, the UK customs arm, HMRC, has still not asked any ports to prepare for any new checks or controls between Great Britain and Northern Ireland.
For the moment the British side is stressing that checks and controls already occur on live animals entering Larne from across the Irish Sea, and that the Joint Committee will look at "practical" ways to implement any other checks that are required.
It is understood the emphasis will be on simply expanding existing facilities at ports rather than setting up big new infrastructure projects to cater for whatever the Protocol requires.
"We are considering the best way to implement the Protocol," said a UK official, "and will be discussing this with the EU in the Joint Committee and Specialised Committee created under the Withdrawal Agreement."
On Tuesday member states are expected to formally adopt the negotiating mandate that Michel Barnier will then bring into the negotiations. The UK will put out a similar document.
The negotiations will start in March and will be laid out over ten "chapters" with various issues running in parallel. But the atmosphere does not look good.
"There will have to be a big row," observed one EU official. "It just depends on when is the best time to have it."