An interview featured on our programme has garnered an enormous reaction online and has raised serious and worrying questions for parents of teenagers everywhere in Ireland.
It was a coming of age event in the Campion family - a trip with friends without mam and dad to the cinema. It was a milestone that meant you were trusted to get the bus on your own, and could now strike out into independent adolescence.
Jody is 13 years old and it was his turn to head off to the cinema in Liffey Valley in Dublin, with his Christmas money in his pocket. But it all went terribly wrong, and the events of that day led his parents and his sister to our studio last Monday night.
Jody's mother Adrienne, dad Paul and sister Kasey told us how Jody and his friends were attacked by a gang of teenagers for no reason. The movie they wanted to see was sold out and they left the cinema to head home on the bus. On the road outside, the gang jumped on them, knocked Jody to the ground and beat his friend badly too. 
Before the assault began, the boys noticed that some of the gang had their phones held aloft. The lights on the phones were on - so the family are left with the suspicion that the entire attack was staged so the gang could upload the footage of it online.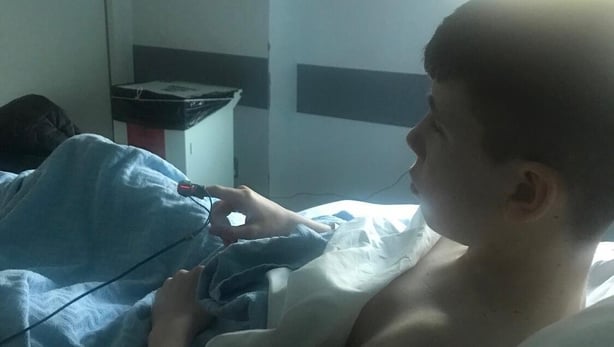 Jody and his friend were treated in hospital. Adrienne and Paul are watching their son like hawks now, terrified because his head hit the ground; but worried also about the psychological impact of such an attack on him, and hoping that he will be able to get over this. 
MMA fighter Conor McGregor's coach, John Kavanagh is training the Dubliner in Las Vegas and when he heard about the story, he got in touch with Jody's sister Kasey, to offer self-defence training to the two youngsters. That was a massive boost to the friends.
Beyond Coach Kavanagh, the interview with Jody's family has had a phenomenal reaction, with almost 500,000 people watching it online. 
We need your consent to load this Facebook contentWe use Facebook to manage extra content that can set cookies on your device and collect data about your activity. Please review their details and accept them to load the content.Manage Preferences
Adrienne says that she believes the parents of the juveniles who carried out that attack should be held responsible for their actions. They also want the footage that was taken by the culprits. There is a possibility  that it is online somewhere and, if it is, it may help lead to the people who did this.
The entire incident raises important questions for parents everywhere. Are some teenagers orchestrating attacks and fights in order to capture it on their phones and share the footage? 
And, as Adrienne says, should parents of teenagers be held responsible for their children's actions if that is what they are up to on our streets? 
Can and should the gardaí be policing the internet for these videos or should social media companies be held to account if such a video is shared on their platforms?
One thing is certain, the Campion family should not be afraid to allow their 13-year-old son out on his own for a trip to the cinema and after what happened to Jody, they are.
We have included the interview here so you can see for yourself what happened to Jody and the impact it is having on his family.
We will also be following up on this on next Monday's programme. Let us know below if you have a view on the matter.
Claire Byrne Live is on RTE One on Monday night at 10.35pm.
We need your consent to load this Microsoft Forms contentWe use Microsoft Forms to manage extra content that can set cookies on your device and collect data about your activity. Please review their details and accept them to load the content.Manage Preferences