Millions of euro of Ireland's Overseas Development Aid (ODA) budget is spent within the State on Direct Provision and other refugee services.
Details of the expenditure are contained in Department of Foreign Affairs and Department of Justice documents, released to RTÉ under Freedom of Information. 
The papers show that €36 million of the €95m spent on services for refugees and asylum seekers was accounted for as ODA in 2017. 
The money - known as 'in-donor refugee costs' - was spent on legal services, education and training, medical expenses, accommodation and other costs. 
The practice of accounting for domestic spending on refugees and asylum seekers as ODA is widespread among OECD countries. Ireland is one of 30 countries on the OECD's Development Assistance Committee (DAC).
The DAC agreed a protocol on aid in 2016, which began standardising the calculation of ODA, including eligible in-donor refugee costs. 
Documents, dating from late last year, show the Department of Foreign Affairs estimated that total in-donor refugee costs for 2018 would be between €42-44m.
The estimate for 2019 was between €47-52m in 2019.
The estimates "come with a heavy health warning", according to a senior official in the Development Co-operation Division of the Department of Foreign Affairs and Trade (DFAT).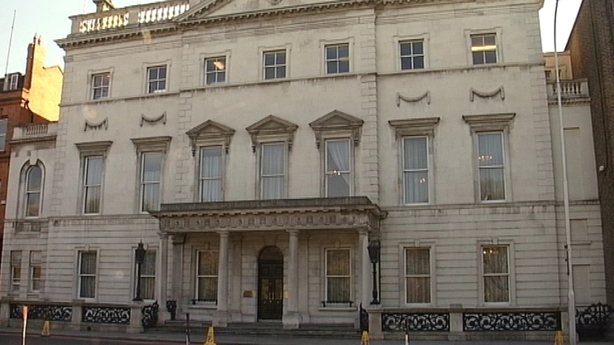 The latest official figures for Ireland published by the OECD show the State's in-donor refugee costs in 2018 were ultimately around €33m, well below the estimated level. 
Ireland's overall ODA expenditure rose from €743m to over €810m from 2017-18.
The increase was due primarily to higher contributions to overseas projects and international organisations.
In-donor refugee costs fell as a percentage of ODA in the period 2017-18 from 4.9% to 3.9%. 
For in-donor refugee spending to qualify as ODA, the relevant costs must be incurred in the first 12 months after a refugee's arrival or application for asylum.
Eligible costs can include food, shelter, training, medical and other costs. The cost of transport to the host country is eligible. Expenditure on voluntary resettlement in a developing country is also allowed.
The cost of naval missions whose main purpose is search and rescue is also eligible. Costs associated with forcible deportation cannot be included, nor can most costs relating to asylum seekers whose applications have been rejected.
Between €11-12,000 per head is spent on refugees every year in Ireland, according to calculations in the documents. Of that, €7-8,000 is eligible to be calculated as ODA under the OECD criteria, the Department of Foreign Affairs estimated.
An internal Department of Foreign Affairs document from June 2017 outlined conflicting opinions among OECD DAC members over allowing spending on asylum seekers, whose applications for refugee status were rejected, to be calculated as ODA.
The document outlined the position of a number of European countries: "Denmark, Norway, Austria and Greece in particular are strongly in favour of including the costs of rejected asylum seekers in their submissions.
"Denmark has calculated that their ODA figures would fall by 10-15% if these costs, which are currently reported on, are deducted.
"Finland, Switzerland and others argue in favour of excluding [costs relating to] rejected asylum seekers on the basis that this leads to a substantial and incorrect inflation of ODA - Finland has calculated that its current ODA figure of 0.4% would be inflated well above 1% by including rejected asylum seeker costs. (Anecdotally the Finnish representative at the recent DAC SLM also pointed out that with the inclusion of rejected asylum seeker costs Hungary will top the league table of most generous donors)."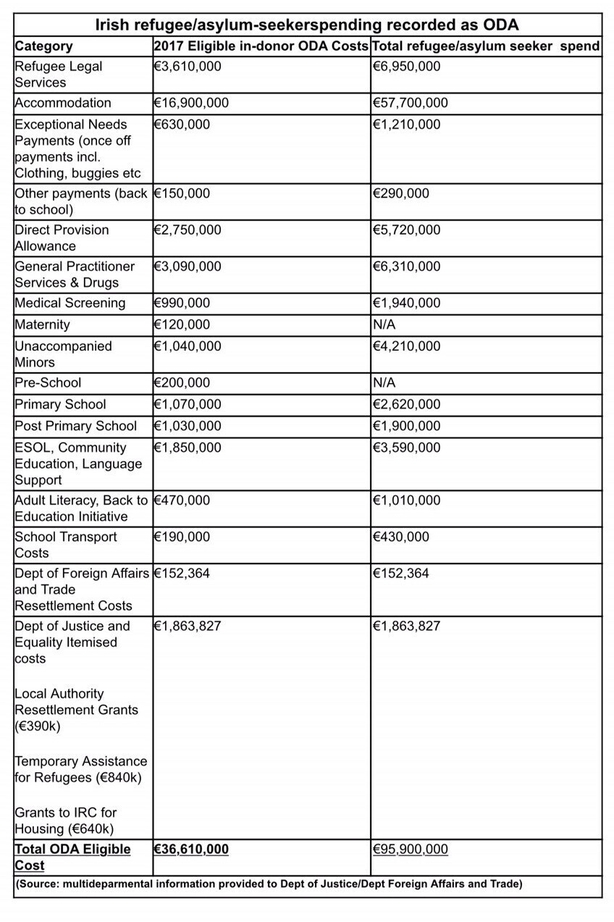 The DAC members are Australia, Austria, Belgium, Canada, Czech Republic, Denmark, European Union, Finland, France, Germany, Greece, Hungary, Iceland, Ireland, Italy, Japan, Korea, Luxembourg, The Netherlands, New Zealand, Norway, Poland, Portugal, Slovak Republic, Slovenia, Spain, Sweden, Switzerland, the UK and the US.
The June 2017 document stated Ireland's position was to seek clarity on the guidelines and "close off discussions on expanding the criteria".
However, another document - dated 12 months later - showed the Department of Justice favoured recording costs relating to rejected asylum applications as ODA: "[The OECD] raised the issue of counting rejected asylum seekers and that the preference of the OECD DAC is not to include these. The view of the [Department of Justice] are that in a given year these costs should be included as legitimate costs of providing support to anyone under the protection system in Ireland that year."
The internal documents released to RTÉ also outline that in-donor refugee costs recorded as ODA by OECD DAC members nearly doubled between 2010 and 2014 from €3.4bn to €6.6bn.
Following the 2015 rise in migration from North Africa and the Middle East, in-donor ODA costs rose sharply to over €11bn. The percentage of OECD DAC members' ODA made up of in-donor refugee spending rose from 2.7% in 2010 to 10.8% in 2016. 
A fall in the number of migrants arriving in Europe since its peak in 2015-16 has seen ODA levels drop due to reduced spending on asylum and refugee services.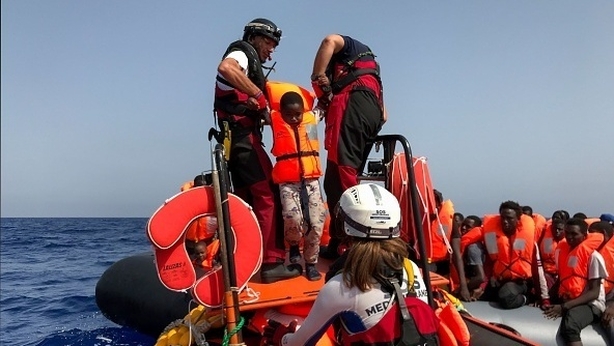 Austria, Italy, and Greece have all recorded reductions of between 10-20% in 2018 due largely to reduced refugee spending. Overall aid spending by OECD DAC members fell by 2.7% in the same period.
A 2017 Department of Foreign Affairs progress report noted that in-donor refugee spending was, in most cases, additional to spending in developing countries. However, some countries diverted aid from overseas spending to domestic refugee costs.
The report noted: "In many cases in-donor costs are additional. In Sweden and Norway, funding has been redirected away from traditional development assistance to cover refugee costs at home." 
Before 2017, Ireland under-recorded in-donor refugee costs, according to the Department of Foreign Affairs documents seen by RTÉ.
The papers, prepared ahead of discussions with the OECD's Development Assistance Committee (DAC), described Ireland's reporting of in-donor costs as "minimal" and "limited".
The total in-donor refugee spend recorded in 2016 was €963,000. These costs comprised €240,000 for transport costs refunded to the International Organisation for Migration, €505,000 paid to County Council for resettlement and €218,000 for translation and interpretation. The Department estimated that over €20m could have been accounted for as ODA from 2015. 
The Department expressed some concern that the expected jump in expenditure on refugees accounted for as ODA from under from 2016 would prove to be controversial.
An internal document noted that a "backlash" could be expected by Government: "There is considerable NGO scrutiny, both internationally and domestically on the reporting on in-donor refugee costs as ODA and consistent lobbying to reverse the trend. Despite the agreed eligibility of these costs, the Government can expect a backlash domestically if our reporting figures increase in 2018."
A one-page document prepared for the Secretary General of the Department of Foreign Affairs in late 2017 assessed the impact of reporting in-donor costs on Ireland's aim to bring ODA spending up to the UN target of 0.7% of Gross National Income (GNI).  
The document noted that Germany's aid spending had exceeded 1% of GNI due to its in-donor refugee spending.
The paper noted that "increasing Ireland's reporting of eligible refugee and asylum seeker expenditure as ODA will form part of wider Cabinet consultations on the aid programme and pathway to 0.7%".
Ireland's aid spending stands at 0.31% of GNI, which is also the average of OECD DAC expenditure.
At around 0.01% of GNI, in-donor spending on refugees was not a significant part of Ireland's efforts to reach the 0.7% UN target on ODA spending.