Iowa farmer Aaron Lehman crawls through a tiny door into an enormous grain silo to check his harvest.
It's a tight squeeze and things are getting tighter.
The crop he's inspecting has been hit hard by the trade war between the US and China.
As a grower of corn and soybeans, Aaron has felt the brunt of tariffs and falling exports.
He, and many of his fellow farmers in Iowa, are struggling to make ends meet.
"Farmers have been meeting with landlords, bankers and suppliers trying to cut costs. It's a tough time right now," Aaron says.
"The stress hotlines that farmers can phone are getting lots and lots of calls."
Aaron is the president of the Iowa Farmers' Union and says it's a stressful time for members.
"They are reporting high debt ratios and bankruptcies. The stress hotlines that farmers can phone are getting lots and lots of calls," he says.
Donald Trump won Iowa in 2016 but could lose the state next year because of a drop in support among farmers.
And it's not just the trade war with China.
Corn farmers are also angry at a decision by the Trump administration to waive ethanol blending requirements for the oil industry. The move has slashed demand for the corn-based fuel.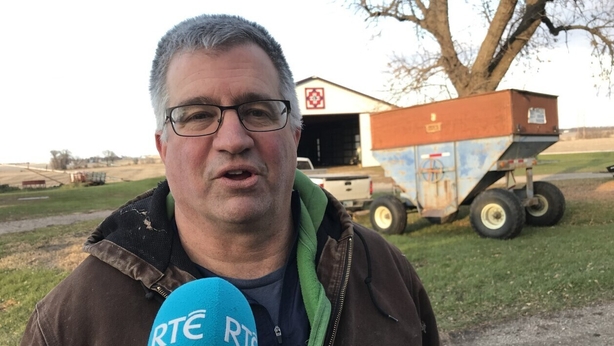 Aaron says many farmers who supported Mr Trump are now thinking about where to go next.
"The approach the president takes with our trade partners has been so acidic. Instead of making trade friends, we are making trade enemies all over the world," he says.
There are warning signs for Republicans when it comes to Iowa.
Democrats flipped two of the state's congressional seats in last year's midterm elections. Former President Barack Obama won Iowa twice.
It is a swing state and could be crucial for Mr Trump's re-election hopes.
He knows this and in the past has announced billions of dollars in subsidies to help farmers affected by the trade war.
Just last week, President Trump suggested Iowa as the location for the signing of a new trade deal with China.
"We're looking at a couple of different locations. It could even be in Iowa," he told reporters at the White House.
"We're thinking about Iowa, you know why, because it would be the largest order in history for farmers. So to me, Iowa makes sense. I love Iowa."
And he's not the only politician in love with Iowa right now.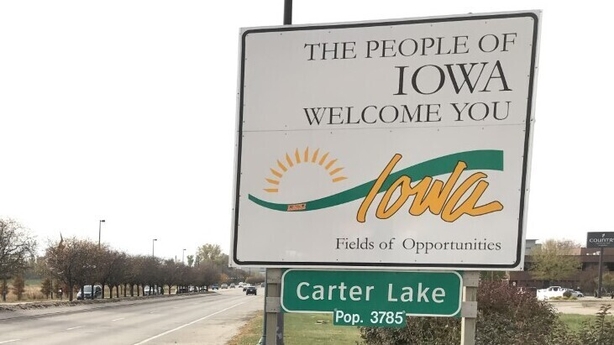 The Democratic candidates are all spending a lot of time in the state ahead of the Iowa Caucuses, which take place in February.
It will be the first contest in the presidential primary season and will see voters gather to select their preferred candidate in the race for the Democratic nomination.
It is only the start of a long process but the winner of Iowa will receive a boost in media coverage and funding, providing plenty of momentum as the primary season gets under way.
For the last 20 years, the winner of the Iowa caucus has eventually gone on to become the Democratic nominee.
"Someone who doesn't do well in Iowa could pick up delegates in later primaries in the following months."
This year, however, could be different according to the former chairman of the Iowa Democratic Party Rob Tully.
"This time around we have so many candidates, someone who doesn't do well in Iowa could pick up delegates in later primaries in the following months," he says.
Mr Tully believes that once a candidate is selected, Democrats will unite because of a shared animosity towards Mr Trump.
He also believes that President Trump will win Iowa again next year and that was a view shared by many of the state's voters that we spoke to.
Eric Parra didn't vote for Mr Trump in 2016 but he may do so next year.
"Even though his personality can be abrasive and confrontational at times, in terms of policies he has surprised me," Eric says.
A sign perhaps that Donald Trump can still attract new supporters, while some of his traditional base, like the farmers of Iowa, think about looking elsewhere.