On Wednesday night, my colleague Joe Duffy and journalist Freya McClements launched their new book in Eason's on O'Connell Street in Dublin.
At the launch, we heard about the importance of remembering the subjects of their book, the children who were murdered during the Troubles.
Families of those innocent children listened as former president Mary McAleese paid tribute to them and reminded us about the delicate and hard-won peace on this island and the importance of zealously guarding that peace.
I left the launch at about 8.30pm and made my way up to the Spire and crossed O'Connell Street. As I reached North Earl Street, the sound of dance music from a speaker and the bright lights of the city made for an almost festive vibe.
I saw a little girl, no older than five or six, still in her school uniform, dancing her heart out to the music. It was a heartwarming scene, given that I had only just been reminded at the book launch about the Dublin bombings of 1974, very close to where this little girl was now dancing with abandon.
But something about the scene I was looking at was wrong.
The dancing girl was not the only very young child on the street. There were many. One of our group asked me if a movie scene was being recorded in front of us. I began to process what we were seeing.
The dancing girl was putting in her time while she waited in a queue.
Other little children held their mothers' hand or gripped the handle of a buggy as they waited.
One family in the queue had a buggy packed with bags of what looked like clothes and blankets.
Yet another child tore at a cardboard box and placed the pieces carefully on the ground in a doorway.
The queue of people - young, innocent children - were waiting for volunteers on Talbot Street to give them food.
I briefly caught the eye of the little boy who was busy breaking up a box and placing it on the ground while his mother tried to keep another younger child who was running around in the dark under control.
The little boy was small and kneeling on the ground as he went about his job. I don't know if he was putting the cardboard down to have his meal on it or whether that was going to be his bed for the night. He had a wary and weary look about his eyes. Tired and disillusioned - the face of innocence lost.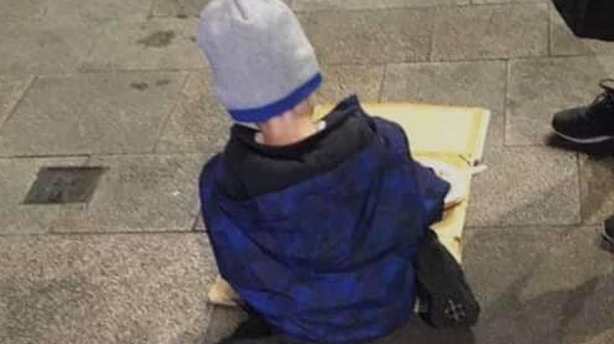 The following day, a shocking photograph appeared in some newspapers, showing a boy eating his dinner on the street off a piece of cardboard.
The 1916 Proclamation vowed to cherish all of the children of Ireland equally. 103 years later and we have, in the main, become numb to the horror of homelessness and most people accept it as somehow normal.
Those of us lucky enough to have homes return to them in the evening and tuck our children up in their cosy beds, not giving much thought to a mother forced to accept food from kind strangers to feed her children on a busy city centre street on a dark October night.
What responsibility do we all have for children on North Earl Street waiting at 8.30pm at night to eat?
How much shame does it make us feel that a small minority of truly charitable and decent people stand there delivering a meal to those children night after night?
Have we become inured to the damage we are doing to a generation raised in emergency accommodation?
I hope I have painted a picture of the shocking scene I witnessed this week - I hope you can feel something of the shame and shock I felt when I saw those precious, small children and what they are expected to go through. How abandoned, by all of us, those mothers I saw must feel. How distorted is our perception if this has become a new normal?
Hand-wringing is not enough. This can't ever become acceptable and if it has, we need to shake ourselves out of the stupor and see it for what it is. No child in a prosperous country like this one should have to live this way.