EU leaders' summits, or European Council meetings as they are officially known, have a natural rhythm.
As RTÉ Europe Correspondent covering the Eurozone currency crisis during 2011/2012, I had become pretty adept at interpreting those pulses - particularly as the frequency of summits had surged from four to eight a year.
This week, all the signs suggested to me that Wednesday's summit would drag on into the small hours: a decision had to be taken on the Brexit extension - or the UK could crash out of the EU 48 hours later.
It clearly wasn't going to be easy: Germany and France were on opposite sides - the former seeking a longer extension and the latter demanding a much shorter one.
All this against the backdrop of last minute shuttle diplomacy - with British Prime Minister Theresa May arriving in Brussels via talks in Paris and Berlin.
There is a familiar choreography to EU summits: the camera-flashes as limousines arrive; a few words for the waiting press corps; TV footage of the leaders taking their seats; and then the work begins.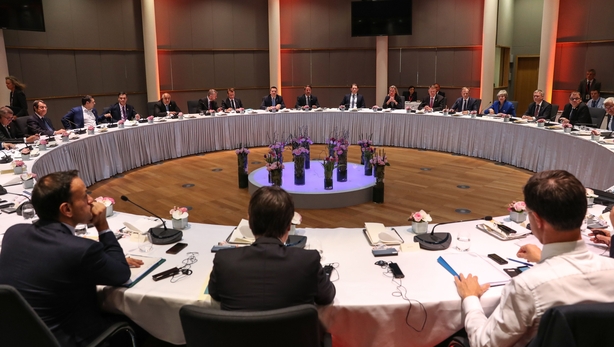 When the doors close, the leaders of the EU member-states are on their own - no top advisors or civil servants are allowed in.
The Commission President and Secretary General do have seats at the table, but they don't get to vote.
The chair of these meetings, Donald Tusk, is a former Polish Prime Minister and a canny operator.
He had already made a proposal - give the UK government a long extension, but make it flexible, so that they could leave the EU sooner if MPs pass the Withdrawal Agreement.
That flexibility was specifically designed to be of political assistance to Mrs May back in London.
As the summit began, Mrs May was invited to make her pitch first. She told the leaders she wanted a short extension to up to 30 June. Within an hour, news began to filter out from the meeting.
A source said that Mrs May was updating the meeting on progress made in cross-party talks on a Brexit compromise.
She claimed that this progress was more significant than media reports had suggested. And the Prime Minister explained that even if the those talks were to fail, she would be bound by what MPs Westminster would decide on how the Brexit deadlock could be broken.
Then the questioning began. Sometimes she gave direct answers. Other times her answers were more opaque.
On occasion she simply referred back to the letter she had sent to Mr Tusk a week earlier. When that process was exhausted, Mrs May left the room and the 27 remaining leaders considered their position.
Over dinner the leaders took turns to outline their individual analysis on Mrs May's request. By 10pm Brussels time not one of those who'd spoken had objected to the principle of an extension.
A no-deal Brexit - which had been looming in just two days time - was going to be avoided.
The argument turned to how long should the extension be.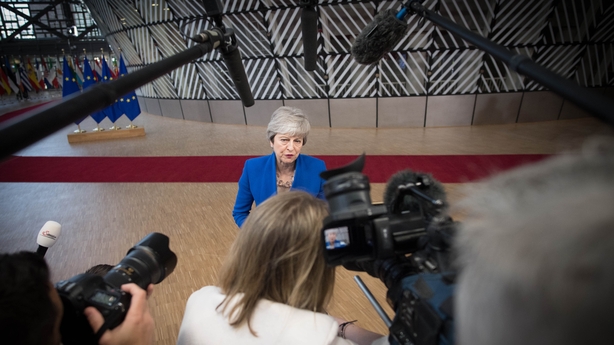 High among the objectives of the Council was to ensure that EU leaders could not be painted as aggressors imposing unfair or arbitrary conditions on the UK.
So the focus was on devising a response which retained unity of the EU-27, while also appearing to be flexible and understanding of the UK's dilemma. When it comes to Brexit, retaining unity is deemed to be of paramount importance.
The plan began to take shape. Mrs May's request of an extension to 30 June was never going to be accepted.
The date had been rejected by leaders at the previous summit and, on Wednesday, their analysis remained the same: it didn't afford enough time to get a deal through Westminster, and leaders don't want to be forced to return to Brussels every six months to talk about Brexit.
Mrs May had already conceded that if she wasn't able to get a Brexit deal through Westminster before the European Parliament elections on 23 May, the UK would participate.
This had been a key demand of EU leaders.
Suggestions of an extension into 2020 were never going to get the support of France. President Emmanuel Macron, and his ministers, had made that crystal clear in the run-up to the summit. So the question was - how late into 2019 could it run.
Some suggested the end of the year.
While Mr Macron refrained from speaking at the beginning of the meeting, he was emphatic when he did: a longer extension could not and would not be acceptable to France.
As the debate continued and the hours drifted by, consensus was eventually reached - a new deadline would be set for the end of October.
For France, this was deemed a good outcome.
Mr Macron argued it made sense from an EU institutional point of view, because the new Commission would come into force on 1 November: a new team for a new EU.
It also meant the outgoing team, including Mr Juncker and Mr Barnier, would be in situ for any further emergency summit.
Yet Mr Macron's hardline stance was noted by everyone at the meeting. It raises the spectre that any further extension to the Brexit deadline could be vetoed by France.
A no-deal Brexit remains a real possibility - no matter how unpalatable that outcome is to Ireland.
For Germany, a longer extension would have been far more preferable.
The six-month compromise was deemed just about long enough to give time for MPs to take a breather, reconsider their options, and, it was hoped support a joint Conservative-Labour proposal.
Throughout the debate, Mrs May and her team remained in a room close-by. Mr Tusk updated her regularly during breaks.
He told her that one of her key demands had been accepted by the EU-27: they would not request a "good behaviour" clause be included in the final communique.
Some Brexiteer MPs, such as Jacob Rees-Mogg, had argued for the UK to cause trouble for the EU during the extension period. Mrs May had insisted that such a policy would never be pursued and that existing EU treaties precluded Member States from acting in such a way.
And so the deal was done.
Some in the British press didn't like it. One senior correspondent described the deal as an "EU fudge".
In reality it was a classic EU compromise - something the British parliament has proved itself singularly incapable of delivering for more than two years.
As is the norm once a summit concludes, the Council President, Donald Tusk, briefed a news conference: "This extension is as flexible as I expected and a little bit shorter than I expected, but it's still enough to find the best possible solution."
He concluded with an appeal to MPs: "Please do not waste this time".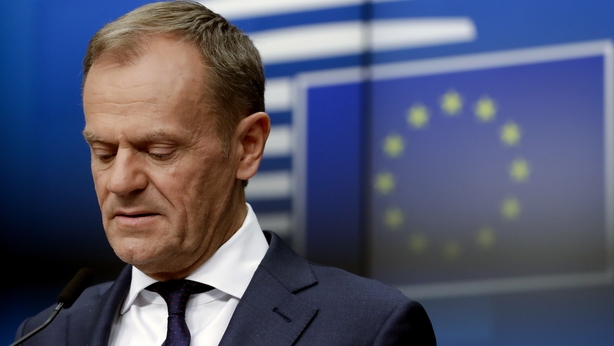 It was now 1am local time, and the EU leaders began to leave for their hotels.
The German Chancellor, Angela Merkel, left without commenting.
Taoiseach Leo Varadkar delayed his departure to take questions from the waiting press corps.
I asked him if he felt the extension was long enough. He paused for a moment: "I really hope so" he said.
"The European Union is imperfect, we took several hours... but we did make a decision."
I followed-up by inquiring if the October deadline was a take-it-or-leave-it moment for the UK.
He said it was not - further proof, in my view, that the EU wants the UK to decide on Brexit - if blame is going to be apportioned, then it should be directed at London rather than at Brussels.
I also asked the Taoiseach about comments he'd made in the hours before the summit that the UK should "have a voice" if it entered into a new Customs Union with the EU.
In other words, the UK would not just have to accept trade deals but have some say in their construction.
The comment had drawn a speedy response from the Labour leader, Jeremy Corbyn, as proof that Ireland viewed his policies as "credible and deliverable".
Mr Varadkar told me that there hadn't been enough time at the summit to discuss future UK relations with the EU.
Yet in raising this, despite it not being on the agenda, Mr Varadkar appeared to be signalling to UK MPs that Ireland would be an ally in their search for the best possible future trading relationship.
On Thursday, Mrs May was back before the Commons appealing to MPs take decisions on Brexit.
She agreed with Mr Tusk that this was now the UK's time to determine its own fate. But there was cold fury on her backbenches.
Longtime Conservative Brexiteer Bill Cash asked Mrs May if she appreciated the "... anger her abject surrender prompted across the country", adding: "Will she resign?"
The Prime Minister replied curtly: "I think you know the answer to that."
Yet if the political sketch writer for the London Independent is to be believed, few MPs were paying much attention to Donald Tusk's "please do not waste this time" plea.
Tom Peck tweeted: "I cannot overstate what an utter, utter, utter shitshow events in the House of Commons currently are. They have been given a six month extension. They are using it to repeat, verbatim, all the same old futile garbage that has got them absolutely nowhere for the last two years."2
The Commons has now risen for the Easter recess. By the sounds of it, they could do with the break.
EU leaders hope MPs can return refreshed and bite-the-bullet: forge a compromise Brexit deal which can command a majority at Westminster, and finally bring their civil war to an end.