"If you hit 34% in the opinion polls. That's the day you cut and run. You go to the country." These were the words of one Fine Gael apparatchik a few months ago.
His party hit 34% in the last Red C/Sunday Business Post poll on 20 May and has gone as high as 36% in other opinion polls.
However, there has been no sign of Taoiseach Leo Varadkar heading to Áras an Uachtaráin and asking President Higgins to dissolve the 32nd Dáil.
Everyone agrees that a General Election is imminent. But when exactly will it be?
Conor McMorrow of our political staff gauged opinion around the corridors of power to find out what the likely options are...
1. Cut and run before the summer recess
New Politics. It's been the best of times. It's been the worst of times.
The worst of times when legislation has slowly crawled through the Dáil, held up by fillibustering opposition TDs. Take the new drink driving legislation as a case in point.
It has also been the best of times when there has been cross-party support in areas such as the Committee on the Future of Healthcare. That group successfully left party politics at the door to formulate a 20 year Sláintecare report. Although one year on, there has been criticism about the lack of progress in implementing it.
For the past few months the referendum of the Eighth Amendment has been the main focus of all political parties. While there were deep divisions, even within parties, there was an overriding view that the referendum needed to take place - the abortion issue had been long-fingered for too long.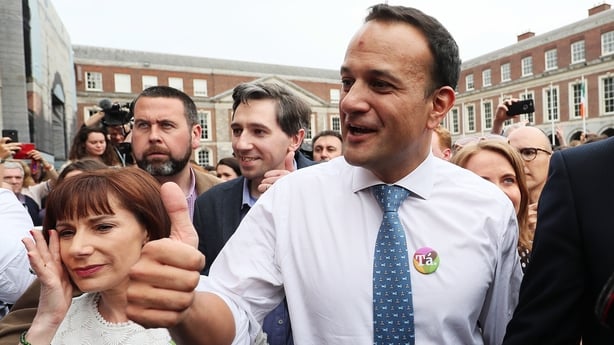 Following the emphatic victory for the Yes side last weekend, there has been some talk in Government buildings that now is the time to have a summer election in a bid for Fine Gael to come back with a stronger mandate.
One senior Fine Gael figure said that the Government has found itself in "firefighting" mode every week for the past few months.
The Government let the controversy over the Strategic Communications Unit or 'spin unit' continue for too long.
In April Communications Minister Denis Naughten found himself on the ropes for expressing his own opinion to a PR executive acting for Independent News & Media in relation to the company's proposed takeover of Celtic Media.
The more serious cervical cancer crisis and the illegal adoption registration revelations have also dominated the political agenda.
Despite this firefighting, the senior source pointed out, "the flip side is that we are at 36% in some opinion polls. That's extremely good for Fine Gael. We need to ask ourselves, is this as good as it gets for Fine Gael?"
If it is, then a summer election has merit.
There is a view among Fine Gael ministers that having Shane Ross at the cabinet table has been problematic. Difficulties in areas such as the Judicial Appointments Bill have strained relations. An election could see Fine Gael return to Government with new coalition partners.
One senior source pointed out that "on 35% Fine Gael could win 60 seats. If the Labour party were to win 6 to 8 seats, Brendan Howlin would be easier to work with than some of the current group of independents. A coalition could be formed with Fine Gael, Labour and independents."
Another TD believes the current crop of younger Fine Gael ministers are overly concerned with optics. He pointed out that Leo Varadkar and Eoghan Murphy would like to fight a summer election "going around with their sleeves rolled up."
Elsewhere in Fine Gael, another senior figure dismissed the idea of an immediate election. He said: "If you look at things the way they stand. Leo will never have it so good again.
He's Taoiseach in a Government where he may not have the opportunity again of giving out so many ministries to his Fine Gael colleagues. Even if there is only a small chance of him losing that role, why would he take that chance?"
He did say that Fine Gael has upped its election preparations in recent weeks and the prospect of going to the country is being contemplated. He said: "The ground is certainly being prepared. Leo wants to have the planning done for when the time comes."
He added: "Leo is very solid and likes to have things planned. He's not really a risk taker. So why would he take the small risk of losing an election?"
The next election will be precipitated by the Government going to the country or Fianna Fáil withdrawing its support for the Confidence and Supply deal.
Despite the solidification of party leader Mícheál Martin's position after the abortion referendum result, Fianna Fáil sources are also dismissive of a summer election.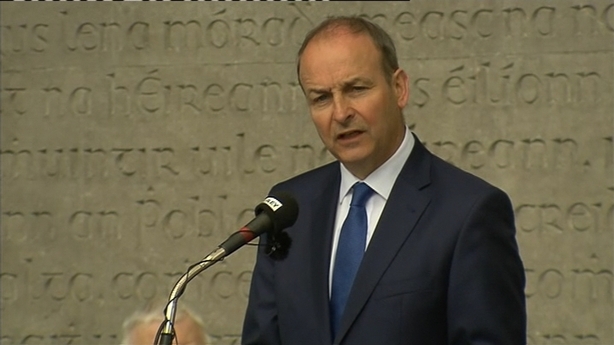 One of them said: "It would be wrong for Fine Gael to think that they can go to the country on the back of an abortion referendum result. You only have to look at what happened to Labour after the marriage referendum. General elections are different. People are not going to vote on the basis of Fine Gael's position on abortion. Housing and health and issues such as the cost of living are the issues people are more concerned about."
Such is the public mood for the abortion legislation to be passed, this may dominate the Taoiseach's decision on a summer election.
2. Late 2018
If there is not a summer election, the next most likely time for Ireland to go to the polls is later this year.
So will Fianna Fáil get frustrated with supporting Government from the opposition benches by the Autumn and pull the plug?
A Fianna Fáil source said: "We are committed to honouring our agreement that we will support three budgets. After that we expect there will be a review of the Confidence and Supply agreement. When the budget takes place in October there are a number of legislative steps to be taken to give it effect."
"The Finance and Social Protection bills must be passed. So you are then looking at January when Fine Gael and Fianna Fáil would sit down to look at reviewing the Confidence and Supply Agreement."
If Fianna Fáil is to return to Government it must win back more seats in Dublin.
Last weekend's RTÉ Exit poll showed the party on 12% in the capital.
Not surprisingly, a Fianna Fáil source stressed the importance of constituency polls and work on the ground.
There is a widely held view in the party that Fine Gael has peaked in the capital so Fianna Fáil is certain to make seat gains in constituencies such as Dún Laoghaire and the parties are "neck and neck" in other areas such as Dublin North West.
An experienced Fine Gael politician strongly believes that his leader has no intention of calling an election this year. He reckons it is up to Fianna Fáil to call it but they are hamstrung by the opinion polls. "They cannot call an election unless they are up with Fine Gael in a series of polls," he said.
3. Early 2019
Realistically if Fianna Fáil sticks to its commitment to support three budgets, the next available opportunity for an election will be in January or February next year.
Sources in both Fine Gael and Fianna Fáil point to January as the point - with the Finance and Social Protection bills passed - that the two parties would sit down and review the Confidence and Supply Agreement.
Last December the Taoiseach suggested talks on renewing the deal with Fianna Fáil might commence before this budget. But Fianna Fáil sources expect this process to take place after the budget.
Fianna Fáil say that the October Budget and Brexit are the party's priorities. When Brexit is the crunch external issue, parties will just have to don the green jersey and cannot be getting bogged down in a domestic election.
There is a view in Fianna Fáil a spring election could be on the cards if a new or renegotiated deal cannot be reached with Fine Gael.
But a senior Fine Gael figure takes a different view, saying: "If the third budget is passed and we get to January or February. At that point if Fianna Fáil has not gained ground in the polls, Mícheál Martin may decide to concoct another deal with Fine Gael. That would buy him at another year."
This deal would be done on the basis of a strategy of "waiting until Leo Varadkar becomes unpopular through time."
He added that over 20 of the Fianna Fáil TDs are serving their first term and claimed new TDs are never as confident as more seasoned politicians when it comes to facing into a general election. "A lot of them are quite happy to be in the Dáil and do not want to go before the people again too soon," he said.
If recent years are anything to go by, the winter weather will still be with us in the first three months of 2019. This could lend itself to a shorter campaign that would be fought as much over the airwaves rather than on the ground. Politicians from both Fine Gael and Fianna Fáil believe their leaders will do well in TV debates, but the Sinn Féin leader Mary McDonald's solid performances in recent weeks will not have gone unnoticed.
4. Summer 2019
What about going for a triple whammy?
Local, European and General elections on the same day. Some Fine Gael sources are peddling this theory.
The Government lasts until May next year and the general election is held on the same day as the local and European elections.
This is one option that is being considered within Fine Gael and its understood some Fianna Fáil figures see the merit to it. In June 1989 the European and General Elections took place on the same day.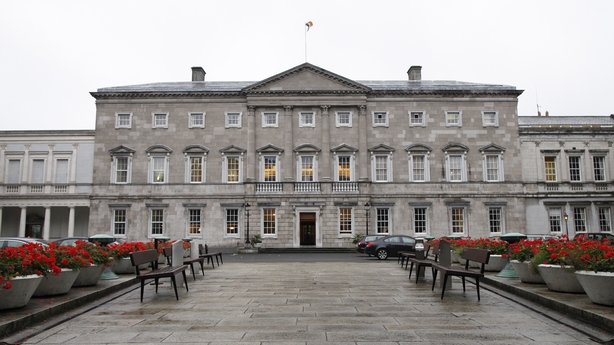 There is a belief that holding these elections together is more beneficial to the larger parties. One Fine Gael source said: "You would expect that it will drive up turnout and this helps the bigger parties. Also if all the elections are on one day, the voter may have less of a 'scatter gun' approach while casting their ballot and vote for one large party in the general, local, and European elections.
He also believes this approach would save money for cash-strapped parties as election literature could be shared.
But other TDs point to the way local election candidates run the engine room of general election candidates' campaigns. If these candidates are caught up trying to secure local authority seats, general election candidates will be left exposed and this will fuel internal party divisions.
If the general election was to be a month either side of the local and European elections, there is a risk of election fatigue setting in and the expense of fighting elections in quick succession would also be a dissuasive factor.
5. Autumn 2019
If the current arrangement continues until next spring, and the Confidence and Supply Agreement is extended, this is likely to contain some sort of deal on a fourth budget.
Fianna Fáil TDs have consistently said they would honour the party's commitment to support three budgets from the opposition benches.
If that were extended to four budgets, Fianna Fáil may adopt a similar line about honouring another budget.
This would see Autumn 2019 as the next available date and if the Government were to collapse before then, Fianna Fáil will always be able to say that it honoured three budgets but wants to get back in to govern Ireland in a post-Brexit world.
6. 'The whole hog'
Against the odds, could this unorthodox government last the full five year term? A senior Fine Gael source said: "If I was a betting man I would say that this Government will go the full term."
A typical Dáil term is five years. Given that the current Dáil met for the first time on 10 March 2016, the Dáil would need to be dissolved before 9 March 2021 with the election taking place by 10 April 2021.
Another senior Fine Gael TD pointed out that "Leo is in a sort political heaven now. He will want to keep that going as long as possible."
For most of the history of the State, Fianna Fáil has been in Government. While Fine Gael holds power, should the party jeopardise that by calling an election?
Leo Varadkar will be acutely aware of what happened Theresa May when she attempted to strengthen her mandate as British Prime Minister. There is merit to sitting tight for as long as possible.
A seasoned Fianna Fáil observer wryly said: "As he decides what to do, Leo Varadkar will be thinking that if a normal coalition arrangement is the result of a general election, he will have to go back to his own people and deal with giving out far less jobs."
7. Events, dear Leo, events
It's one of the most ubiquitous quotes in political parlance.
"Events, my dear boy, events" is attributed to former British Prime Minister Harold Macmillan when he was asked what was the most difficult thing about his job. These are the things that crop up unexpectedly.
Even a Government accused of being obsessed with spin and message over substance cannot see them over the horizon. Back in 1994, Fianna Fail/Labour fell over the extradition of paedophile priest Brendan Smyth.
One of these unexpected controversies events may well arrive, precipitating a general election.