A few days ago US President Donald Trump delivered an address at the National Prayer Breakfast in Washington DC.
This annual event is an ecumenical gathering organised by Christian groups and every US President since Dwight D Eisenhower has taken part.
This was Mr Trump's second time addressing the Prayer Breakfast and what a difference a year makes!
Last year, the newly-elected President Trump repeatedly went off script during a sometimes bizarre rant.
This year however he delivered a far more measured speech.
He spoke about the importance of God in the US saying, "as long as we open our hearts to God's grace, America will be free, the land of the free, the home of the brave and the light to all nations."
So what's changed in twelve months? Divine intervention, damascene conversion or signs of a president that has matured over the last year and knows how to stay "on message" and appeal to his base?
First off, let's look at last year's Prayer Breakfast speech. Mr Trump began by referencing the Senate Chaplain who spoke before him. He asked Barry Black: "I don't know, chaplain, whether that's an appointed position? Is that an appointed position? I don't know if you're Democrat or Republican, but I'm appointing you for another year. The hell with it."
The word "hell" would no doubt have raised a few eyebrows in the crowd given that this was a Christian event.
Later in his speech, Mr Trump did reference prayer when he said he would be praying for Arnold Schwarzenegger and for the poor TV ratings he was getting on The Apprentice, the show that used to be fronted by the US president.
This year there were no such references.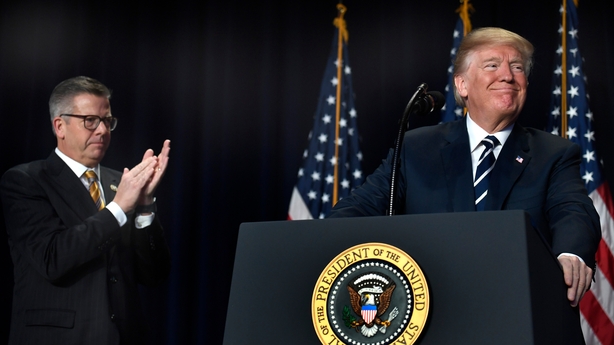 Mr Trump stuck to the script and delivered a subdued message that highlighted the importance of faith and religion. He received a warm reception.
Donald Trump is popular among evangelical Christians.
They are an important part of his base. They helped him get elected and could help him get reelected in 2020.
Many find it strange that evangelicals support him so strongly, he is after all a twice-divorced former casino owner.
But evangelicals do not seem to be too worried about that.
They like the president's stance on Jerusalem which he recently recognised as the capital of Israel.
They also like his pro-life views on abortion, but it should be noted that back in 1999 Donald Trump described himself as "very pro-choice".
The President's thoughtful, low-key Prayer Breakfast speech was all about appealing to his Christian base.
Donald Trump knows he needs to keep them onside if he wants his prayers for reelection to be answered.