Voters and analysts on both sides of the political divide give their thoughts on one year of US President Donald Trump.
Donald Trump was a very different kind of presidential candidate and from the moment he was inaugurated a year ago, it was clear he was going to be a very different kind of president.
His speech after being sworn into office was dark, some would even say angry. He highlighted the failures of past leadership and detailed a long list of problems facing the country.
Donald Trump says the oath of office he takes today is 'an oath of allegiance to all Americans' pic.twitter.com/V14I7NaFln

— RTÉ News (@rtenews) January 20, 2017
Usually, inauguration speeches are positive and promote unity.
A day later, Donald Trump's new way of doing things was shown once again. In his first major clash with the press as president, his spokesperson Sean Spicer disputed media reports about the size of the crowds that turned out on inauguration day.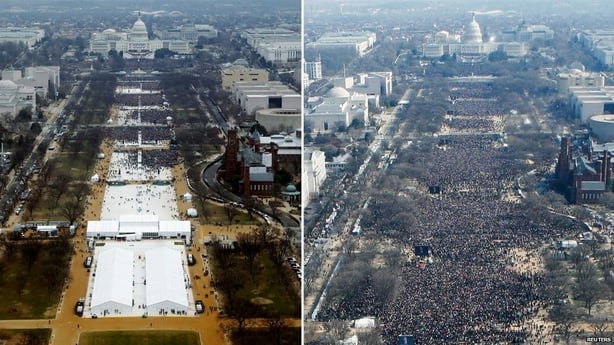 Since then, there has been a never-ending stream of news stories about President Donald Trump: allegations of collusion with Russia, a series of high-profile sackings from his administration and accusations of racism. His infamous tweets have targetted opponents and sparked international diplomatic rows.
Aside from the controversies, supporters would argue that he has delivered on many of his campaign promises. He has pulled the US out of the Paris Climate Accord, he has attempted to introduce his Muslim travel ban, he has delivered tax cuts and started renegotiating trade deals. All of this against the background of a strong economy.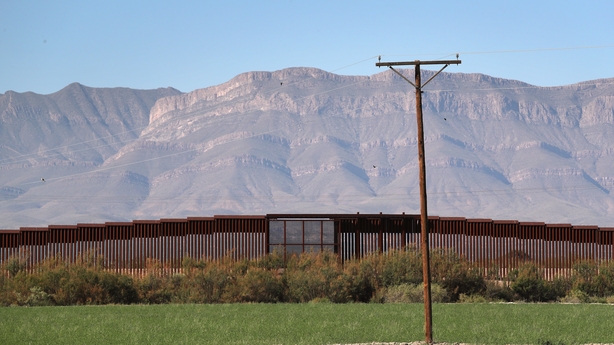 There have also been failures. His wall along the Mexican border still has not been funded, he was unable to repeal and replace Obamacare, and a long-promised infrastructure programme has yet to materialise.
This week, I returned to the spot where he was inaugurated a year ago; the steps of the Capitol Building. There I met plenty of US voters and asked them how they viewed President Trump's first year in office. Some were tourists, some were locals and they all had one thing in common - strong views on Donald Trump.
Most of the people I spoke to were critical of the president. This is not surprising given my location. Big cities in general, and Washington DC in particular, are traditionally Democrat but I did meet some people who voted for Donald Trump and believe he is doing a good job.
After a year as President, Donald Trump remains a divisive figure. | https://t.co/0MRUqczjpJ pic.twitter.com/MrH89s7DGw

— RTÉ News (@rtenews) January 19, 2018
When I encountered Ann and Alan Collins they were taking selfies in front of the Capitol Building. They're from Culpeper, Virginia. They voted for Donald Trump and have no regrets. Ann does admit, however, that they were unsure about their choice of candidate. She recalls: "To be frank, we thought long and hard about voting for him. We don't personally care for his arrogance or some of the statements he's made. But we believe he's a very intelligent man who loves his country."
Ann's husband Alan is also positive about Donald Trump's first year in office. "He's doing the things that he thinks will turn the country around. It looks like the stock market is going up so financially he's doing a good job". Alan also admires President Trump's stance on immigration. "He's trying to help security with walls to be built and beefing up military services, I think that's what this country needs."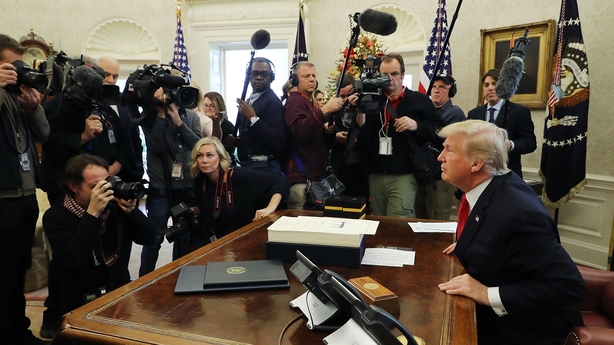 The next couple I met outside the Capitol Building were an interesting pair. David and Chelsea Kilcrease from Lafayette, Louisiana were wearing matching luminous orange hats. Their political views were almost as striking as their attire. They are Democrats so obviously they didn't vote for Donald Trump, but one year on they think he's doing a good job. David tells me: "Every month it seems more jobs are being created and the economy is improving." But David has concerns about Donald Trump's "Twitter stuff" which he describes as a major negative.
His wife Chelsea says she thinks the president's first year has been "fairly decent" and that he does have some good ideas.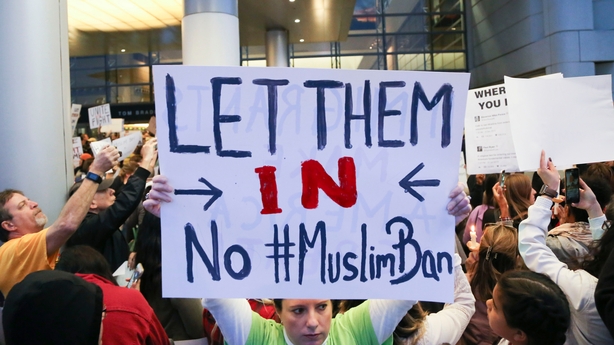 As mentioned above, most of the people I met were not happy with Donald Trump.
Words like divisive, inadequate and offensive were used. One young woman told me many of her family members had voted for Donald Trump and now regret it. Another woman described how her husband had voted for him but now thinks he's "a bully and a lunatic but is doing what he said he was going to do."
I ask if this means he'll vote for Trump again in three years' time and she said yes.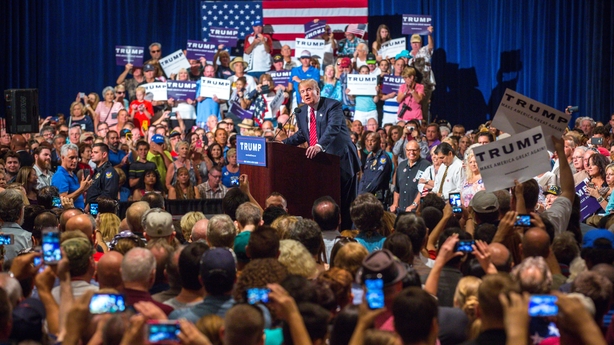 A Trump voter who, despite being aware of all his flaws, is willing to vote for him again is music to the ears of Cassie Smedile. She is the National Press Secretary of the Republican National Committee.
I interviewed her in a large meeting room on the ground floor of the Republican Party offices next to the Capitol Building. We were surrounded by glass cabinets filled with a variety of ornamental elephants, the symbol of the Republican Party.
There was also memorabilia from past elections and on the walls there were pictures of past Republican presidents. Under a portrait of a smiling George W Bush, Ms Smedile lists Donald Trump's achievements in office including tax reform, cutting regulations and confirming judges. "These are all things that people didn't see him doing or didn't think he could do."
I put it to her that with Mid-term elections looming in November, Republicans must be worried about the Russia probe, allegations of racism and the president's tweets. She replies "on the Russia probe, the American people say they're tired of their tax dollars going towards something that we've spent all this time and all this money on relatively nothing. While the Democrats would like to spend all of their time talking about Russia or Twitter, we're going to continue to work with the President to get more of his agenda accomplished."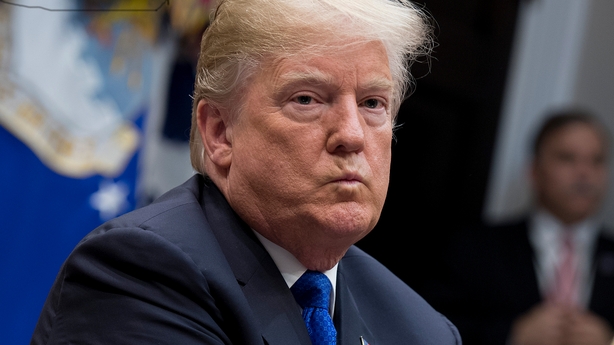 But despite the optimism of Cassie Smedile, there are reasons to be worried if you're Donald Trump. His approval ratings are at a record low for a first year president.
Jonathan Ladd is a professor at Georgetown University's McCourt School of Public Policy. He tells me that: "His popularity is lower in his first year than any president since modern polling began in the 1940s."
Professor Ladd does point out, however, that this does not necessarily mean he will not get re-elected in three years' time. "First year popularity is weakly correlated with popularity in your fourth year when you're up for re-election."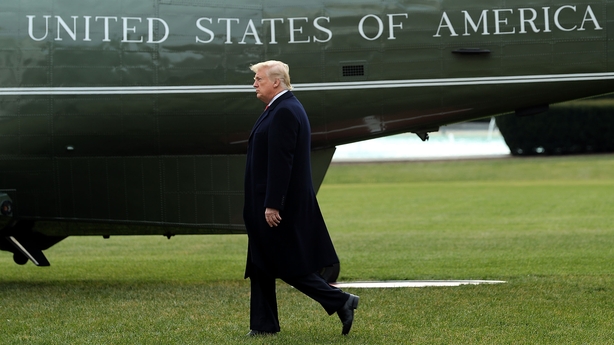 Professor Ladd says it is strange that Donald Trump's approval ratings are not higher given that there is a booming stock market and falling unemployment.
Presidents are usually popular when the economy is doing well but as I said at the beginning, after one year in office, it is clear there is nothing "usual" about this president.