The name put him on the front foot. Peter D Sutherland. I got to know him during my 12 Brussels-based years (1989-2001). He was gone from his job as European Commissioner by the time I arrived, wide-eyed, in Belgium. But already Suds was a legend.
The Eurocrats 'bible' - the Financial Times - loved him. And the president of the European Commission, Jacques Delors, considered him "family".
Earning Delors' respect said a lot about Sutherland's talents. The Frenchman was the most dynamic leader of the European Commission over the past three decades. Grounded, committed to distributing Europe's resources to less well-off regions, devoid of any obvious signs of vanity, he had the capacity to inspire and lead. And he considered Sutherland one of the most able members of his team.
In January 1989, Ray MacSharry replaced Peter Sutherland as Ireland's representative on the European Commission, where Delors remained as the President.
The contrast was very obvious. A West of Ireland, former cattle exporter, a Fianna Fáiler whose formal education ended in Summerhill College, replacing Suds, the rugger-loving, Fine Gael, Gonzaga, UCD, Law Library sophisticate who was courted by international boardrooms.
MacSharry took on the challenge of attempting to follow a highly-acclaimed act. Sutherland, by then amassing wealth and respect in the private sector, would occasionally return to Brussels because he was involved with influential think tanks and advisory groups about the future of Europe. That ongoing connection with the Delors agenda made him purr with satisfaction.
Interestingly, he and MacSharry would both become significant players on the same areas of the world stage. Their ability to graft and shine in a complex battleground eliminated primal suspicions. MacSharry became the European Commissioner charged with reforming the Common Agricultural Policy and with representing Europe's interests during world trade negotiations known as the General Agreement on Tariffs and Trade.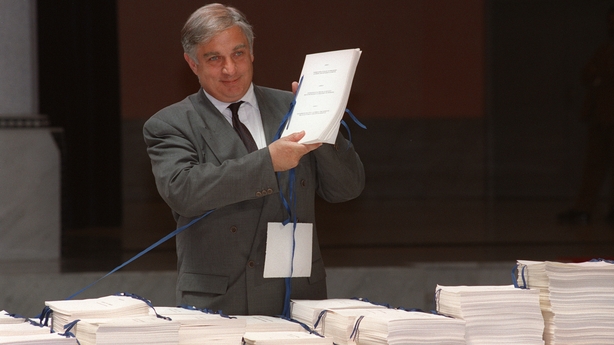 In 1993, Sutherland left the private sector to become the founding Director General of the World Trade Organisation when it replaced the GATT. There wasn't a time before or since when two Irishmen were such significant players on world trade issues. Having access to them was Lotto win territory for a reporter.
Seeing Sean Whelan's obituary of Peter Sutherland on RTÉ bulletins last Sunday night, with those pictures of him in that WTO role, brought back memories. We went down to Switzerland to interview him in 1993. He lit a huge cigar and the smoke gave texture to the shots as we filmed him in his office, looking out on Lake Geneva. His driver who was in the large room really liked him – very often a telling indicator.
1994 was a highly significant year in Peter Sutherland's public life. In his Geneva-based role he had overseen an internationally-acclaimed trade agreement and he was hot property. In Brussels, Jacques Delors' stewardship at the helm of the European Commission was coming to an end.
Early in May 1994, Suds phoned me and I made my way down to Geneva. He was aware that a Fianna Fáil/Labour coalition was in power in Dublin and the nomination for Ireland's representative on the European Commission rested with it.
The normally cautious Sutherland gave me an interview, screened on RTÉ on 17 May 1994, in which he said that, if called upon, he was available to serve as a member of the European Commission.
He took the gamble because he had been tracking big picture politics. The summit of EU leaders, scheduled for June 1994 in Corfu, was due to consider who would replace Jacques Delors as European Commission president.
Rudd Lubbers, a highly-experienced and successful Dutch prime minister, had resigned from that role because he saw himself as a front runner for the Brussels job. But German reservations over who did and didn't support reunification following the collapse of the Berlin Wall meant Lubbers didn't get the backing of a crucial ally, Helmut Kohl.
The Belgians believed their prime minister, Jean Luc Dehaene, might be in line for the post. But sections of the British press, including one Boris Johnson, saw Dehaene as a federalist and John Major scuppered Dehaene's chances. Sutherland's calculation was that a nomination from Dublin would have given him an opportunity to become an Irish-born President of the European Commission.
His pitch got none of the necessary traction. On 24 May, Taoiseach Albert Reynolds told the Dáil that he detected no support in European capitals for the notion of Sutherland for Commission President. The June Summit run by the Greeks in Corfu didn't produce a decision on the Delors replacement.
The Germans took over the running of the six-month EU presidency that July and, on their watch, the vacancy would be filled. The leaders stuck to established practice - the candidate would come from their own small club.
It was a Christian Democrats call as they rather than the Social Democrats had the numbers. Jacques Santer, the prime minister of Luxembourg, the smallest member state, was given the job. A pleasant, entirely inoffensive man, he took over the role with a look of permanent bemusement. It was reported that when his wife was phoned with news of the appointment she cried. Not from joy.
A significant, unintended consequence of the 'last-man standing appointment' was that Luxembourg's very able finance minister, someone greatly admired by Helmut Kohl, became the duchy's prime minister. His name? Jean-Claude Juncker.
Pádraig Flynn, the Irish member of the European Commission, appointed to replace Ray MacSharry in 1993, remained in office during the Delors/Santer handover. Indeed, it was a Fine Gael/Labour/Democratic Left coalition that formally reappointed him as the Fianna Fáil/Labour partnership was dissolved in December 1994.
(In the way that stereotypes sometimes don't always work to a script, Flynn was crucial in cunningly gaining commission support for Ireland's corporation tax practice - the highly-useful arrangement, rarely if ever linked to Pádraig Flynn, has remained airtight since).
But back to Geneva, where just months after his major international success - the World Trade agreement - Suds had to endure very public disappointment caused by a domestic and European political pincer movement. If he was unfamiliar with setbacks, he wasted no time heading off in search of fresh challenges.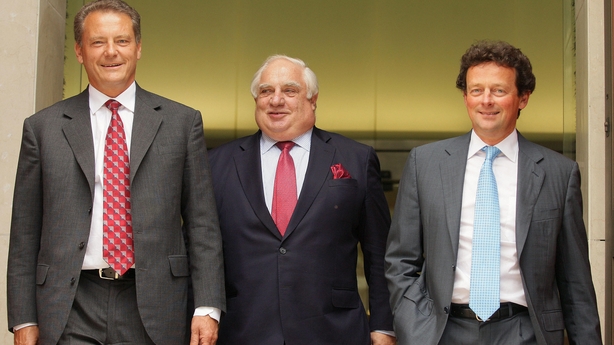 He became non-executive Chairman of Goldman Sachs and a non-executive chairman of BP and accumulated large amounts of wealth.
The passionate interest in European affairs continued. It's difficult to find any detailed account of whether he had misgivings about the negative and wide-ranging influences exerted by some private sector blocs, who are sometimes more powerful than national governments.
The connections between powerful people with a background in public life and huge private sector interests continues – the current non-executive chairman of Goldman Sachs International is Jose Manuel Barroso, President of the European Commission from 2004 to 2014.
There is some public knowledge of how Peter Sutherland shared portions of his wealth – the Sutherland Law School at UCD is a significant example. But he was discreet as well as generous in other places too. His interview with Gay Byrne for the Meaning of Life series last year provides some interesting insights into a man who retained a very private side.
When I heard of his diagnosis with throat cancer in 2009, I thought of that big cigar in the Geneva office 16 years before. He battled and overcame what was a serious illness.
If the physical evidence of that struggle was obvious, an awareness of mortality nudged Peter Sutherland into what was possibly the most absorbing chapter of his multi-layered life – the role of UN Special Representative for International Migration.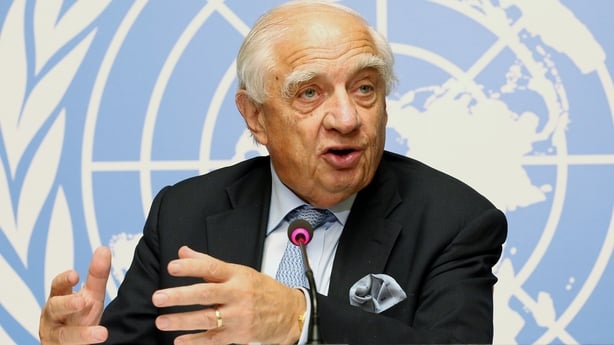 He spoke and acted with extraordinary, challenging clarity about the plight of refugees. The Father of Globalisation called a Fortress Europe mentality, morally indefensible. It was as lucid and discommoding as the analysis of the late Noel Browne or the Argentinean Jesuit, Jorge Mario Bergoglio (Pope Francis). He was relentlessly pursuing that brief until illness felled him.
Peter Sutherland might well have made a better stab at building on Delors' legacy than any of those who have filled the job since. But he deserves to be remembered for that final phase of his life - The Grace Notes.
He survived and succeeded in so many spheres because he was able and resilient. A crucial extra gear was his contentment, an inner happiness about his extraordinary good luck.
In his early 20s Peter Sutherland spotted a Spanish woman at a party in Dublin. He was dizzy with love and she in turn fell for him. They quickly married. In the most important area of all, for five decades, the glass was full.