An opinion poll conducted by Ireland Thinks suggests that Taoiseach Leo Varadkar leads Fianna Fáil's Micheál Martin as the person most trusted to tackle the four top issues facing the country, writes Dr Kevin Cunningham.
The leaders were compared in relation to: Brexit, Fixing Healthcare, Solving the Housing Crisis, and Eradicating Corruption - issues identified by respondents in a previous poll.
The poll reveals that the Taoiseach has a particularly strong lead in relation to eradicating corruption.
Conducted prior to the recently announced package on white collar crime, 61% opted for Mr Varadkar on this issue compared to 26% for Mr Martin (or, 70 to 30 once don't knows are excluded).
The poll suggests that perceptions of Mr Varadkar may be closely linked to eradicating corruption as relatively few people (13%) were undecided on the matter and any stumble on the issue may cost the Taoiseach some support. That said, this issue is regarded as the least important of the four issues.
Brexit is regarded as being the most important issue facing the country. On this issue Mr Varadkar also leads, but by a much narrower margin of 40% to 28% (or, 59 to 41 once don't knows are excluded).
Furthermore, on this issue a relatively large proportion of 33% - or one in three - could not pick between the two leaders. One may therefore conclude that there is some capacity for Mr Martin to make up ground on the issue of Brexit.
Although both leaders held the office of Minister for Health, it is Mr Varadkar that is currently trusted more in relation to 'fixing healthcare'. While Mr Martin performs slightly better in relation to 'solving the housing crisis' with 32% favouring him on this issue he still trails Mr Varadkar who leads 60% to 40% favouring the Taoiseach when those that don't know are excluded.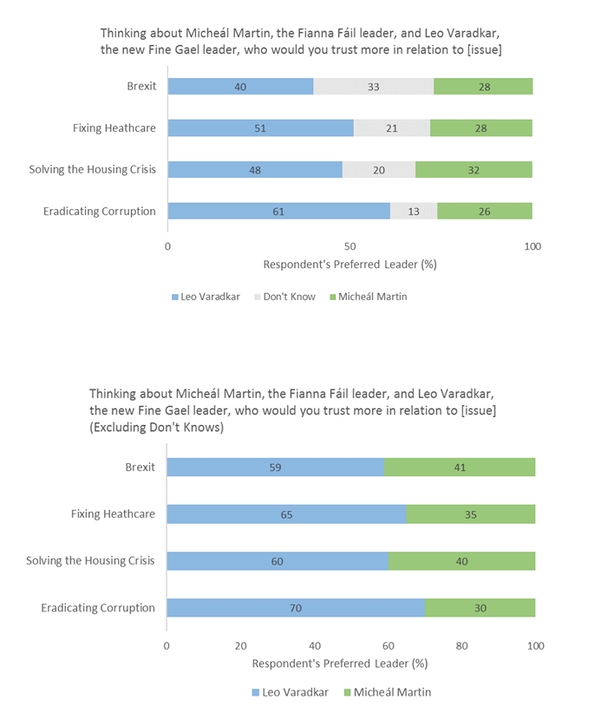 While Mr Martin is preferred by Fianna Fáil supporters he is also preferred by Sinn Féin supporters in relation to Brexit, solving the housing crisis and eradicating corruption and by Solidarity-PBP supporters in relation to solving the housing crisis.
On all issues, Fine Gael, Labour, Social Democrats and Green Party supporters favoured Mr Varadkar.
Perhaps most worryingly for Fianna Fáil and Mr Martin, Mr Varadkar tends to perform quite well among those currently supporting independent candidates with 85% (housing), 84% (Brexit), 89% (healthcare) and 97% (corruption) favouring Mr Varadkar over Mr Martin once those that don't know are excluded.
Independent voters are however much less certain of which of the two they prefer with relatively high levels of don't know recorded.
In terms of demographics there is an educational divide as well as an east-west divide. Mr Varadkar tends to perform 5-10% better among those with a third-level degree with support of 67% (housing), 69% (Brexit), 72% (healthcare), and 75% (corruption) across the four issues.
By contrast, Mr Martin leads among those with the lowest levels of educational attainment on housing, Brexit and healthcare.
The Taoiseach also performs best among those of student age between 18-24 and among those between the ages of 35-54 while the gap between the two is somewhat narrower among those over 55 and among those currently aged between 25-34.
These demographic groups all have quite different priorities particularly in terms of the issue of housing.
In terms of regional disparities Mr Varadkar's leads are larger among those living in Dublin and Leinster than they are in Connacht and Munster.
Ireland Thinks interviewed a random sample of 1,300 adults aged 18+ by telephone using a random digit dial method between Monday 12 June and Friday 16 June.
The results were weighted on the basis of age, gender, region, social class and level of educational attainment following ESOMAR guidelines.