There is no disguising it. It was an ultimatum. And it is a humiliation for Taoiseach Enda Kenny, writes Brian Dowling of RTÉ's This Week.
The two main leadership contenders, Simon Coveney and Leo Varadkar have basically told him: 'Pack your bags, go to Washington and finish the packing as party leader as soon as you get back.'
Last night, a spokesman for the Taoiseach indicated he will deal with the leadership issue at Wednesday's parliamentary party meeting.
All the talk about allowing him make a decision in his own time is just that - talk.
They set a deadline and the message was clear: move on as leader after Washington or you will be removed as party leader.
In large measure, the Taoiseach is the author of his own misfortune this time out. The handling of the fall-out from the McCabe/Tusla revelations was appalling and unnerved his party colleagues.
It brought his Government to the brink of collapse and a general election.
The Taoiseach knows this. He knows how this plays and he knows how the curtains come down.
It might have been different.
Having brought Fine Gael back from the political wilderness of 2002; having survived the heave of 2010; having delivered the party's best election result ever in 2011 and presided over an economic recovery from the financial collapse, the establishment of this Government should have been sufficient to cap his achievements.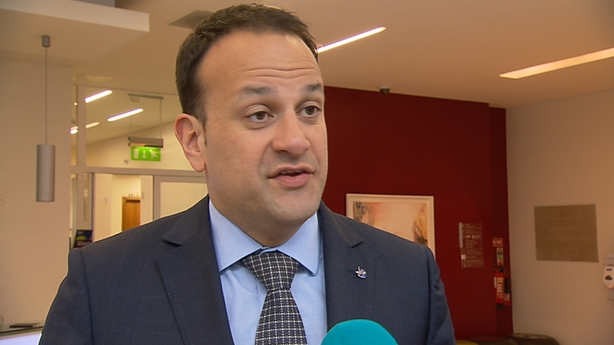 Despite a terrible general election last year, he confounded everyone by putting together the first minority Government of its kind in the history of the State. It meant he became the first Fine Gael leader to secure two successive terms in office.
The Taoiseach is generally seen as a nice guy, but don't be fooled. He has shown political ruthlessness whenever it was required. So, he gets what's going on now. And there may be no point in him staging a fightback that even if he won, might prove a Pyrrhic victory.
Like many before him, Mr Kenny didn't want to let go. There was always one more hill to climb. He could have exited with dignity and grace. Now if he goes in the face of the veiled political threats from Mr Coveney and Mr Varadkar it will still be presented as an exit of dignity and grace. But it won't be. That will be a pretence. He will be going because he is being forced out.
In many ways, he denied himself the chance of a clean exit.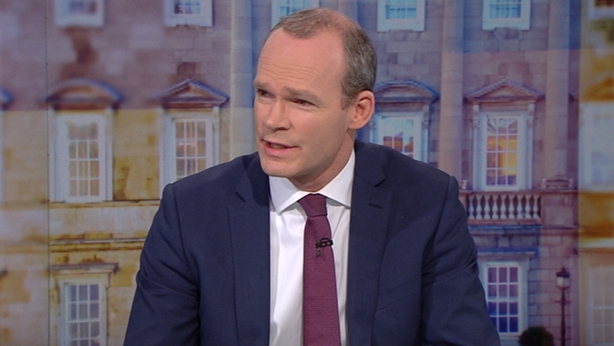 Sure, Ministers Varadkar and Coveney, other ministerial colleagues, and backbenchers will applaud and give a standing ovation in the party rooms. Fond and kind words will be spoken. But Mr Kenny might regard them as the kind of "polite meaningless words" that Yeats spoke of.
And it will move on.
The line "he who wields the knife never wears the crown" is most associated with Michael Heseltine's role in bringing Margaret Thatcher down in 1990.
Both Mr Coveney and Mr Varadkar have effectively taken turns to plunge the political knife into Mr Kenny.
The two who finally wielded the knife are the front runners to succeed Mr Kenny. But there is only one crown and there yet might be others, untainted by the knife, who will seek the crown.
However, yesterday's farcical carry-on surrounding Charlie Flanagan's WhatsApp mishap - in which he said Frances Fitzgerald was encouraging Simon Harris to run - is a pointer to Fine Gael's capacity to deliver self-inflicted damage.
Mr Flanagan, the Minister for Foreign Affairs, said the remarks he made, including one that Mr Harris wanted out as Minister for Health, were "tongue in cheek". Others in Fine Gael joined in this chummy presentation of it as a joke of some kind.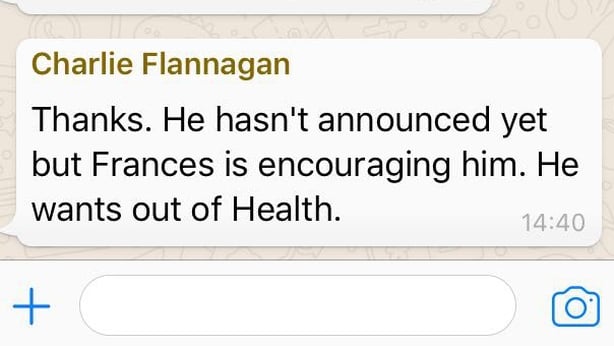 The public may view it differently. Especially those at the sharp end of waiting lists. The suggestion, tongue in cheek, that Mr Harris wanted out of health may gain a traction that was not intended. What if people start asking whether Mr Coveney is vying for leadership to escape the Housing Ministry, or Mr Varadkar to escape the tightening budgets in Social Protection?
What happens if the public see Fine Gael ministers as more interested in securing new and/or better jobs in Cabinet than in delivering in their current roles?
Some in Fine Gael seem to have forgotten how the public had no qualms about slicing their numbers to 50 in the general election with surgical precision.
Getting rid of Mr Kenny as the party leader and Taoiseach may prove the easy, if messy bit.
For the leadership contenders to convince the public they are doing it for the good of the country is one thing; convincing the public it has nothing to do their own self-advancement is a different proposition. Eamon Gilmore was effectively driven out of the Labour leadership in 2014 with a wild belief the party would make a solid recovery thereafter. Look how that worked out.
Politicians often believe that because the public have turned against or might not like a leader, it means they will applaud ditching that leader. The public hostility often runs much deeper than just the leader.
Mr Kenny has led Fine Gael for 15 years through several general, local, and European elections. No one else in the party has that depth of experience and they are about to lose it in the worst possible way. If he is forced out - he will owe nothing to his successor, whoever that may be. The voters may take the same view.
As Mr Kenny remarked last week: "C'est la vie."