Leo Varadkar was on his way to an engagement in Ballymena, Co Antrim when word filtered through that the Northern Secretary had labelled him "unhelpful".
Irish Government officials standing at the back of the media scrum listening to Chris Heaton-Harris in Belfast on Monday afternoon were surprised by his tone.
One glanced briefly towards journalists as if to check they were hearing correctly.
They communicated with other officials travelling with the Taoiseach as a flurry of social media posts from journalists reported that a broadside had been fired.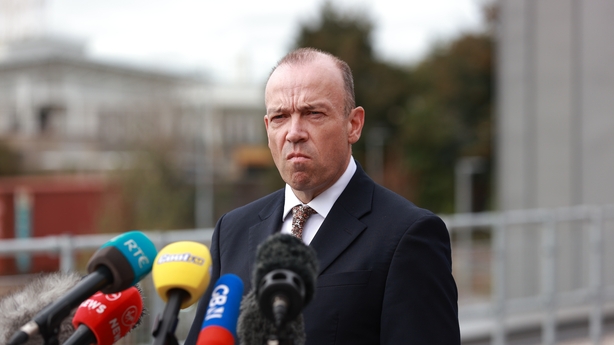 The verbal barrage was aimed at recent comments by Mr Varadkar about the likelihood of a united Ireland within his lifetime and the possible need for a "Plan B" if talks to restore power sharing at Stormont don't succeed in the near future.
"There are always plenty of people who are willing to point out when obstacles are put in the way," Mr Heaton-Harris said.
"The Taoiseach's got a lot of domestic politics on his plate, but occasionally unhelpful comments down in Dublin do resonate up here amongst the unionist community, and I need the clearest pitch possible to get the Executive up and running."
Speaking to the same journalists a little earlier, Leo Varadkar was unapologetic when asked about his united Ireland remarks he'd made on the RTÉ's News at One the previous week.
"I am the Taoiseach, our Constitution articles two and three aspire to unity. It shouldn't be a surprise to anyone that the Taoiseach of the country would also aspire to unity," he said matter of fact, without any sense that a political spat was on the cards.
But Chris Heaton-Harris took aim, and he didn't stop there.
Talk in recent weeks by the Irish Government of the possible need for a "Plan B" if power sharing at Stormont is not restored has spooked many unionists.
The clear implication that any future period of direct rule from Westminster will have a strong green tinge with Dublin having a consultative role as set out in the Good Friday Agreement.
When questioned about what this might mean, the Taoiseach had been quick to rule out any suggestion of "joint authority" involving the two governments acting equally, pointing out that that option is not included in the Good Friday Agreement.
However, many within the DUP and wider unionism and loyalism interpret "Plan B" as Dublin pushing to have much greater input than they would like.
---
Read more:
Taoiseach says 'double standards' over unity opinions
---
The Northern Secretary also took issue with Mr Varadkar's characterisation of the pace of progress in talks between the British government and the DUP aimed at restoring devolution as "snail's pace."
"As I've said quite a few times, I'm afraid you cannot put a timeline to this, it is impossible to," he said.
"I am keen to make sure that we come to a conclusion and the Executive is up and running in the shortest period of time.
"Talk of a Plan B is unhelpful because, whatever is going on, we need to be trying to get the Executive up and running."
Irish officials were surprised and bemused.
The two men had earlier held a 15-minute bilateral meeting in the margins of what would otherwise have played out as a good news story, the allocation of more than €1 billion in funding for a range of groups and projects across Northern Ireland and the border counties.
There was no sign of the verbal barrage that was to follow, with both sides describing the meeting as good and Irish sources insistent that none of the criticisms made publicly by Mr Hearton-Harris were made during their private talks.
The very next day, on the Tuesday, the Northern Secretary was at it again.
Speaking to BBC Northern Ireland's Political Editor Enda McClafferty, he said making the remarks was "the right thing to do."
He also rejected the suggestion that he had not fronted up to the Taoiseach in their private session.
"Actually, that's not quite correct, because I did mention it inside the room," he said.
Asked what he had said in the private session, he replied: "Exactly the same as I said outside."
Not so, insist Irish officials.
They are adamant that while there was talk of the delicacy of the current political situation in Northern Ireland, there was no direct mention of the united Ireland or Plan B remarks.
As the British government remains engaged with the DUP in an effort to persuade the party to end its boycott of powersharing, it was clear Chris Heaton-Harris's words were directed at placating Jeffrey Donaldson.
The calculation seems to be simple: publicly attacking and annoying the Irish Government would get him brownie points in those negotiations.
He wasn't alone.
Also on Tuesday, his junior minister at the Northern Ireland Office, Steve Baker MP, spoke to the media at a job announcement in Belfast.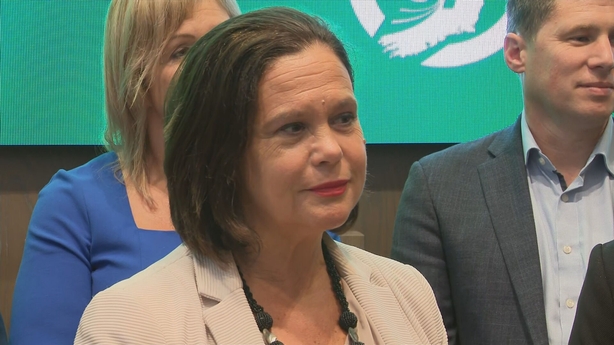 Journalists pointed out that while the Taoiseach had been strongly criticised for saying he aspired to a united Ireland, Mr Baker was proudly displaying badges of the Union and Northern Ireland flags on his jacket lapel.
He said, perhaps jokingly, that he was "trying to stop upsetting the DUP."
Asked about the Taoiseach's remarks, Mr Baker was keen to pursue his boss's suggestion that it may connected to "domestic politics."
"I think it's inevitable in the Republic of Ireland when they face a great contest against Sinn Féin the present Government are bound to talk about a united Ireland and we recognise that they're entitled to talk about a united Ireland, of course they are."
But he said there was a difference between being entitled to do something and "it being a good idea, particularly at this moment".
He added: "In a sensitive moment like this it would be better to just leave room for unionist opinion to just gently get back into the Executive."
There was a strong hint of choreography when Jeffrey Donaldson spoke to the media at an investment summit in Belfast on Wednesday.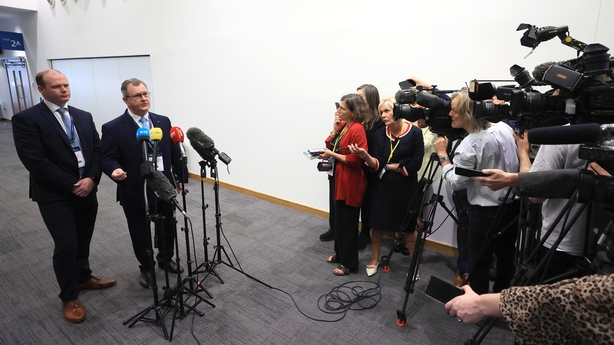 Despite arriving an hour and a half late and missing the Northern Secretary's opening speech, the DUP leader rowed in behind his comments about the Taoiseach.
"My advice to the Taoiseach is very clear," he said.
"I echo the words of the Secretary of State. His interventions recently have not been helpful. He is planning for failure, I am not. He talks about Plan B, I am focused on Plan A which is getting this right for the people of Northern Ireland.
"Unlike the Taoiseach I have a mandate from the people of Northern Ireland to do this, to pursue the solutions that we need and then we'll get the institutions up and running and I look forward to co-operating with the Irish Government on how we can improve relations.
"But this megaphone diplomacy by Leo Varadkar is not helpful and I really think he should reflect on the harm he is doing to the prospects of making that progress."
But on Friday, Leo Varadkar was once again unapologetic and accused his critics on the issue of applying double standards.
"Rishi Sunak the British prime minister describes himself as a proud unionist, he has been appointed by himself as Minister for the Union, Liz Truss did something similar, so did Boris Johnson, the Secretary of State often talks about how committed he is to the Union," he told RTE's Morning Ireland.
"Not only do we accept that, we respect it. Why is there a double standard applied to Irish politicians when we say what's in our constitution, that we'd like to see a united Ireland and work towards it?"
That prompted Sinn Féin president Mary Lou McDonald to say that on this issue she had to agree with the Taoiseach.
There's the rub.
Just as Chris Heaton-Harris is clearly playing to the DUP, critics, including Chris Heaton-Harris, his deputy Steve Baker and the DUP believe the Fine Gael leader is playing to his domestic audience.
His comments were a clear signal that the Irish Government, as joint guarantor of the Good Friday Agreement, has an interest in what is, or is not, happening at Stormont and believes it has a right to comment.
The reality is that if powersharing is not restored before Christmas, it is unlikely to happen before the next British general election, which could come next May.
In that case, there will be a need for the Plan B Leo Varadkar has said needs to be prepared.
But there is also a general election on the horizon in the south, with opinion polls suggesting that Sinn Fein could emerge victorious and in a position to form a Government.
Speaking to the media in Belfast on Monday, Mr Varadkar remarked that opponents criticised the timing of his united Ireland remarks, adding that it appeared there was never a good time to make them.
Those critics suspect the timing might be part of a strategy aimed at stealing some of Sinn Féin's thunder on the issue of unification.
If that's the case, such remarks could become more frequent, and Chris Heaton-Harris and Jeffrey Donaldson could find themselves engaged in regular contests of verbal ping pong.