More than 1,300 attacks on health workers were recorded in the first three months of this year, figures seen by RTÉ's This Week.
The new Health Service Executive figures, provided in reply to a written parliamentary question from Sinn Féin's health spokesperson David Cullinane, show 1,363 assaults against staff were recorded at HSE facilities, including Acute Hospitals and Community Services, in the first quarter of this year.
The incidents relate to physical, verbal and sexual assaults reported to the HSE by staff.
"Numbers reported relate to all types of assaults, including no-harm incidents and verbal acuity incidents," the HSE said.
This marks a 4.6% increase on the same period last year when 1,303 incidents of assault against HSE staff were recorded.
However, compared to the same period in 2019, when 1,571 incidents were recorded, there is a 13% decline.
In January, February and March of this year, of the 1,363 incidents recorded - 848 were against nurses,16 against medical staff and 387 against 'other staff'.
There were 80 incidents of assaults recorded against allied health professionals, 13 against ambulance and transport staff, and six against catering and housekeeping staff.
Mr Cullinane said the increase in assaults against frontline workers in hospitals was "absolutely unacceptable".
He there should be a zero-tolerance approach across the public sector as the hospital assault figures were "exceptionally high ... too high".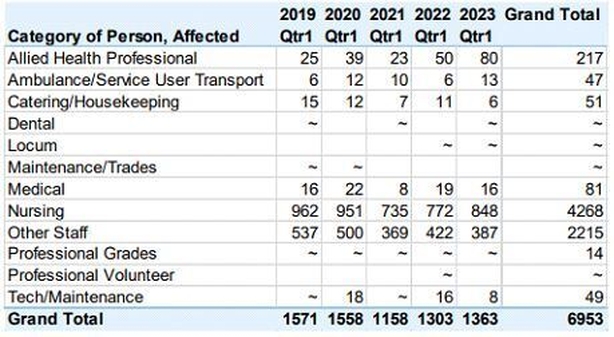 The HSE said staff are encouraged to report all incidents, including near misses, and ones that do not result in harm and that sometimes there can be multiple reports of the same incident.
The new figures also show 201 incidents of assault recorded against patients were recorded at HSE facilities in the first three months of this year in comparison to 604 last year and 671 the year before.

Other figures released to RTÉ News by the HSE show 42,318 assaults against staff were recorded at HSE facilities since 2019.
It said 20,333 related to nurses and 16,271 to other staff, including administrative staff, clerical workers, home help workers, porters and security.
In a statement, the HSE said of the 42,318 incidents reported, in terms of severity:18 were classified as Major; 1,392 were classified as Moderate; 3,971 were classified as Minor and 36,937 were classified as Negligible.
To dates this year, there were 3,590 incidents recorded, with 1,819 relating to nursing staff.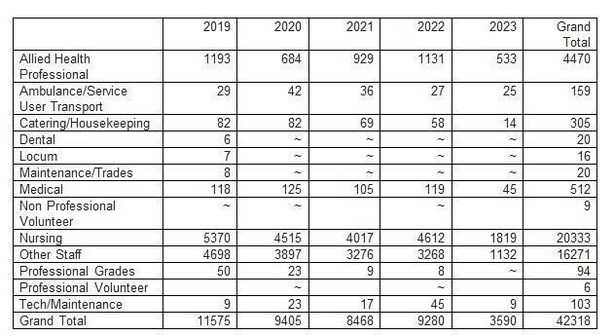 The HSE said in a statement that "ensuring the safety of employees and service users is a priority concern for the HSE".
"The HSE is committed to creating a safe environment within which to work or to be treated.
"A number of security measures have been put in place across sites including access control to clinical areas, staff training and the provision of onsite security services to support staff in dealing with challenging situations.
"The HSE met with the INMO recently and a security review in Emergency Departments was among the issues discussed. This discussion will be continued at the next meeting with the INMO representatives as a priority.
"There are, however, times when even with the many protective measures put in place, complaints and incidents arise because they have been put at risk of harm or experienced actual harm. The HSE responds to such events by reviewing what happened and learning from them to protect staff and future patients/service users.
"It is the policy of the HSE that all incidents are identified, reported and reviewed so that learning from events can be shared to improve the quality and safety of services.
"This includes incidents where the occurrence could be attributed to the patient or service user's clinical condition, for example dementia or acquired brain injury. The incident should be managed according to the patients individual care plan."
It said it should be noted, when the figures it provided to the 'This Week' programme that staff are encouraged to report all "near misses" and incidents, even those that do not result in harm and that the "number of incident reports should not be considered as indicative of a level of harm. There may also be multiple reports relating to the same incident".
We need your consent to load this rte-player contentWe use rte-player to manage extra content that can set cookies on your device and collect data about your activity. Please review their details and accept them to load the content.Manage Preferences
INMO seeks full security review
The Irish Nurses and Midwives Organisation is calling for a security review and full audit.
It said: "Discussions are still ongoing on how the employer can enhance the protection of nurses, midwives and their hospital colleagues.
"While we welcome legislation announced to increase maximum sentences for assaulting frontline workers, more must be done to enhance the safety of our members and their colleagues in their workplaces.
"We need to see an up to date and actionable security review across all hospital sites. Assault prevention and de-escalation measures must be strengthened.
"It must be made clear that once you step foot in a hospital that there is zero tolerance for any kind of verbal, physical or sexual assault."
Earlier this week, the INMO welcomed moves by Government to increase the maximum penalty for assaulting nurses, midwives and other frontline workers.
INMO General Secretary, Phil Ní Sheaghdha said with nurses enduring some kind of physical, verbal or sexual assault in their workplace every day, that enacting legislation to increase "the sentence for assaulting frontline workers will increase is a priority is very much welcomed by our union".
She said: "Nurses and midwives need hospital management to use the powers they have and support staff and make complaints to gardaí - a zero-tolerance approach is required and that is not the case at present.
"Legislative protection by itself is not enough, the Health and Safety Authority need to play an enhanced role in tackling assaults of nurses.
"There must be more inspections, prosecutions of employers who fail to keep staff safe. There must be a dedicated division established within the HSA to deal directly with the health service. This is an ask the INMO has put directly to Government and the authority itself.
"Hospitals are not just places of care, they are workplaces. We need to know what measures are being put in place to protect a largely female work force. The employer's remit is to provide a safe workplace. Over ten assaults every day is not acceptable."
Cullinane calls for culture changes
Mr Cullinane called for an improvement of security at hospitals, saying that staff feel unsupported.
He said it was important to engage with those who provide security and individual hospitals to see what additional capacity needs to be put in place.
Speaking to This Week, Mr Cullinane said: "I did raise this directly with the head of the HSE at the Oireachtas Health Committee this week Bernard Gloster.
"He accepted that this issue is unacceptable that needs to be dealt with and he talked about changing the culture of what happens in the hospitals.
"What we need to do is deal with those capacity issues in hospitals, make it safer for patients in terms of their safety, but also for those on the frontline. So I don't believe there is one single solution ... there's lots of things that need to be done."
Mr Cullinane said that he did not know how much additional security supports would cost, but suggested you have to work with hospitals to see what is additional capacity is needed.
New figures provided to the This Week programme by the Health and Safety Authority show the authority carried out 448 inspections in the health and social care sector in 2021 and 511 inspections in 2022.
This year, between January and April 2023, the Authority carried out 180 inspections in the sector.
The figures also show 614 incidents of shock fright and violence were reported to the authority in 2021 and 682 incidents in the same category were reported in 2022, while 359 of these incidents of shock fright and violence were reported from the Health and Social Care sector in 2021 and 393 incidents in 2022.
The Health and Safety Authority (HSA) said "it continues to place a strong focus on the health and social care sector" and that its programme of work "outlines our occupational health and safety activities, which includes those associated with violence.