Two-way trade between Ireland and Poland is now worth €6 billion, an 18% increase since 2020, when the pandemic was at its height.
Irish exports account for two-thirds of that sum, making Poland the 14th largest destination for Irish products abroad.
Enterprise Ireland, the government agency that supports Irish firms in foreign markets, has reported a 29% year-on-year increase in the volume of exports to Poland by companies it represents, accounting for €390 million.
Exports to the Czech Republic, a much smaller market than Poland, grew by 23% in the same period.
Enterprise Ireland's Warsaw office currently represents 260 Irish firms that export to Poland, and 60 of those now have a local presence in the country.
"What attracts businesses is the scale of the market and the ease of doing business here," Kevin Sherry, Executive Director at Enterprise Ireland told RTÉ News.
"Irish companies are not just doing business here. They are also putting feet on the ground," said Mr Sherry.
More than 20,000 people are employed by Irish companies in both Poland and the Czech Republic.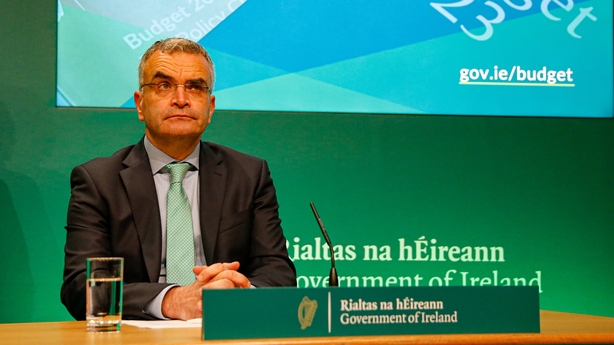 Irish construction and engineering companies were some of the first to venture into Poland's nascent free-market economy in the 1990s.
Recently, however, Irish agri-tech, lifesciences and cybersecurity firms have opened operations in the country of 39 million people.
Building on the increased trade volume, Minister of State for Trade Promotion Dara Calleary visited the Polish offices of three Irish companies this week: agri-tech company JFC, engineering firm PM Group, and ICON, a clinical research firm.
It was part of a two-day trade mission by the minister to Poland and the Czech Republic – the first to the two countries since 2018.
Speaking to RTÉ News, Mr Calleary said that the businesses he visited were "very focused on the future", and that there was a "great affinity and loyalty to Ireland" among Polish people who had worked in Ireland.
According to the 2016 census, 122,500 Polish nationals were resident in Ireland. The Irish Embassy in Warsaw estimates that there could be as many as 200,000 Poles now living in Poland who had previously lived and worked in Ireland at some stage.
Such a large diaspora has helped forge business links.
Some of ICON's senior management in Poland began working with the company in Ireland. The clinical research firm, which worked on Covid-19 vaccine trials, employs more than 1,100 staff at its Warsaw and Gdansk offices.
There is a growing appetite for Irish food and drink exports in the region too.
In 2017, Bord Bia opened an office in Warsaw to oversee exports in 11 central and eastern European countries. Kerrygold, for instance, is available in many Polish supermarkets.
Last year, Irish food and drink exports to Poland, the region's largest market, grew by 44%, tallying almost €200 million.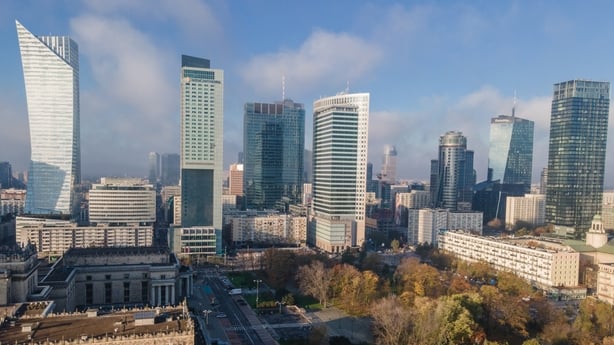 During his visit, Mr Calleary also met with senior representatives from four Irish cybersecurity companies currently operating in Poland, a sector, he said, the government is keen to grow by the end of this decade.
One of those firms, Matrix Internet, an Irish digital agency, secured a cyber security contract last year with Frontex, the European Union's border agency, headquartered in Warsaw.
Jeff Sheridan, managing director of Matrix, told RTÉ News that high English language skills among Poland's business community and links with Poles who had worked in Ireland had made the country "very easy and pleasant to work in".
Poland's economy has grown rapidly over the past three decades of democracy and income levels in the country continue to rise.
However, like elsewhere, growth stalled following the pandemic.
The World Bank forecasts that economic activity in Poland is likely to "decelerate markedly" due to high inflation, monetary policy tightening, and fallout from Russia's invasion in Ukraine.
It projects economic growth to slow to 0.7% this year, down from 4.9% in 2022. But growth is expected to strengthen by more than 2% in 2024.
Poland's annual rate of inflation is currently 16.2% despite the Polish central bank taking an aggressive approach to taming inflation – it has kept interest rates between 6% and 7% over the past year.
Mr Calleary also visited Allegro, Poland's largest e-commerce platform, which is currently used by more than 70 Irish companies.
He said that "one of the main take-aways" from the trade visit was to work with Enterprise Ireland and the Irish Embassy in Warsaw to grow the number of Irish firms selling on Allegro.