Labour leader Ivana Bacik has called for the delivery of one million homes over the next ten years, to be provided by both new builds and refurbishments.
In her first party conference speech as Labour leader, Ms Bacik accused the coalition of presiding over a "housing disaster" and she called for a major scaling up of housing targets.
"Our ambition is for one million homes in ten years, starting now. The State can, and we must, deliver 50,000 new builds and 50,000 refurbished homes a year for the next decade."
"Our ambition is for one million homes in ten years, starting now"

Labour leader @ivanabacik says a target of one million homes in ten years is needed given the scale of the housing crisis | More: https://t.co/5PpmRqZCoE pic.twitter.com/Om4tUkiZ5D

— RTÉ News (@rtenews) March 25, 2023
Ms Bacik told members that there had been a catastrophic failure to deliver on housing.
She accused the Government of over-reliance on the private market and she said that developers, speculators and land hoarders had shown that they cannot and will not deliver much-needed homes.
"The Government has abandoned an entire generation to the private rental casino game. A game they can only lose.
"Labour would create a housing model – public homes on public land – where the State takes a central role, and the common good comes first."
Climate
On climate action, Labour is calling for the introduction of a €9 per month travel ticket to provide unlimited bus and train journeys in Ireland.
Ms Bacik said that nobody believed the Government would meet its own climate targets of reducing greenhouse gas emissions by 51% by 2030.
"We have seen far too many delayed and missed targets on climate"

Labour leader @ivanabacik says nobody believes the Government can meet its climate targets | More: https://t.co/5PpmRqZCoE pic.twitter.com/Dp933obIIM

— RTÉ News (@rtenews) March 25, 2023
The Dublin Bay South TD said the coalition lacked the necessary ambition and political unity to deliver for the environment.
"Struggling with internal dissent, they are driven by compromise, not conviction. And we have seen far too many delayed and missed targets on climate."
Work
On work, Ms Bacik said that Labour would end the situation where apprentices are not getting the national minimum wage.
And she said the party would ensure that community and voluntary sector workers get the pay and conditions they deserve.
"In this cost of living crisis, we know that workers in Ireland need a pay rise."
"In this cost-of-living crisis, we know that workers in Ireland need a pay rise"

Labour leader @ivanabacik says her party would end the situation where apprentices are not covered by the minimum wage | More: https://t.co/5PpmRqZCoE pic.twitter.com/o8aEvqRZZN

— RTÉ News (@rtenews) March 25, 2023
Immigration
Ms Bacik also spoke about Labour's solidarity with refugees and her own roots as a descendent of immigrants.
"This is personal for me. I had a grandfather from Bohemia, a grandmother in Co Clare. My grandfather Karel Bacik was imprisoned by the Nazis, and fled what was then Communist Czechoslovakia."
She said that her grandfather and his family arrived in Ireland with little but he had ambition and a will to succeed.
She said that immigration is a story of friendship, not fear and that it will shape Ireland positively for decades to come.
"So we in Labour stand firmly against those on the far right who seek to tell a different story; to exploit fear and spread lies."
'Classic deflection tactic'
Labour earlier dismissed a Fine Gael assertion that it has objected to large numbers of homes as a "classic deflection tactic".
Fine Gael has accused Labour of hypocrisy by criticising Government performance in building homes while also hindering the progress of housing developments in the capital.
Chairman Richard Bruton said that a study of all proposed Dublin housing projects since 2020 reveals that Labour representatives have objected to or attempted to hinder the progress of at least 10,804 homes.
Mr Bruton said: "This is equivalent to four years of new housing supply at current rates. It is hard to see how that serves their constituents' interests in the midst of a housing crisis."
Speaking at the Labour conference this afternoon, fellow Dublin Bay North TD Aodhán Ó Ríordáin said the accusation was a "classic deflection tactic from Fine Gael who have just voted to end the eviction ban".
He said that Mr Bruton was playing the men and women and not the ball.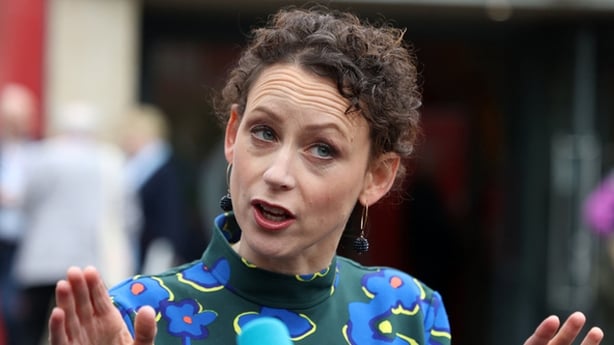 Mr Ó Ríordáin said: "Labour wants good quality housing and we don't want endless cash and profit out of developments we won't be able to ask about in five years' time."
Senator Marie Sherlock said Labour wants "decent homes" for individuals and families and not "shoeboxes" that she said were introduced by Fine Gael.
She said: "They are doing so from the benefit of a very comfortable house with no consideration for what is actually being proposed by number of developers.
"Housing where some of it doesn't even have natural daylight with floor areas below regulations according to Dublin City Council."
She said that people who are going to be evicted should not be put into slum housing.
The party called for a quicker pathway to the living wage to ensure people have dignity at work and that work pays.
Finance spokesperson Ged Nash said the change to the living wage from the minimum wage should take three years rather then the four years set down by Government.
---
Read more:
Bacik urges Independents to back no-confidence motion in Government
Conference important moment for Bacik to set out vision
---
He also said the party disagreed with the setting of the current minimum wage at €11.30 and instead Labour believed it should be €12.
The party also called for better wages for apprentices in the face of the skill shortages in the construction industry.
Mr Nash said: "We will not have the skilled workers we require to sustainably develop the economy and to build the homes we need, if we continue to pay poverty wages to apprentices."
He said far too few people were choosing to begin apprenticeships because the level of pay to apprentices in their first two years was too low and that nobody should be paid below the adult minimum wage.
"That's inequitable and unfair."
He said that over 20% of all Irish workers are on low pay which he said was very jarring in a successful economy with full employment.
Last night, deliberations centred on the housing crisis and the party's plan to table a no-confidence motion in the Government next week.
The national head of advocacy with Threshold Ann Marie O'Reilly said she believed that homelessness is going to get worse, even thought she previously hadn't thought that was possible.
Ms Bacik argued that Independent TDs need to support her party's no-confidence motion, as lifting the eviction ban will increase homelessness and this proves that the government has failed to address the housing disaster.
Former leader Alan Kelly said Labour could re-establish trust with the electorate by returning to its roots and focusing on the economic inequality which people face.
He contended that the next election can't be defined by an electoral choice between "... the old stale reactionary parties of the right versus the alternative of populist utopian nationalism."
He argued that Labour needs to ensure "... that this is not a binary choice in any election. There has to be a third option. We absolutely have to be successful to give people that choice."
Additional reporting Paul Cunningham