Within earshot of the frontline battles in eastern Ukraine people are in dire need of humanitarian aid.
Some fled from nearby war zones with just the clothes on their backs.
The International Committee of the Red Cross sent a convoy over three days to deliver much needed supplies to towns and cities near Bakhmut.
But the journey there was difficult. These areas, so close to hostile activities, are very hard to reach.
There were military checkpoints to get through. The roads themselves were scattered with objects to slow down Russian vehicles. And there was a risk of explosions.
The ICRC is deeply concerned by the situation in Bakhmut and nearby communities around the frontline and the deep civilian suffering caused by constant military hostilities.
Most people who could leave Bakhmut have already been evacuated. But the new locations they arrived in are also in the line of fire.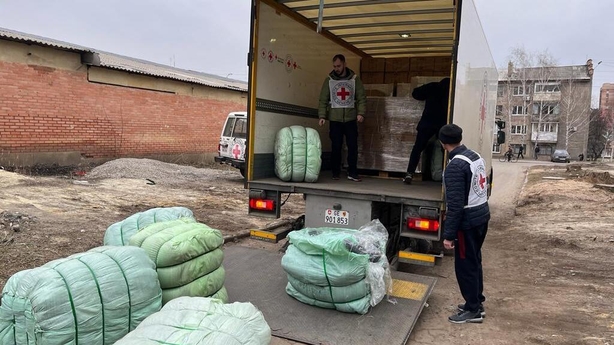 Around 10% of the population of Kostiantynivka are internally displaced from neighbouring villages and have temporarily settled in the city.
Only 1,500 civilians are left in Chasiv Yar and some 800 in Selydove - these cities had populations of more than 12,000 and 22,000 respectively in 2020.
Those who remain are mainly elderly, low mobility, or people with disabilities, as well as people who refused to leave their homes or have been displaced from front line villages.
The ICRC convoy brought more than 1,500 hygiene kits containing essential supplies like soap, shampoo, toothpaste, toothbrushes, sanitary pads and shaving kits, as well as 800 solar lamps and hundreds of blankets to Kostiantynivka and nearby villages.
In Selydove, 17 tonnes of food – including rice, pasta, canned goods, and other supplies – and one tonne of hygiene items were delivered.
Local officials estimate that the food supplies will be enough to feed civilians remaining in this community for a month.
Some 6,000 litres of drinking water were provided to Chasiv Yar, which local authorities expect will serve the needs of people there for 10 days.
Achille Després, ICRC spokesperson for Ukraine, travelled with the recent convoy to Kostiantynivka and Selydove.
Kostiantynivka is around 25 kilometres from Bakhmut, where the fiercest and bloodiest battle of the invasion has been ongoing for months.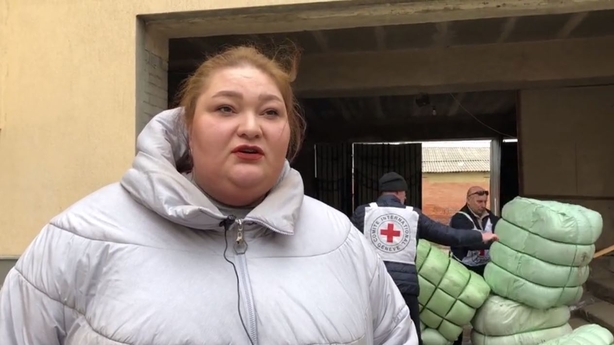 He spoke with Anna Golubtsova, a representative of the Bakhmut territorial community in the Donestk region.
She told him they had been working with the ICRC for a long time, even when their residents were in Bakhmut until November.
"The ICRC delivered food, hygiene items, and medicine to all our citizens at that time," Ms Golubtsova said.
"A lot of people from Bakhmut have fled to different parts of our country. More than 200 families are here, in Kostiantynivka, including children, which equals almost 500 people. They need hygiene items and food."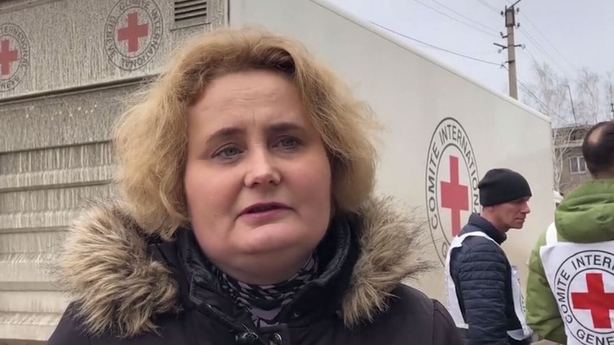 Mr Després also met Tetiana Malko, a resident from Bakhmut who was evacuated to Kostiantynivka.
"When we were evacuated, we didn't have any clothes, only those we were wearing at the time, nor any blankets or hygienic products," Ms Malko said.
"It was important for us. The house where we were settled in had nothing. We were living with four families in one house and sleeping on the floor with no heating. There are nine people in our family.
"It's like a commune. We live like that because everybody has lost their homes, some kids lost their parents who were killed in Bakhmut or refused to leave."
Speaking to RTÉ News Mr Després said it is evident from speaking to residents near the frontline that they are living in a very precarious situation.
"One word people kept using was 'loud', they described these areas as very loud," he said.
"By that they mean that they're constantly hearing the sounds of explosions, just in the background or sometimes a closer exchange of artillery fire.
"Some say they have heard missiles flying over their heads. That's the reality that they are living through."
He also described what being so close to the frontline feels like from his experience of being in Kostiantynivka.
"You know you're close to an active fighting area because you always hear the air raid siren in Kostiantynivka," Mr Després said.
"The air raid siren is only interrupted by the actual sound of explosions. The closer you go to where the hostilities are raging, the louder the explosions and the exchange of artillery you hear are.
"It's difficult to say if it feels unsafe or not, but what I felt is that it's a really a place that doesn't seem really fit for civilians to live like this."
As the frontline draws closer, many people are continuing their journey westward to safer areas.
But while they evacuate from the danger zones they continue to urgently need food, water and toiletries essential to sustain living in temporary homes.
"In times of humanitarian crises, in Ukraine and elsewhere in the world, if a situation continues there's always the risk that the needs of the people are forgotten," Mr Després said.
"We are here to ensure those needs are served and make sure we deliver even in hard to reach places, even in areas that are close to the frontline where very few other organizations, if any, can reach them."
"But we need to constantly mobilize support, political support and support from general society to ensure we continue our operations in a neutral and impartial manner to allow people access the humanitarian assistance that they so need."