Sinn Féin newspaper adverts in the US calling for a date for an Irish unity referendum have been branded "unhelpful" by the Taoiseach.
Leo Varadkar expressed concern at the ads that were carried in papers such as The New York Times and The Washington Post on Wednesday at what he described as a "sensitive time" in efforts to restore powersharing in Northern Ireland.
DUP leader Jeffrey Donaldson criticised the adverts, saying it was "incredible" that Sinn Féin was focusing on a "divisive border poll campaign" that, he claimed, would create further divisions in Northern Ireland.
Sinn Féin leaders Mary Lou McDonald and Michelle O'Neill, Mr Varadkar and Jeffrey Donaldson are all in Washington this week for St Patrick's Day events.
The traditional week of high-profile engagements in the US capital focusing on the island of Ireland come at a time when the DUP continues to consider whether it will accept the UK and EU's new post-Brexit deal on trading arrangements for Northern Ireland - the Windsor Framework.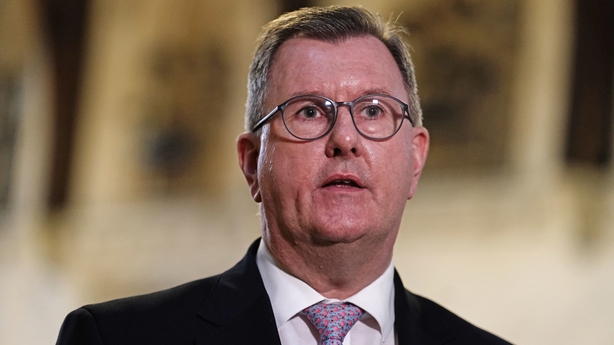 Earlier this week, Jeffrey Donaldson said the framework does not deal with some "fundamental problems" created by the contentious Northern Ireland Protocol on Irish Sea trade.
The DUP is currently blocking the functioning of devolution in Belfast in protest at the trade barriers the protocol has created between Britain and Northern Ireland.
The Sinn Féin adverts claimed the UK Government has broken its obligations in the Good Friday Agreement to trigger referendums on unification.
They call on the US government to hold the UK to account on the issue and further urge the Irish government to "plan, prepare and advocate" for Irish unity.
"The next chapter of Ireland's history is being written. Together we can be the generation to build a new Ireland. A home for all. United, peaceful and prosperous," read the adverts.
"The future is in the hands of the people. It is time to agree on a date for the Unity Referendums. Let the people have their say."
Asked about the adverts on Wednesday, Mr Varadkar said: "I just don't think that's helpful at this time. I'm somebody who believes in unification. But I don't think that's helpful at this time. It's a sensitive moment, we're trying to get everyone on board for the Windsor Framework. And we shouldn't forget what the Good Friday Agreement says.
"We're marking 25 years of the Good Friday Agreement this year, it brought peace to Ireland. What does it say? It says that there can't be a border poll, when it's clear that a majority of people north and south would vote for it, that's not clear at all at the moment.
Addressing an event in Washington on Wednesday, Jeffrey Donaldson said Stormont operated best when parties worked together.
"Therefore, I find it incredible that in newspapers across the USA this morning there is a full-page advert from Sinn Féin calling for a referendum on Northern Ireland being part of the United Kingdom.
"Whilst I am using my time in the US to impress upon decision-makers and investors the potential of Northern Ireland, Sinn Féin is drumming up hundreds of thousands of dollars for a divisive border poll campaign.
"There is no evidence of growing support for Northern Ireland leaving the United Kingdom. Indeed, every major poll points in the opposite direction.
"Northern Ireland's future is with unionists and nationalists working together. A border poll would pitch unionists and nationalists against each other and lead to further divisions.