At 5am on the 24 February 2022 Oleksiy Ladyka was woken by loud explosions in Kramatorsk, a city near the frontline in eastern Ukraine.
He remembers the day very clearly, mostly because it scared him so much.
Mr Ladyka lived near the military airport that Russian forces had launched a missile at.
Shaken and nervous he went to the safest place in his flat, the bathroom - safest because it had no windows.
Sitting in the bathroom for two hours, afraid to move, he read the news and understood the 'big war' was beginning.
Mr Ladyka refers to it as the big war because Kramatorsk had previously been invaded in 2014.
At that time Russian forces captured the city and occupied it for three months. But he said they had no rockets, no missiles, no heavy weapons then.
The 24 February was the start of something different. Mr Ladyka and his wife took his daughter and grandparents to a nearby village for safety.
On the way he saw large queues at an ATM and a petrol station. There were lots of people on the streets, everybody wanted to move somewhere safer.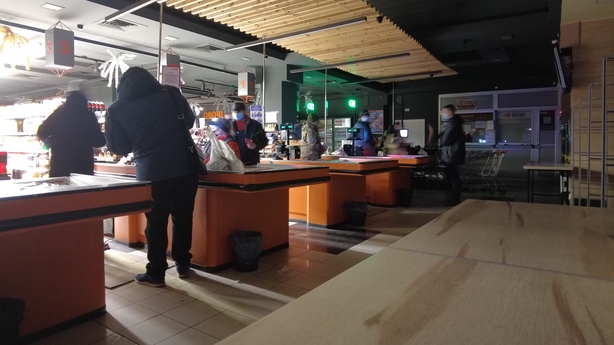 On the trolleybus on the way to the village Mr Ladyka remembers a man speaking loudly on the phone.
"He said that we will all die and everything will be bad but he didn't care," he said.
Mr Ladyka said he started crying and told him to shut up and was worried they might have a fight on the trolleybus over his outburst.
Then a little girl on the bus started crying because she was frightened.
"I said to that guy look what you did, are you OK with making her cry? And he shut up," said Mr Ladyka.
After 8am he decided to go to work, but was too shocked.
---
Read more: Ukraine braces for fresh attacks on anniversary of Russian invasion
---
Mr Ladyka is a journalist with a local newspaper The Kramatorsk Post.
The company relocated to Kolomyia in western Ukraine in April 2022 because of the war.
One of the deadliest attacks of the conflict took place on 8 April in Kramatorsk.
As around 4,000 civilians gathered to board evacuation trains with Russian forces advancing, a rocket strike killed dozens of people including children.
Mr Ladyka has spent time in Kolomyia but he prefers to work in Kramatorsk despite the danger.
"It's very difficult to write about Kramatorsk when you are 1,000 kilometres from the city," he said.
"It's difficult to be in Kololmyia and write about Kramatorsk. It's not fair, I think.
"I have to be here when maybe Russians will attack our city. I must be here to watch what will happen and to tell everybody."
"Most of the time, the streets are empty because it is dangerous for big crowds to gather in Kramatorsk"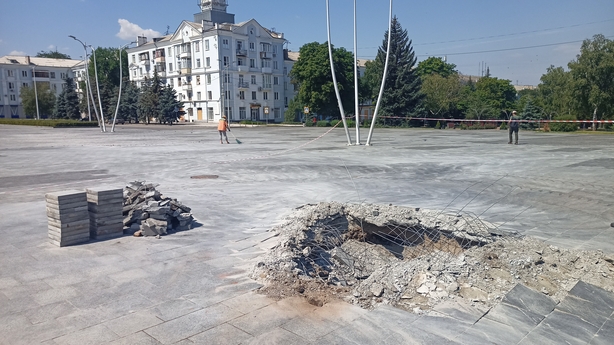 Western Ukraine
Life in Kolomyia and western Ukraine is pretty quiet.
"You can't feel the war there," Mr Ladyka said.
"A lot of people are on the streets, they even have cinemas. They have theatre, they have music concerts, everything is going on like before the big invasion.
"In Kramatorsk we don't have any cinema or theatres. We have no concerts, we have no cultural life at all.
"Most of the time, the streets are empty because it is dangerous for big crowds to gather in Kramatorsk."
In January 2023 Mr Ladyka was in Kolomyia, but he has been in Kramatorsk since the start of February and will stay until March.
He wants to be in the middle of any renewed Russian offensive.
"I don't feel safe at all, but it's OK. I have to do my job," he said.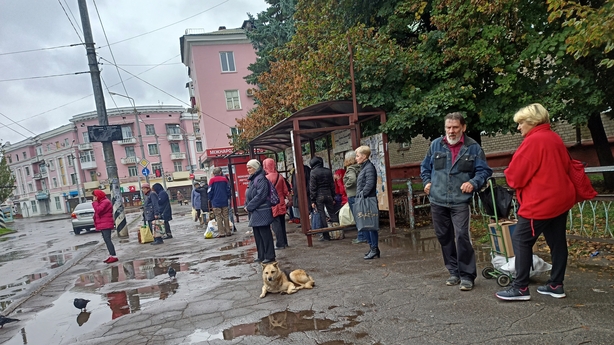 After the Ukrainian army liberated Kramatorsk in 2014, the city was more or less calm, and started to develop as a big centre of the Donetsk region.
Mr Ladyka described it as beautiful and comfortable before missiles struck the city.
Even now as the city continues to be attacked by Russian rockets, and schools, hospitals and apartment blocks have been destroyed, Mr Ladyka does not think it's the worst place to be.
"Everything is working. We have barber shops, we have cafes, we have restaurants, we have shops and everything you need in Kramatorsk, everything," he said.
"Everything is working and life continues as usual, but we have explosions too."
"They know if Russian forces capture Bakhmut they will be heading in their direction next"
Severed services
But everything is not normal. With much of Donetsk Oblast under Russian occupation, some services are severed.
This interview should have been carried out over Zoom, but Mr Ladyka had forgotten that Zoom is banned along with some social media because of the occupation.
On a day-to-day basis, residents in Kramatorsk can hear explosions almost every day and night.
They can also hear nearby battles, because Bakhmut is only 30 kilometres away.
They know if Russian forces capture Bakhmut they will be heading in their direction next.
Mr Ladyka went to Bakhmut in December to interview residents.
He was scared to visit the embattled city, but he said locals had a different perspective.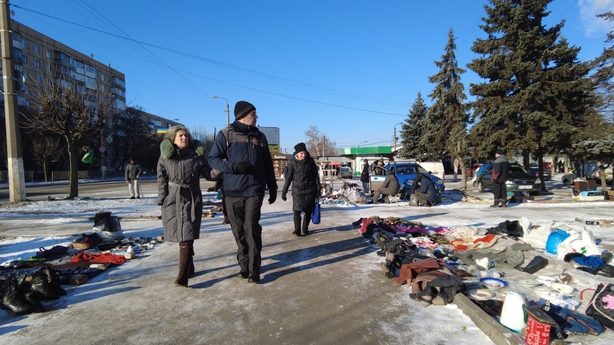 "They're not afraid to be there. They said that it's OK, today is not as loud as it was yesterday," he said.
"They feel safe. I don't know how it works, but it works."
Before the war around 180,000 people lived in Kramatorsk, now around 80,000 remain.
"It's understood that if Russians launch a missile on your house, you can't save yourself"
Sirens blare
It was quiet in the city for the first couple of weeks after Russia invaded. But in early March, a man was killed when a rocket hit a residential building.
At that time when air raid alarms went off everyone was scared and went to their basements and shelters.
Now the sirens blare almost constantly. According to Mr Ladyka most people do not pay any attention to them and believe it's no longer necessary to go to the shelters.
"You can't see sit in the basement all day long," he said.
"You have to do your work. You have to cook your food and it's understood that if Russians will launch a missile on your house, you can't save yourself, you're not safe even if you are in the basement.
"On the first of February they launched a rocket on a residential building and that building was destroyed.
"Four people died. One woman was in the basement and she didn't survive."
With danger all around in Kramatorsk, Mr Ladyka "just gets on with it".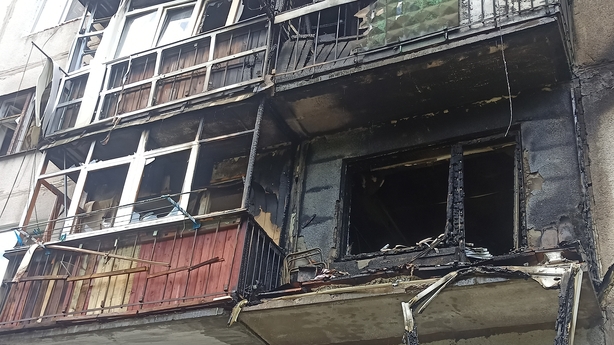 "We now have experience, we know what to do to survive," he said.
"We know that you can't stay behind the window because it's very dangerous. You know that you must lay down if you see some explosions.
"Now, I think it's not as scary to be in Kramatorsk as it was on the 24th of February, because now we have experience, now we know what to expect."
Emboldened by his newfound experience of war, Mr Ladyka can carry out his daily work.
He visits sites of missile strikes and interviews people affected by the attacks.
"You know when you're always in areas where there are explosions and battles, you're not as frightened any more," he said.
"You don't scare as much. You don't scare too much because… I don't know how it works, you have just feel it when you go there."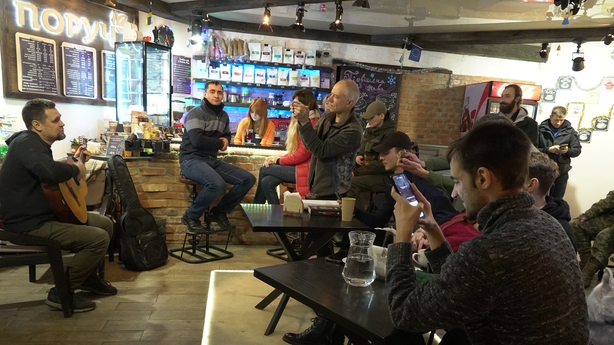 Every day the focus for Mr Ladyka is to try to survive. One day at a time. He does not think about the future.
"I think about how to do my job today. I don't think about tomorrow because I know that today can be the last day," Mr Ladyka said.
"I hope that after the war ending, our city will not be destroyed as much as Mariupol or others.
"If our city isn't destroyed, we will continue to work here, and I will continue to work as a journalist.
"I will tell people how our city will rebuild, and I think we will have a new experience.
"We will appreciate peace. Because now we understand that peace is the most important thing in this life."
Mr Ladyka does not know when or how the war will end, even though he said the Ukrainian Government has predicted it will end in the summer.
"Honestly? I'm not optimistic the war will end in the summer," he said.
"But I want to believe it."