Gardaí are urging all road users to stay safe this bank holiday weekend, following the worst January on Irish roads in a decade.
Eighteen people died on Irish roads last month alone. It was the largest death toll during the month of January since 2013.
A further two people lost their lives in recent days, bringing the total this year to date to 20.
In 2022, a total of 156 people died on Irish roads, the largest death toll in a year since 2016.
Gardaí are now appealing to all motorists and other road users to use the roads responsibly.
Assistant Commissioner Paula Hilman said that seven out of ten fatalities occur on rural roads.
Gardaí are particularly asking for caution on rural roads, and are urging road users to "be seen".
Drivers are urged to drive with dipped headlights during the day, especially if they do not have Daytime Running Lights.
Pedestrians are advised to wear high-visibility at night on roads without public lighting and footpaths.
Cyclists should wear safety helmets and ensure they have a white light to the front and red light to the back so they are visible to pedestrians and drivers.
More than 50,000 collisions recorded last year
Figures released by An Garda Síochána show there were 50,500 road traffic collisions recorded in 2022.
This includes 150 fatal collisions, 1,238 collisions involving serious injury, 4,526 involving minor injuries and nearly 45,000 "material damage" collisions.
Last year, gardaí detected 8,038 drivers driving under the influence of alcohol (5,331) or drugs (2,707).
Over 165,000 fixed charge notices (FCN) were issued in 2022 for speeding offences, while nearly 6,000 FCNs were issued for seat belt offences, and more than 18,000 drivers received fixed charge notices for mobile phone offences.
In January of this year, 660 drivers were detected driving under the influence offences.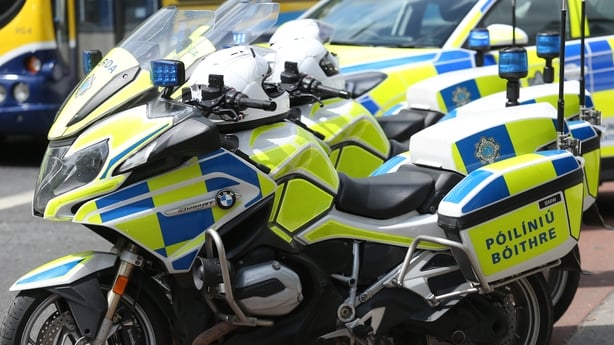 This weekend marks the first St Brigid's bank holiday weekend.
Speaking at a checkpoint outside Ardee, Co Louth this morning, Assistant Commissioner Hilman said: "Bank holiday weekends are a very busy time on the roads and our experience is that the risk of fatal and serious injury collisions increases during these periods.
"This year to date there have been 20 fatalities on the roads. We are asking everyone to work together in keeping our roads safe.
"Similarly to other bank holidays, this weekend we will be focusing on the four lifesaver offences; driving under the influence, speeding, non-wearing of seat belts and mobile phone use.
"An Garda Síochána will engage with the public and work with our partners to keep people safe on our roads, this bank holiday weekend.
"During the hours of darkness, please ensure that you are clearly visible to other road users.
"60% of fatalities to date this year have been drivers, therefore I would ask all drivers to reduce their speed and arrive safely to their destination this weekend.
"Finally, I want to wish you all a safe and enjoyable St Brigid's weekend."
Road Safety Authority CEO Sam Waide appealed to drivers to slow down, saying a 5% reduction in average speed could result in a 30% reduction in fatal collisions.