French President Emmanuel Macron has said he would not rule out the delivery of fighter planes to Ukraine but warned against the risk of escalation in the conflict.
"Nothing is excluded in principle," Mr Macron said after talks with Dutch Prime Minister Mark Rutte when asked about the possibility of sending jets to Kyiv as it battles Russia's invasion.
But Mr Macron set out a series of "criteria" before making any decision, as Ukraine steps up calls for more advanced weapons from the West just days after its allies pledged to deliver tanks.
These included that Ukraine must first make the request, that any arms would "not be escalatory" and that they would "not be likely to hit Russian soil but purely to aid the resistance effort".
Mr Macron added that any arms delivery "must not weaken the capacity of the French armed forces".
The French president added that the Ukrainians "are not making this request at the moment for fighter jets".
Dutch politicians have recently floated the idea of sending F-16 jets to Ukraine but Mr Rutte echoed Mr Macron's cautious comments.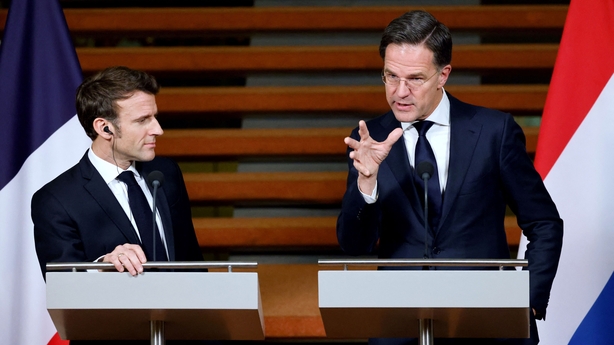 "There is no taboo but it would be a big step," said the Dutch premier.
"It is not at all a question of F-16s, there has been no demand [from Ukraine]."
The French and Dutch leaders made their comments a day after German Chancellor Olaf Scholz said he would not send fighter jets to Ukraine.
Mr Scholz only just agreed on Wednesday to send 14 Leopard 2 tanks to Ukraine and to allow other European countries to send theirs, after weeks of intense debate and mounting pressure from allies.
Mr Scholz's decision to green-light the tanks was accompanied by a US announcement that it would send 31 of its Abrams tanks.
Norway will send part of its fleet of German-made Leopard 2 battle tanks to Ukraine "as soon as possible", indicating perhaps late March, its defence minister said this afternoon.
Norway was among several European countries that promised last week to deliver the tanks after Germany gave its blessing despite fears of retaliation by Moscow.
The country has 36 Leopard 2 tanks, but has not said how many it will provide to Kyiv.
"We haven't yet determined the number," Defence Minister Bjorn Arild Gram told AFP.
"It's important that we coordinate closely with our partners, so that this aid makes a real difference for Ukraine," he said.
Ukrainian President Volodymyr Zelensky said last week that he wants the West to send long-range missiles and jets to help his country repel Russian troops.
---
Read more:
Russian shelling of Kherson leaves at least three dead
Putin threatened to kill me with a missile - Johnson
Latest Ukraine stories
---
NATO chief urges S Korea to 'step up' military support for Ukraine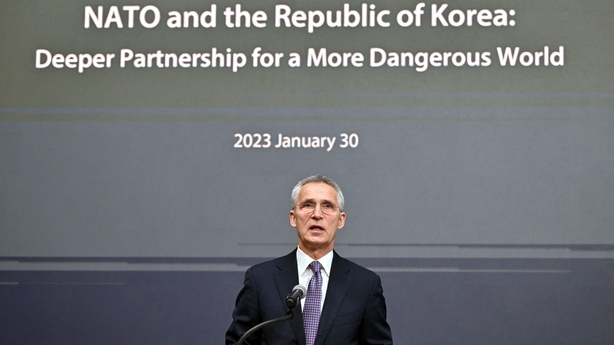 Earlier today, NATO Secretary-General Jens Stoltenberg urged South Korea to increase military support to Ukraine, citing other countries that have changed their policy of not providing weapons to countries in conflict following Russia's invasion.
Mr Stoltenberg was speaking in Seoul, the first stop on a trip that will also include Japan and is aimed at strengthening ties with Western allies in Asia in the face of the war in Ukraine and rising competition with China.
Speaking at the Chey Institute for Advanced Studies in Seoul, he thanked South Korea for its non-lethal aid to Ukraine, but urged it to do more, adding there is an "urgent need" for ammunition.
"I urge the Republic of Korea to continue and to step up on the specific issue of military support," he said.
"At the end of the day, it's a decision for you to make, but I'll say that several NATO allies who have had as a policy to never export weapons to countries in a conflict have changed that policy now," he said, citing Germany, Sweden and Norway.
"If we don't want autocracy and tyranny to win, then they (Ukrainians) need weapons, that's the reality," said Mr Stoltenberg, a former Norwegian prime minister.
South Korea has signed major deals providing hundreds of tanks, aircraft and other weapons to NATO member Poland since Russia invaded Ukraine.
But President Yoon Suk-yeol has said a South Korean law that forbids supplying weapons to countries engaged in conflict makes it difficult to send arms to Ukraine.
Russia calls its invasion, launched on 24 February, a "special operation" to ward off threats to its own security.
Chinese 'challenge'
In meetings with senior South Korean officials, Mr Stoltenberg said events in Europe and North America were interconnected with those in other regions, and that the alliance wanted to help manage global threats by increasing partnerships in Asia.
The NATO chief said it was "extremely important" that Russia doesn't win this war, not only for the Ukrainians but also to avoid sending a wrong message to authoritarian leaders, including in Beijing, that they can get what they want by force.
Although China is not NATO's adversary, it has become "much higher" on NATO's agenda, he said, citing Beijing's rising military capabilities and coercive behaviour in the region.
"We believe that we should engage with China on issues like arms control, climate change and other issues," he said.
"But at the same time, we are very clear that China poses a challenge to our values, to our interests, and to our security."
Responding to a question about Mr Stoltenberg's remarks, Chinese foreign ministry spokesperson Mao Ning said that China was a partner to countries, not a challenge, and that it did not threaten any nation's interests or security.
"We also hope that NATO will abandon its Cold War mentality and the concept of bloc confrontation, and do more for the security and stability of Europe and the world," Mr Mao told a regular news briefing.
In a statement carried by state media, North Korea called Mr Stoltenberg's visit a "prelude to confrontation and war as it brings the dark clouds of a 'new Cold War' to the Asia-Pacific region".
Last year South Korea opened its first diplomatic mission to NATO, vowing to deepen cooperation on non-proliferation, cyberdefence, counter-terrorism, disaster response and other security areas.
US Defence Secretary Lloyd Austin was also due to arrive in Seoul today for talks with his South Korean counterpart Lee Jong-sup.